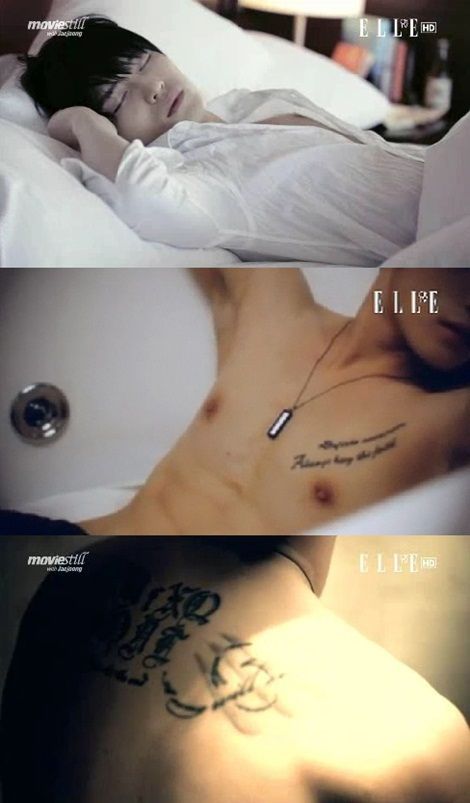 With regards to the numerous tattoos on his body, Jaejoong showed an honest state of mind.
In the ELLE TV "Move Still : With Jaejoong" broadcast on 18 March, when asked "Do you have a lot of tattoos?", Jaejoong asked, "Is that a bad thing?"
Jaejoong replied, "Honestly, there are many drawbacks to having tattoos, and there are times where they affect my acting and performance activities, but I do not regret getting them."
He continued, " So far, what I have tattooed on my body are things in my life that I do not wish to forget, things that console me, and things that I am thankful for. The "Always Keep The Faith" tattoo in front is the belief that I have always stood by."
"Even though I can't see the tattoos on my back, but when I do manage to see them, I recall (their significance) and after thinking about it, I realize that there are things to be thankful for, and this is their purpose. I actually feel like I don't have tattoos on my body, so I'm really curious about how the photographs will turn out." He said, expressing his curiosity towards his own tattoos.
To this, the viewers have had various reactions, such as "I still feel touched when I see the TVFXQ tattoo", "Jaejoong, don't get any more tattoos.." "The meaning of the tattoos are right, and he is so cool," and other comments.
Source: [BaiduTVXQ] + [Newsen]
Translation credits: ssunsett@tohosomnia.net
Shared by: tohosomnia.net
Do not remove/add on any credits
(NEWS) JYJ's Jaejoong discusses the significance of his tattoos on "ElleTV"
On March 18th, Elle TV released their interview with JYJ's Jaejoong, through which he discussed his tattoos, his current feelings, and future plans. The star had been collaborating closely with Elle TV for their unique photoshoot special, "Movie Still: Jaejoong".
When asked by the reporter, "Is it true that you have a lot of tattoos?," Jaejoong hesitated before answering, "Is that a bad thing?  Honestly, there are a lot of negatives to getting tattoos, since it can affect the type of roles you can and can't do with acting, but I've never once regretted getting my tattoos."
He continued, "I'm merely engraving everything I hope to not forget, everything that consoles me, and everything I'm thankful for onto my body.  The 'Always Keep the Faith' tattoo I have on the front represents my desire to protect my beliefs. The tattoos I have on my back, I don't see often, but they're there so that I can reflect on them when I do see them…  I don't think that I have tattoos on my body right now, so I'm curious as to how they'll turn out in the pictures (laughter)."
Asked to describe his current feelings, he replied, "If before, I was maturing at the pace of one step a year, I've now jumped 10 steps.  I've forgotten to be thankful for a while now, but I'm glad that I've remembered to be grateful.  For now, I feel that I'm going through life where both hardship and happiness exists as one."
On his future, Jaejoong replied, "I have received a lot of project offers, which I'm in positive discussion for.  I'm spending my time by training and studying things like acting, English, and golf, in case my experience in them comes in useful later.  I'll also be spending a few weeks in the U.S. to discuss things on our future album release and our world tour."
Source: Newsen, TV Daily (1) (2) via Naver
Credit: Allkpop
Jaejoong's AKTF means "Always keep my principles and beliefs" – via Elle Movie Still with JJ