Hayato-san wrote about truth and mistaken beliefs. He also wrote about the petition by the Japanese fans (see here).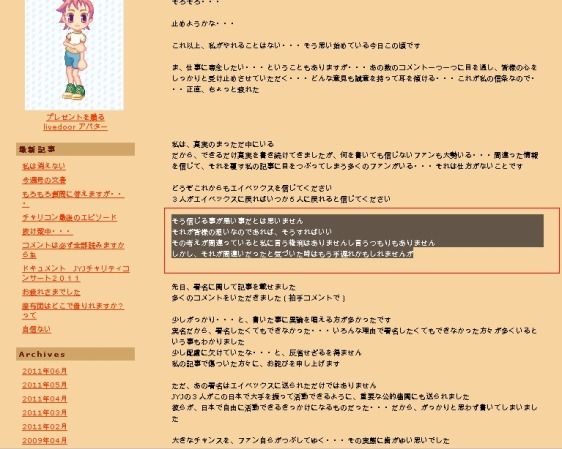 I have received many comments and messages from the fans concerning this article from Bunshun.
But the part I want you to read is the P36 and 37. (The article writes that Matsuura has confined and intimidated a shareholder – JYJ3 previously wrote about it here).
I do not write anything that I have not seen with these eyes, or heard with these ears in person
But I can not write everything that I know.
Because there are many things that cannot be written.
One of the these things is what was written by Bunshun.
Soon…
Should I stop it…
There is nothing I can do… I started feeling like this nowadays.
Well, I want to concentrate on my work… there is that point but… looking at that large number of comments one by one… I want to listen to everyone's thoughts (T/N: Hayato-san litrarly writes "I want to receive everyone's hearts".) I will hold any type of comments (T/N: opinions) in good faith and lend my ear… Because this is my belief… honestly, I am a bit tired.
I am in the middle of the truth.
Therefore, I continued to share as much as I could from the truth but, no matter what I write there are fans who disagree.. Who believe in mistaken information, the fans that close their eyes to my articles which contradict their beliefs.. I can't do anything about them…
(Such a fan has written to me–)
"Go ahead and continue believing in avex."
"Believe that if the 3 return to avex, one day they will return to being 5."
I do not believe that to believe as the above (quote) is a bad thing.
If that is how everyone is feeling, then, that is fine…
I do not have the right to say that such belief is wrong and I do not plan on saying so either.
However, it might be too late when you realize that the belief was a mistake.
A few days ago, I posted the article about the petition (by JYJTheirRooms who has submitted also an official complaint about Avex's unethical dealings with regards to JYJ, see here).
I received many "applause" comments (approving comments).
I'm a little disappointed… There were many who objected because they had to use real names, there are those who wanted to sign but couldn't for a variety of reasons… I understand because of many different reasons many who wanted to sign could not.
Reflecting on this—I believe that I was not considerate enough.
Those who were hurt by my article, I apologize.
(However, let's make this clear–)
One thing to make clear, is that the petition was not sent merely to Avex.
It was also sent to an important government organization, so that the 3 can do their activities freely in this Japan.
It was supposed to be the impetus that allows them to freely work in Japan… so without much thinking (T/N: since I was emotional), I wrote "A little bit disappointed."
Such a large chance was wasted by the fans themselves… I was impatient with situation.
I am truly sorry.
President Matsuura, when the petition first begun has tweeted this, right?
"Sorry to the fans, but even if there were 10 thousand signatures, it won't do to accept a mistaken person's belief. (T/N: informal speech)."
Maybe if there we 50 thousand signatures he wouldn't have said such a carefree thing… am I the only one who though that?
But, I do not care anymore…
I'm tired.
(People write to me–)
Die Hayato.
You're annoying, disappear.
You should've died in the tsunami.
I'll stab your eye with a needle.
These people, are they the so-called anti-fans? If that is the case, they should stop calling themselves fan of the 2 members of Tohoshinki.
I like those two.
Therefore, I wish that you don't make them sad (with your actions).
Or maybe, they are JYJ fans who think I am annoying.. ?
If that is the case then they should just stop reading my blog.. It's very simple…
Closing this blog.. it will be something to make the anti-fans happy… So I will continue to write with determination.
Honestly, I don't care at all about the anti-fans's comments. I ignore them (I ignore them, and based on the lawyers advice report every one of their IP addresses.)
But (what actually made me feel bad–) I felt worse because of the harsh comments from JYJ fans… They pained me.
Because the comments were made out of their love for JYJ, it was hard to accept them by myself.
Therefore, that is the high and low of matters – smile-
At this rate– maybe close the blog… Take a small break… Or, again, appear in front of everyone?
For the time bein– see you! … Lets leave it at that
— Hayato
*When July comes, special news will appear on 3hreevoices site
Everyone, once in a while, check please.
http://www.3hreevoices.com
Source: Hayato-san's Blog
Translation Credit: @As0or83
Shared by: JYJ3