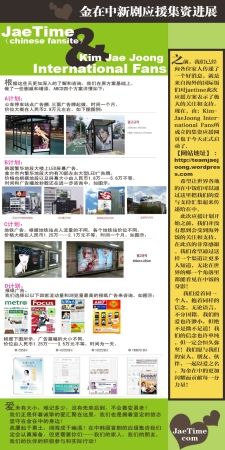 From Jaetime:
"Since the supporting donation plan for Jaejoong's new drama made by Jaetime has been started, we received a great amount of favor and support from overseas fans which moved us a lot. Besides,we would like to thank overseas fans in particular for your close attention, supporting and admission for Jaetime for a long time. Thank you so much for choosing us. Let's support and cheer for Jaejoong's new drama."
Kim Jaejoong International Fans joined hands with Jaetime to work together on a project aimed at promoting Jaejoong and his first domestic drama, Protect the Boss. The project consists of two parts: First part is a collaboration between the two fanbases to purchase advertisements to increase publicity and familiarity with Jaejoong and his drama. These ads will take form in one or all of the following: subway advertisements, bus stop panels, and LED screen advertisements. For the second part their project, the two fanbases will each send fangifts to Jaejoong.
With the August 3rd drama pilot date fast approaching, fans are drumming with excitement and support projects for Kim Jaejoong have been sprouting all over the globe. In the coming weeks, KJJ Int'l and Jaetime hope to raise enough money to dot South Korea's streets and public transport links with images of Jaejoong. What a summer treat for the lucky commuters!
To learn more about project, please visit Kim Jaejoong International Fans website.
Source: Kim Jaejoong International Fans and Jaetime
Shared by: JYJ3