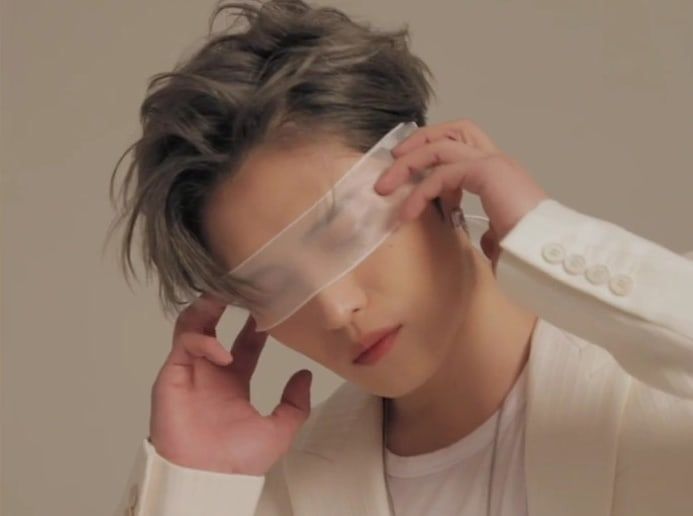 WAVES : Are you a person who is fascinated by old things or a person who keeps trying new things?
JJ: Compared to trying new things, I'm more of a fan of the old than trying something new. For example, the restaurants I often go to or the food I eat, I like the old ones more than the new ones. When I went to China before, I liked to eat local snacks on the street, not the kind that went indoors. But I am worried that it will affect the people around me, so I seldom go there, but I really like to go to old restaurants that have been in business for a long time.
WAVES : What are you busy with recently? Do you have any plans for the album?
JJ: Recently, l've been shooting a travel show on YouTube, also for Pictorial, and and l'm still preparing for recording Japanese records. I also have plans to release an album, but the concept is not convenient to reveal in advance.
WAVES : Are you an emotional person? What kind of things that touch you more? When was the last time you shed tears?
JJ: I'm an emotional person. Thinking of people i will become more emotional, the feeling is also moved because of people. Recently… I cried a lot when I watched the movie yesterday.
WAVES : What do you think has been the biggest change in yourself in the past two years?
JJ: Weight? Haha, I have gained about 5kg in weight. I lost some weight when I was in the army. I usually keep it at more than 60kg, but recently it has entered 70kg.
WAVES : When was the last time you felt like time was filled with kindness?
JJ: Too many. Recently, it seems that I have seen a lot of justice. If you see those citizens who do justice on the Internet, you will feel that "justice is still alive."
WAVES : In front of your family, are you the type of reporting good news but not bad news, or the type of saying everything?
JJ: The good thing is that before I pass it on, my family will know about it and then contact me. I don't usually tell my family about my worries.
WAVES : What is the most memorable dream? What do you think you are doing in Parallel Space?
JJ: I dream almost every day, and about three times a year "deja vu dreams" happen, because what I saw in the dream actually comes true, so I don't want to dream anymore. In fact, I am not a person who believes in ghosts and gods or has deep beliefs, but if I see dreams come true in reality, I will feel scared and there will be "should I really believe this?". I can't help but believe in parallel theories.
The things I dreamed about when I was a child, last year, and the year before last happened in reality, and people's situation is the same, so I often get goosebumps from this. As the name suggests, is it the same in parallel time and space?
WAVES : Every working hour your airport fashion always look good, did you prepare it specially? very curious, what do male celebrities usually do before going to the airport?
JJ: It's all done by stylists these days. When we first started the group activities, we had airport fashion for the first time. At that time, we all wore our own clothes. When we went to the airport, there was no help from a stylist, or there was no such concept, so we wore our own clothes comfortably. I seem to pack my luggage before going to the airport, It took me a long time to pack my luggage, It takes me about five hours.
WAVES : What is the most outrageous thing you have ever bought?
JJ: I've bought the most outrageous thing recently. Ah, it's the mobile phone holder I bought a few days ago. It broke instantly when I put it on at the end. It's really unusual. So If I want to buy something, I should buy expensive and good things, because the price is cheap, I bought two of them, but I still have one at home. I'm afraid that my mobile phone will fall off and I can't use it now.
WAVES : What kind of people do you like to make friends with?
JJ: People who are good at catering to the atmosphere, people who are good at reading the surrounding atmosphere, people who are not rude, people who don't talk about individualism, people who don't gossip to slander others.
Do you have any goals for the future?
JJ: Go to China to eat authentic street food! It seems that I have only been there once so far.
WAVES: What do you want to say to Hwaboon (Chinese Fans)?
JJ: I haven't seen Chinese fans for a long time. If I have a chance to go to China, I must meet everyone and I want to eat street food stalls. I really want to eat out from the hotel, but I haven't been there once. (I) want to go to the street and sit on the bench and eat street food crazily (eat a lot), must go to China to try it once!
Source: VK
Shared by: Mia of JYJ3