← Intro
[NO SUB] Episode 01
Date: June 14th, 2021
MC: Kim Jaejoong
[OPTION 1] Watch Full Episode on Youtube only <Link 1>
[OPTION 2] Watch Full Episode on Youtube only <Link 2>
.
[ENG TRANS] 2021.06.14 Naver NOW «Neighborhood Youth»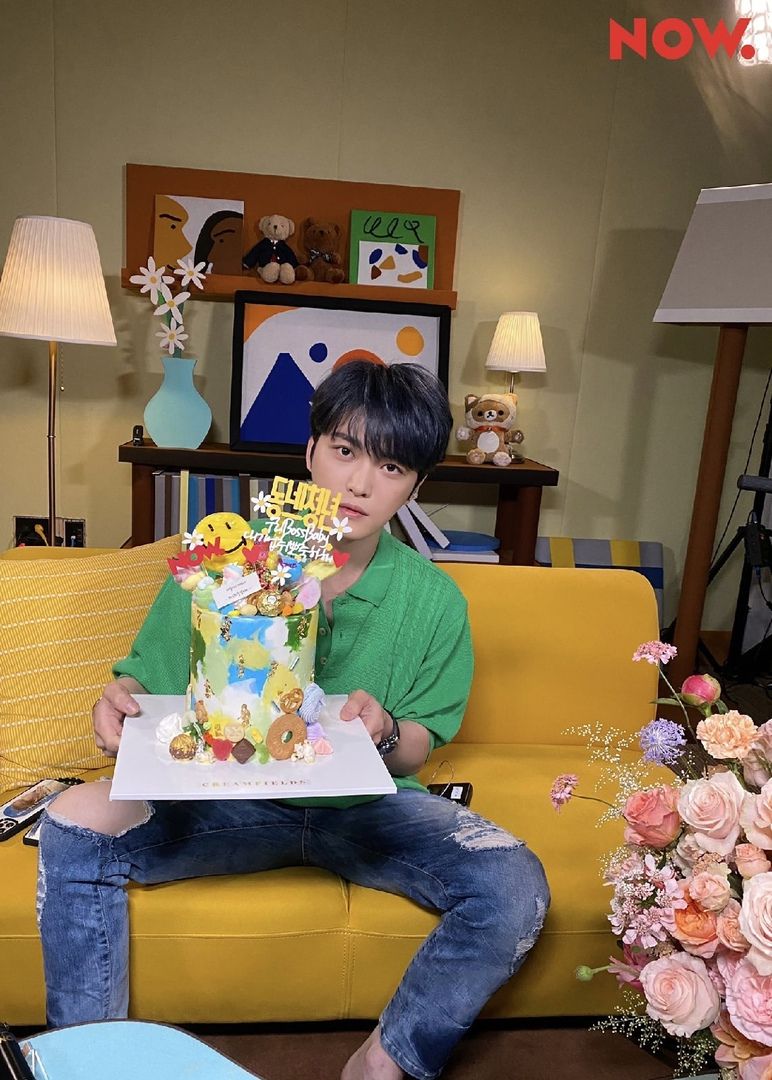 The opening ment "a neighborhood young man you can find anywhere, a neighborhood you can find nowhere»
Jaejoong introduced himself and telling his history on Naver NOW
Jaejoong said it's weird to introduce him as boss baby He said he read a lot of people said there isn't a young man like Jaejoong in their neighborhood Jaejoong said this our neighborhood, the show
Jaejoong told to send the message and how to send it.
He said we should go to the community center where he needs to register himself.
Jaejoong said he ate naengmyeon today.
He was asked if he moved from heaven
Jaejoong wants to be open and have comfortable talk with everyone.
The "admin" has declared Jaejoong as the resident in the neighborhood
First message asked about Jaejoong's 10th rib. He said it's okay now, as we can see he can laugh as much as he wants, but he can't exercise yet. He is sorry to make us worry.
Next message said about a food in Gongju that Jaejoong didn't even know. He said he will search for it later.
Next message from someone who is 2 years older than Jaejoong and wanted to call him oppa. Jaejoong said she can. She said everyone handsome is oppa to him.
Jaejoong doesn't want to be called baby because he is the BOSS. But he said it's okay, we can call him anything.
A comment noticed Jaejoong wearing green shirt which match Naver. He said he purposely wears it and it's his own clothes.
'Street foodstall~'
There's udon. Jaejoong asked if we like the concept. He said it will be nice if the soju is real and not just CG.
Jaejoong said how can he host with food in front of him. He said he would just eat a bit. He said he would eat again in the middle of the show if he's hungry.
Jaejoong mentioning good food in summer
Jaejoong's summer food stall recommendation combination: udon-like noodles + red foods in a cart full of fire fighting heat. Ex Tteokbokki, Squat Eel, Sundae, etc.
Jaejoong said there's a food stall in Haeundae in Busan, it's a bit expensive tho. But it's worth is as the athmosphere is nice. He said the under-age viewers may not understand what's nice about street food stall.
Next corner "Because I can't be honest." Jaejoong said it similar to his drama from long time ago
Jaejoong read a message from someone for her mother. It was "I also want to get married, but I have failed 4 blind date." Jaejoong read a slang and he said he knows what it means. Jaejoong said Don't go on a blind date. You'll meet someone naturally. Mom, please wait a little longer.
The next message is from someone who is 19 yo. Jaejoong said he's already debuted at that age. He said not to be to hard to herself, it will only hurt her.
The next message is about one-sided love. Jaejoong said it something only one person knows and feels, the way to end is to love another person.
The next message, someone said she needs to stay with her boss for the whole week. Jaejoong said it can't be helped, he can't give solution. He told her to just sit faaaarrrr away from the boss. But then he said it can't be helped. Jaejoong told to come to this neighborhood next week.
The next message is from someone who became fans last year because of Youtube algoarithm. She wants to eat with Jaejoong if she got accepted in the university she wanted. He said he will pray for her to all gods even tho he doesn't have religion.
Jaejoong said we can tell him all the things we can't be honest about
'Music Bar'
He said our neighborhood has many places. It's his first time touring around and it's fun~
Jaejoong said he is very thankful to fans who sent the coffee truck and he has taken picture of it too.
He said "the green big company, Naver»
Jaejoong said "Music Bar" corner is where we can talk about memories from the songs. He said he really wants to do this show and he wanted to make the fans' wishes come trues. So he chose the song, Paradise as it's the meaning of the song.
Next song is Lee Hongki – Still Love You.
Jaejoong said Hongki has been active for long time too and they go to the same salon but they have never met. So a friend introduced them via kakaotalk. And they just met in person not long ago.
Jaejoong said he listened and watched Hongki a lot. And recently they have been close. He hopes they will continue to be close. A comment requested Hongki to be a guest. Jaejoong said it's a good idea.
Jaejoong said his friends and Hongki's friends know each other. But they didn't. He said it's very interesting.
Jaejoong said he knows an upper-person in Hongki's company. He said Hongki is busy with musical.
Jaejoong said we can send songs that we want him to listen too.
Next corner "I'll live my best."
Jaejoong read about someone who only did what she wanted but as she became company worker, she couldn't help but to do everything she was told to
Now playing : Bolbbalgan4 – Freesia
Jaejoong met them on GDA in 2017
He said he doesn't like sweets but he kept eating the sweets from the cake
The song has finished playing and Jaejoong still ate the marshmallow. He said it's so good.
Then he read a comment how the word "넵" – yes (in a cute/affirmative way) is cute, acted out "네" in different ways/tone reflecting: joking/disrespectful/lack of effort ways etc
Jaejoong took another sweet from the cake, he ate it and said it's a bread. He said it he craving for sweets late.
Jaejoong said he wanted the jelly and took a pizza shaped jelly. He said the cake was from fans.
Jaejoong said his parents sometimes treat him like a little child too.
The gift is called "NOW pocket" here. It was "fortune pocket" on Night Time Workshop. His personal phones are both on the table…
A message say she misses the sea as summer is coming. Jaejoong told her to just go.
Next message said that happiness in near as she is happy to eat his favorite ice cream. Jaejoong agreed.
Jaejoong said he's very happy to have his own official show. And asked the cameramen to scream hooray together with him.
He said it's because it's their 1st episode so they don't really get long well yet, he told us to wait till next episodes
Jaejoong said it's all because of fans that we can have the show. He said he also not used to this yet as it's still new to him. It's time to end the show. Jaejoong asked to have special episode where it can last longer
Source: VK
Credits: 월드피스 김재중, Only JJ
Shared by: Mia of JYJ3