← Intro
[NO SUB] Episode 06
Date: July 19th, 2021
MC: Kim Jaejoong
[OPTION 1] Watch Full Episode on Youtube <Link 1>
[OPTION 2] Watch Full Episode on Youtube <Link 2>
.
[ENG TRANS] 2021.07.19 Naver NOW «Neighborhood Youth»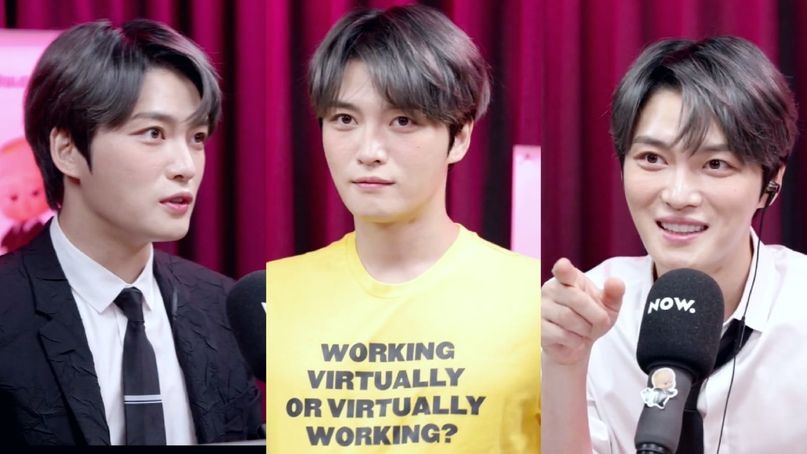 • Opening ment 'The one you want to lay on when you're tired. Neighborhood Young Man, Kim Jaejoong."
• Jaejoong said during the opening song, so many comments said "cute".
• Jgeioong read a message that said "I had known you would get 100 on Call Center Of Love. It's 1.000, 10.000 worth of live performance. Oppa was very happy for real, right? When I saw oppa jump, I thought you're really happy."
Jaejoong said "Right, it was real. I also don't know, it was just a karaoke machine score. But why was I so happy? I was happy."
• The next message also congratulated Jaejoong for singing on a TV show.
Jaejoong said "It had been almost 12 years for me to sing on TV. Even though it was just singing with a karaoke machine. Many people around congratulated me too. I received as many messages as on my birthday. I also got lots of calls from celebrity friends."
• Next message said if she becomes a boss, she will let her coworkers work from home.
Jaejoong said there isn't a workplace where you can come and go as you want.
• Next message said she will voluntarily resign if she becomes the boss, because she doesn't have the confidence.
Jaejoong said being a boss is a big responsibility and you must take care of lots of things. He also said being a boss is a hard job.
• Next message said if she becomes the boss, she will choose the cafeteria menu as she pleases.
Jaejoong said he knows that each company has their own regulations. He said thank you for the food support.
• Jaejoong said even though he doesn't like being called baby, he is still called 'boss baby' and the show got a paid promotion from the movie Boss Baby.
• Jaejoong introduced Ted and Tina. He said they're so cute.
• Jaejoong said that in his 20s fans called him "oppa", even more when he was in the military. He said that fans asked why he aged backwards. Jaejoong said it may be because of his behaviour, he wasn't sure himself.
• Jaejoong said he weighed around 59-60kg in his 20s. The suit he wore was bought before his military service, so it's kinda small.
• Jaejoong said he would be like Ted who isn't aged and cute. He said we can call him baby, because he knows that even though he said don't, we'll still do it anyway lol
• Jaejoong said Ted received lots of love from the first movie and there's a new boss baby, Tina in the second movie.
• Jaejoong felt amazed that the movie is released in Korea on 21st July, just like his documentary. He thought it was fate.
• Baby Corp wanted to scout Jaejoong. He asked why. Jaejoong said because he heard about the Scouting he wore suit and tie, also put on a little blush on and even his fringe. He said he wanted to look good for Ted and Tina.
Community Center
First message asked if Jaejoong likes pilates.
He said he never tried it but he tried yoga once and said it's a good exercise. Jaejoong said he wanted to try but he's shy because usually women do pilates.
• Next message asked it Jaejoong likes zombie movie.
He said he coincidentally rewatched Train To Busan the day before. He teared up at the end.
• Next message asked about good spicy food Jaejoong recently ate.
He said he ate chicken feet and squid. Jaejoong said he's a spicy food mania.
• Next message asked what Jaejoong's favorite snack in the rest-are.
He said he really likes squid.
• "Baby Corp" -Jaejoong's office
He's receiving recruitment. 3 most important things are health, trust, and humor. Jaejoong said he works happily.
• First applicant I-can-do-it-nim. Jaejoong really liked the nickname. She said she is a university student majoring in P.E. Jaejoong said he has a position in his mind. She can protect Jaejoong with her big shoulder and asked for salary W100 million. Jaejoong said if she works a lot like Secretary Kim on the drama What's Wrong With Secretary Kim who takes care of everything it's possible. Jaejoong said his current manager was his former bodyguard that he has known for more than 10 years. Jaejoong said she is accepted.
• Next applicant said she can make any coffee for Jaejoong and was part of a comedian group before.
He said his manager is really not funny no matter how he tries but funny without trying. Jaejoong said it because he was o bodyguard. She said she can make Jaejoong laughs anytime and wanted vice president position. Jaejoong said she's disqualified. He said if there's vice president it must be his manager and he said the company has order. Jaejoong said he has known his manager for 10 years so he trusts him and he should go for the vice president position first. She's disqualified so Jaejoong gave her Baskin Robbins.
• Next applicant said she will take care of Jaejoong's outfits and there's only one rule, to always have couple look with her.
Jaejoong said she's disqualified because of the couple-look. He gave her ice cream stick from Baskin Robbins.
• Next applicant said she is really good at using her hands and can do magic. She wanted a week off in a month and to watch Jaejoong's concert once a month.
He said she's disqualified because it's unrealistic. Jaejoong said he can sing for his coworkers but still a week off in a month is too much. He gave her Baskin Robbins.
• Next applicant said she was a dancer in her university, she can be Jaejoong's backup dancer, she also said she is humorous.
He said she isn't bad. He would think about her again later.
• Next applicant said she is a dentist and can take care of everything including the boss's work. She wanted to have company for herself.
Jaejoong said she's disqualified. He said he can send all the coworkers to her. Jaejoong gave her Baskin Robbins.
• Next applicant said she can speak 3 languages (English, Chinese) and is ready to become Jaejoong's translator. She said that only seeing Jaejoong smiling is enough for her payment.
He said she can right away work in his company. Jaejoong said she's donating her talents.
• Next applicant said she's good in make food and mixing drinks. She said that taking nap is important because they're babies and wanted Jaejoong to sing lullaby.
He said she is disqualified as he wants to make food and mix drink by himself. Jaejoong gave her a Dunkin Donut.
• Next applicant said she's 16 years old and has a younger sibling so she can take care of a child.
Jaejoong said he also has lots of niblings so he can take care of a child too. He said he has a total of 15 niblings. She was disqualified because Jaejoong said she's still underage and needs her parents' permission. Also, he's looking for someone who is better than himself. He gave her a Dunkin Donut.
• Next applicant said she majored in interior design in her university and will take care of the interior.
Jaejoong said his company doesn't have too much money for the interior.
• Next applicant said she can handle the company and can entertain Jaejoong with one-man-concerts. She wanted to see Jaejoong all the time. She is disqualified. He asked "how can you see the boss all the time?" Jaejoong said he's curious about the one-man-concert.
• Next applicant said she can do promotions for Jaejoong and can handle the SNS.
He said he knows how hard it is to handle an SNS page. He would think about her later.
• Jaejoong felt hot so he took off his blazer, he said it isn't a blazer for summer. He said that the company doesn't have a dress-code, he added we can wear pajamas too, we just need to make sure we take a bath before coming to the office.
• Next applicant said she is good at doing many things alone. She is disqualified because Jaejoong said he's also good at doing things alone and he wanted to keep the boss aura to himself. He gave her a blueberry macaron.
• Next applicant said she is good with massage.
Jaejoong said he doesn't really like massage. But he still likes it if the massage is soft. Jaejoong said he feels ticklish. He gave her a macaroon too.
• Next applicant said she is good at drawing and can draw Jaejoong's sculpture-like face.
She is disqualified because Jaejoong doesn't like to not move around if she draws him. He gave her banana milk.
• Next applicant said she is majoring in vocals so if Jaejoong doesn't want to sing, she will.
He got upset (lol) asking how can she say that to someone who sings to make a living and said she's too much. Jaejoong gave her the cheapest give a W1.000 coupon of Dunkin Donut. He said she wanted to take his job. lol
• Next applicant said her ability is to lie down and breathe, she asked if she could be accepted.
Jaejoong said no, but if she said "to stand and breath" he would accept her. He said there are so many positions in the company, she can organize stuff. Jaejoong said people think again to do bad things when they see CCTV, it'll be nice to have someone standing on the entrance.
• Jaejoong said he personally wanted to recruit the cameraman on his left, as the cameraman gave good reactions to him. He said the laugh of the cameramen makes him feel he isn't alone. Jaejoong said he likes the staff who just laugh. He said there was a time where nobody laughed at all during the broadcast and it made him feel bad. Jaejoong told the cameramen to not force their laughter.
• Jaejoong gave all applicants accepted and the ones he said he would consider each W10.000 coupon of Dunkin Donut.
• "Music Bar"
Jung Yonghwa ft. Yoon Dohyun – Cruel Memories
Jaejoong said Yoon Dohyun worked with him on his song Now Is Good, and he also helped a lot on his rock album. He added that Yoon Dohyun really helps the juniors a lot and he really respects him. Jaejoong said he's envious that Yonghwa got to sing together with him and hope he can sing with him later.
• Jaejoong tried to color the Boss Baby coloring page and liked it a lot. He said it's so fun and he did it after a very long while.
• "I live my life diligently"
• The message said she got a long 3 months break from her work and could enjoy a nice daily life for herself but soon she should go back to work.
Jaejoong said no matter how thankful we're for our work, there must be a time where we feel tired. He said having a too long break is also not good for our mentality. He gave her Starbucks.
• Jaejoong bragged that he finished the maze game right away without any mistake. He asked others to try color the Baby Boss with other colors. He said the stickers are cute and asked for more. Jaejoong put one sticker on the back of his phone.
• Jaejoong read a message that was asking about slang. He tried a few times and got it. Jaejoong told everyone to stop thinking that he isn't trendy just because he talks a lot about the past.
• Next message asked Jaejoong about any memories from his hometown.
He said there are a lot shown in his documentary. His school wasn't as big as when he was young, even though he isn't very tall himself. He said there's a baseball field, when he was young he used to think the players were big built. But when he went there as an adult, the players were all cute. Jaejoong asked them to check it on the documentary.
• Next message asked if Jaejoong talks a lot or not when he is drunk.
He said he used to do aegyo before, but not anymore. Jaejoong said he usually suits himself to the situations.
• Next message said she lives alone so she doesn't eat well alone. She asked if Jaejoong likes fruit bingsu.
He said he likes it. Jaejoong said he moved the day before so he didn't have a house. He said he doesn't have any fruit allergy.
• Jaejoong asked for lots of support for the Baby Boss 2 movie and his documentary.
• Jaejoong said goodbye and promised will come back with an even cooler side pext week.
———————————————————————————
JJ: I sang a song on the show for the first time in 12 years. The people around me and the fans said congratulations and I was happy too. Even though I was an entertainer, I felt strange that I could see my face on TV.
JJ: Today's theme is "What if I was a boss?", But I think that more people are working from home now. It may be a good environment for those who like to stay at home.
The suit JJ is wearing has been with him since before he enlisted. But when he wore it now it's a bit tight.
JJ said he's wearing a suit, had his cheeks blushed and set his hair like the boss baby cause he is scouted by Ted and Tina from Boss Baby.
Fan about Jaejoong getting 100 points:
"Oppa, you were really happy too, right?"
Jaejoong: Yes, (the jump) was sincere. Really, I don't know why, it's a karaoke score… I thought I'd be indifferent, but why am I so happy? I was really so, so, so happy. I jumped up and down.
JJ: My nickname is "Boss Baby" because I say "Baby" and I'm also a boss. That's why Ted and Tina came today. It's been a few years since I saw the movie "The Boss Baby".
JJ: I wish I could stay cute like Ted in "Boss Baby" I understand now. It doesn't matter if you say "baby." "Boss Baby" will be released on the same day as my movie. I think it's fate to be able to promote it like this. If you're interested in it, please go and see it.
JJ: They ["Boss Baby 2"] came today to find a new boss…! I've been trying to make Ted and Tina look better today. It's similar to an interview, so please understand if it looks awkward today.
What kind of employee does he want?
1) Health
"You must be healthy! Health is the best!"
2) Trust/Faith
3) Humor
"I will look at your humor."
The company environment should be fun.
Comment: If I'm the boss, I'll improve the menu in the cafeteria!
JJ: It's good that the welfare of the company is good. I'll tell you about the meal, thank you very much for sending it today as well. I really appreciate it every week.
Comment: Do u wanna do pilates?
JJ: I've done yoga once, but not pilates. It's a good exercise. I'm gonna try doing pilates, but I'm a bit embarrassed. Guys tend to feel shy in front of female techers.
Comment: I'm a college student majoring in physical education, applying to be a security guard to protect my boss.
JJ: My manager is a person who guarded me more than a decade ago, and we've worked together for a long time, we've already built a relationship of trust with every other.
JJ casually dissing his manager
He said his manager is trustworthy but really not funny. He's not funny even if he tries… He's actually funny when he doesn't try
JJ said it may be because he has a bodyguard background
Comment: I'm a serious type, and I'm good at raising the excitement because I was in a dance club.
JJ: It feels good. It's good to be confident. I'll put it on hold for now.
Comment: I'll do couple looks with the boss.
JJ: No, i will not accept you. I can't do couple looks. I'll give you a present instead for failing.
JJ said in his company there are 3 important things.. Health. Trust. Happiness.
The company environment is work towards happiness. To always be happy.
This is about his "company" boss baby CEO..
The format of today's show is that he's a CEO and he's accepting applications..
Comment: I'm a barista, I can make you coffee and I'm good with jokes. I can apply as your vice ceo.
JJ: Your descriptions are good, but I can't accept you. I have to make my manager my vice president.
Comment: I'm a dentist. Will you run a dental clinic?
JJ: Dropped out! I eat a lot of sweets and need dentistry, but you have to guide me instead of running it!
Comment: I'm 16 years old. I'm good at matching people. I can match up my 11-year-old sister.
JJ: It's okay because I have 15 nieces, but will it be better for me? You have to go beyond me! There are many advantages other than me. But 16 years old … do you like sweets? I'll give you Dunkin'Donuts as a present.
Comment: I can do the company's interior design, you don't have to pay me.
JJ: Our company is still small so we have less capital. So there's almost no interior decoration. I'll just call you back.
Comment: I'll be applying as the CEO's PR manager for free.
JJ: Accepted. Since it's a small company, I'm grateful that there's gonna be a promo team with promotional materials. And they'll do it for free too.
JJ: I'm gonna take off my jacket. In our company there's no dress code. You are free to dress whatever you want. Sandals or Clothes you wear at home is okay. As long as you wear it properly.
Comment: I'm applying as a masseuse.
JJ: Not accepted. I don't like massages cause it tickles me.
Comment: I'm good at painting. I draw caricatures.
JJ: Dropped out! You have to stay still when you're being drawn. I hate it.
Comment: I'm majoring in vocals. Boss, if you don't want to sing, I'll sing for you. It's a pass, right?
JJ: Fail!! My job! What do I do if you tell a person who sings that you'll sing instead of them? Huh? Not this one. This is a fail. This is too much!
Comment: Only breathing and lying down is my hobby/specialty, am I okay too?
JJ: Fail! Of course it's a fail, but lying down? Perhaps if it's not just breathing and lying down, but if it's only breathing and standing, I'll pick you.
Possible job: security guard…
JJ: There's 2 camera directors in front of me. I appreciate how they react when I say something. I'm grateful that they laugh with me. So i don't think I'm alone. Sometimes I think it's boring when they don't laugh but they don't have to force themselves to laugh.
JJ: Ah! I moved yesterday, so I have no house.
Music Bar
추억은 잔인하게 … memories are cruel ( with 윤도현) – 정용화 Jung Yonghwa
JJ: Yoon Dohyun is an influential senior to his juniors who like rock music. He's leading the rock world, I'm very happy to have the opportunity to work with such senior. I hope I'll have another chance soon.
JJ: I've only been working for the last three months. I kept running and finally had time last month. I don't know how long this peace will last, and I don't know when I'll be busy again, but I'm going to enjoy this time for now. I'm still working hard today.
JJ said he's really good at maze games and spot the difference games.
JJ: Thank you, we received a lot of messages today. But let's talk about the merch a little more. I remember Ted's hair so I colored it, but if you have the chance to color it you can color it whatever you want. There are also stickers. I'll place them on my cellphone…
Comment: Guess what the acronym "Ojo-chigo" is.
JJ: Let's go for chicken tonight, right? Actually, I've heard of it somewhere. It's me! Just because we talk a lot about the past doesn't mean we don't know what to say these days! Lol
Comment: Are you chatty when you drink? Or are you the silent type. How do you deal with people who talk a lot when drinking.
JJ: My habits during drinking are not bad, I don't get drunk easily. If there's a person who acts inappropriately while drinking, I will try to lighten up the atmosphere. But if it can't be helped I will tell him to get out.
Comment: Do you like sulbing? (shaved ice)
JJ: I like it. Recently peach sulbing is popular these days. And I like peaches too. I don't have anu fruit allergies so I can eat different tyoes of food.
JJ: I've been told to end it now, I haven't looked at the clock but lookong at it now I see that it's passes 15 mins overtime. We had a cute boss baby today so please watch the movie. See you again next Monday
Source: VK
Video Credits: 월드피스 김재중, Only JJ
Shared by: Mia of JYJ3