← Intro
[VIDEOS] Episode 07
Date: July 26th, 2021
MC: Kim Jaejoong
Special Guests: ASTRO's Moobin, Rocky and MJ
[ENG SUB] Watch Full Episode on Youtube Only <Link> via Podo Soda Pop
[NO SUB] Watch Full Episode on Youtube Only <Link> via 월드피스 김재중
[NO SUB] Watch Full Episode on Youtube Only <Link> via Only JJ
.
[ENG TRANS] 2021.07.26 Naver NOW «Neighborhood Youth»
"Like a friend, more than a real friend, Neighborhood Young Man, Kim Jaejoong."
Jaejoong said he is fixing his daily routines and tried to eat his meals properly He said he gained 2kg
The first message said she just watched On The Road, Jaejoong said he hasn't watch the final version yet.
Jaejoong watched "On the Road" when it was ~80% edited, but he hasn't watched the 100% edited version yet, so he's really curious too. He already knows the content, but he's very curious about the music editing. He'll watch it last after us and tell us his thoughts again then
Next message asked about Jaejoong's japchae recipe. He said use sugar. Then told us to search for recipes on Youtube and Naver
Today's question is "What do you want to do before today ends?»
Jaejoong said he used to drink alcohol before going to sleep but he has changed, he exercised before going to sleep nowadays~
Jaejoong said he kinda felt shy to be with today's guests.
Guests: ASTRO MJ, Moonbin, Rocky
MJ introduced himself first and he showed a bottle of water from his "room". Moonbin wanted to be called Bin without his surname. Jaejoong said he's also the same. Jaejoong told them to call him «Joong hyung».
MB: I like it if people call me 'Bin' or 'Binnie'
JJ: Me too! Then I will call you 'Binnie' for today's show
MB: Great! W-What should I call you then?
JJ: Call me 'Joong'! Joongie hyung!
They will call Rocky as "Hyuk" for today.
Jaejoong said they're the first guests
Jaejoong said that instead of being just close sunbaes and hoobaes, he'd like it better if they can be close hyung and dongsaengs.
At the start of the radio show earlier, as the Astro members were introduced, Jaejoong spoke shortly about how Astro and he (and JYJ members) shared the same salon. He said they didn't really have the opportunity to interact much back then.
As he was at the salon earlier, he asked (probably the staff members at Rue 710) if it's been 4 years since Astro debut'd. The members then told Jaejoong that it has been 5 years already since they debut'd.
Moonbin said ASTRO has been active for 6 years. Jaejoong was surprised.
Jaejoong and Moonbin talked about their meeting 15 years ago. Moonbin said he was in 2nd grade of elementary.
Jaejoong said it's fortunate that ASTRO debuted few years ago because new groups nowadays can't meet their fans because of the situation
MJ liked art so he originally wanted to be an architect but in elementary/middle school he saw TVXQ's performance video and wanted to be an idol bc he wanted to experience the cheering/clapping of fans when he goes up on stage on a lift and at the end
Moonbin: he's the main vocal of our team
Jaejoong: how is an architect good at singing too?!?!? isn't that unfair?!?!
Rocky said he doesn't show when he's scared/surprised so he's very nervous right now (bc he's a TVXQ fan) but it doesn't show. He said it's hard to look into Joong hyung's eyes lol
Bin says Jaejoong is a really big senior for them because he'a perfect in performing, vocals and visuals
A message said she felt very fluterred knowing the kid from TVXQ MV is meeting Jaejoong. She asked if Jaejoong and Moonbin know what they share exactly the same. They both know they share the exact same birthday and the same Chinese zodiac, tiger
They showed the picture of Jaejoong and Moonbin together. Jaejoong said Moonbin was in TVXQ's MV and also with them during Starking as little TVXQ. Jaejoong said little TVXQ was a big issue among fans too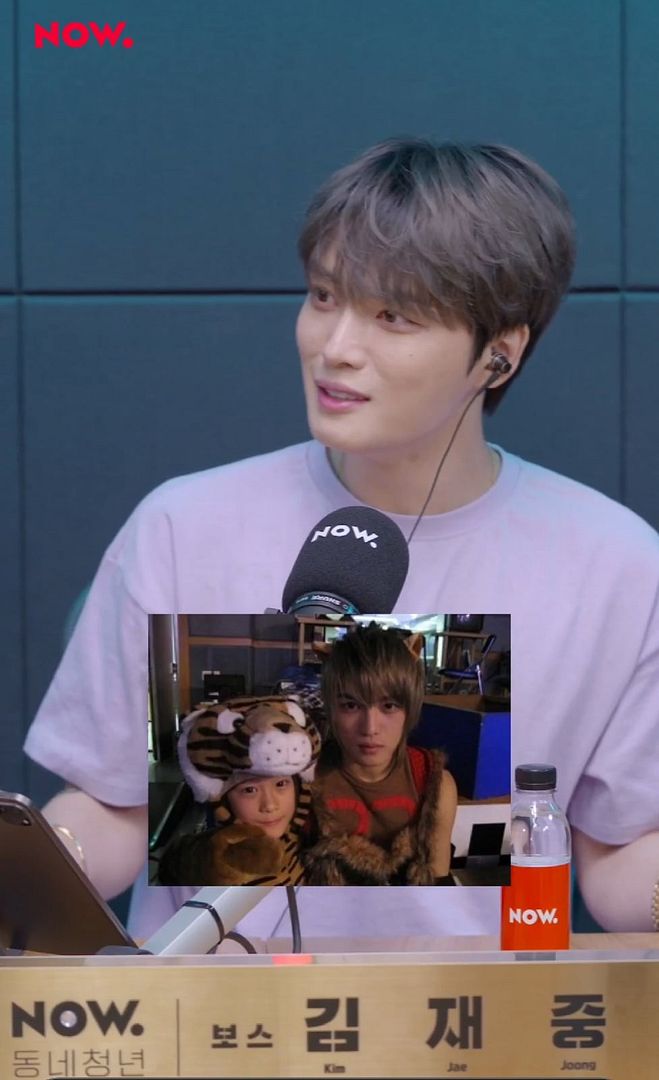 Jaejoong asked Moonbin if he knew who TVXQ was at that time. Moonbin said he didn't know, his mom just told him to take picture with them. But Moonbin became interested being singer after meeting them
MJ said he became singer because of TVXQ. He really likes Love In The Ice, and Mirotic. MJ said that it's very cool to see the fans' reaction after the performance
A message said that Rocky is Jaejoong's big fan that he even recommend Love In The Ice to fans. She also told Rocky to not be jealous meeting Jaejoong.
Rocky sang a bit of Love In The Ice. Jaejoong said it's the ad-lib part. Jaejoong said it will be nice if they can remake the song. They said they did Mirotic cover in their concert
A message said ASTRO has did Mirotic and Balloon cover and told that Moonbin took Jaejoong's part.
Moonbin singing Jaejoong's part on Mirotic
J: It's better
B: I really wanted to perform this. It was really nice that we can do it in concert
J: How was it in the concert?
B: Everyone screamed the fanchant
J: I'm thankful
R: Everyone know it
B: There's nobody who doesn't know
Jaejoong asked them to do cover of Love In The Ice. They said yes.
Jaejoong said he has known Moonbin for 15 years. They want to get close starting today Jaejoong said he is also friends with actor Park Jibin whom he met long time ago and ate together in a restaurant when they promoted Purple Line
Jaejoong asked if they live all together. They said yes.
J: When you're in group… I'm not sure if you do this… after showering, with just underpants, you all lay on one bed and talk
B: Of course
J: So you still doing it. It's nice. If I can go back, I want to live together as long as possible, then live alone. Because to think of it, you'll live alone longer
R: It's lonely
J: Right. It's nice to make lots of memories while leaving together
J: Ah… it reminds me a lot of the past~
Jaejoong: I'm sure about this, when we were active together… I'm really sure about our teamwork. On or off stage, teamwork is very important. Our own greed was big, but it's good. As example in our own room we learn languages, practice singing. Even inside car, we memorized lyric so we won't make mistake. There wasn't something like prompter before. Because we sang in Chinese and Japanese too, of course. So that we won't forget. Next time, if there's time, I wish to talk more with you all~
Jaejoong asked if they sleep on bunkbeds. They said they don't. Jaejoong said this a proof that ASTRO is a popular group.
The comments keep saying that Jaejoong is an ancestor. Jaejoong said he isn't that old, he's just a hyung.
Jaejoong asked is there anything they want to learn
MJ said he wanted to learn acting
Moonbin said MJ already did musical
Moonbin wanted to learn surfing
Rocky doesn't have any hobby, so he just wants to try even harder on what he does
Jaejoong asked is there any specific thing MJ wanted to act on
MJ said he wanted to try comedy
MJ did some voice impersonation
Community Center
Jaejoong explained about the corner to them
First message wanted Moonbin to be her trainer
Moonbin gave some tips
Moonbin mentioned about planks
Jaejoong told him to demonstrate it
Jaejoong said he was surprised to see how big Moonbin's body is. Said it's almost like 2PM's Taecyeon's body. Moonbin said he is trying to make his body smaller
Moonbin said Rocky's body is as hard as his name, rock. Jaejoong said they can do arm-wrestling later. Moonbin said Rocky and Cha Eunwoo are the strongest in arm-wrestling and no one can beat them
Rocky said he doesn't like to exercise but he really likes to dance since he was very young
Rocky said he doesn't show reaction even inside a haunted house. Jaejoong said he's the same.
Moonbin said Rocky is a pro in keeping poker face. Jaejoong said he was the one with lots of aegyo among his members
MJ said he can tell chicken brands just by the smell. Jaejoong said it's amazing.
Moonbin said he could tell his members apart with just their smell.
Jaejoong said he also could tell his members just by their smell in the past
They said because ever person has their own smell
Jaejoong and MJ are the same. They both easily look chubby. Jaejoong told MJ to think it as their positive point because when they get older they can see that their friends lost their cheek fat and looks older.
Moonbin talked about ramyeon. Jaejoong said that MJ must doesn't like ramyeon because it's make the face chubby. MJ agreed. Jaejoong told Moonbin and Rocky to make jjamppong at night to test MJ, whether he will eat or not lol
Jaejoong told MJ to eat whatever he wants later. Jaejoong said he will give MJ chicken if he sends message to Neighborhood Young Man later. MJ said he will send a lot.
The message said she recently likes soccer. Jaejoong said ball runs away from him.
Jaejoong told them to choose their position in soccer.
MJ said he wanted to be striker
Rocky wanted to be mid
MJ told Moonbin to be keepr
Jaejoong said he will just cheering
Moonbin said he like the "carnival" car. Moonbin read a comment saying "Joong hyung rides a Rolls Royce". Jaejoong said he has ride all cars in Korea. Jaejoong said carnival is the best, he even tried all kind of minivan including what actors have
Jaejoong asked about their alcohol
Rocky said he almost doesn't drink
MJ said he is getting better with drink
Moonbin drinks well
Rocky said he likes to watch others get drunk
Moonbin read a comment asking Jaejoong to do Cha Eunwoo's part with a wink
Q: Jaejoong please do Naekohallae
JJ: What is that?
MB: In our song Confession, our member Cha Eunwoo does it
RK: *demonstrates* naekohallae, then wink
JJ: *does it* … why did they want to see me do this?
Closing Ments
MJ: Unfortunately, it's already the end. I hope we can come again next time.
MB: I want to come again. Next time, I want to come with other members.
RK: It was so much fun to have a conversation with hyunh in a very casual atmosphere. I want to go come again.
JJ said he will play their new song when it releases.
Source: VK
+
[NEWS] Jaejoong to meet up with ASTRO's Moonbin, one of the child actors featured in a TVXQ MV after 15 years via Allkpop
[NEWS] ASTRO's Moonbin and Jaejoong reunite after 15 years and talk about Moobin being in TVXQ's past music video via Allkpop
Video Credits: Podo Soda Pop, 월드피스 김재중, Only JJ
Shared by: Mia of JYJ3