← Intro
[NO SUB] Episode 08
Date: August 2nd, 2021
MC: Kim Jaejoong
[OPTION 1] Watch Full Episode on Youtube <Link 1>
[OPTION 2] Watch Full Episode on Youtube <Link 2>
.
[ENG TRANS] 2021.08.02 Naver NOW «Neighborhood Youth»
Opening ment "The one you wait tor on Monday night. I am Neighborhood Young Man, Kim Jaejoong."
— Jaejoong said it rained a little on that day, the weather was humid and hot. There are people who like summer and think that the heat is too much.
— Jaejoong said he personally doesn't like summer that much because one of the things he hates the most, mosquitos. So he doesn't like to go out in summer. Jaejoong also doesn't like if his face becomes tanned. The thing he likes about summer is he can see clear blue sky and takes lots of pretty pictures of it. That's why he waits for summer too.
— Jaejoong said even though summer is hot and annoying, there are many people sending good stories about it.
— First message said she can enjoy delicious bingsu in summer. Jaejoong agreed, he said ice cream, bingsu, naengmyeon and there are many other delicious foods to enjoy in summer.
— Second message said summer is good because we can see Jaejoong wears short sleeves. He said he wears short sleeves even in fall and winter and doesn't only wear it in summer.
— Jaejoong said he once read a message asking him to wear a sleeveless lee on Neighborhood Young Man. He said that sleeveless tee is kinda inappropriate for a broadcast. Jaejoong said if everyone really wants it he can wear it once. He can wear sleeveless tees with 2 different colors like the retro style. Jaejoong said he will wear a sleeveless tee once on Neighborhood Young Man before this summer is over.
— Next message said she likes summer sport because of the thrill but this summer she can't do any. Jaejoong said there are many fun summer sports but he personally doesn't really like them. He likes the sea and water but not so much to get in there. Jaejoong said people around him like summer sports, so he wants to give it a try later too.
— Next message said she likes summer because there's summer vacation. Jaejoong agreed.
— Next message said it was because there's her birthday in summer. Jaejoong said he personally feels so so about birthday now because he doesn't want to age. He doesn't really like birthdays. Jaejoong also said that people can't have birthday party nowadays because of the situation and many people send birthday gift with Kakao Talk. He said on his birthday he received so much beef and cake via Kakao Talk. He doesn't like sweets but received around 10 cakes. Jaejoong also received a very big amount of beef that he cooked so many foods with it. He congratulated her for her birthday and sent Zero Coca Cola for her birthday present.
Community Center
First message said she wants to live alone and ask Jaejoong to look for a house with her. She wants to live in a house with multiple floors but it's too hot in summer and too cold in winter. Jaejoong agreed, he said his previous house had multiple floors. He personally doesn't really like it. He said it's really uncomfortable to go up without an elevator. Jaejoong said it's really hot in summer and really cold in winter. Also the electricity bill is high and it's really troublesome to go up and down to turn off lights. Jaejoong said many people who start to live alone live in multiple floors. He told her to try to move to a multiple floor house and regret it later. Jaejoong recommended to live there once and experience the uncomfort.
Next message said she tried new hobbies but felt bored to do it alone and asked Jaejoong to be her partner. She listed the hobbies and asked him to rank them
4th French embroidery
3rd Pottery
2nd learn to draw
1st Flower arranging
Jaejoong said he once knit a scarf. It was very hard and took lots of time. It's good if you have lots of time but it isn't his style. Jaejoong said pottery is really fun but the place is far away so he can't do it often. So because of the distance he put it on the 3rd. Jaejoong said he wanis to learn to draw even though he never tries it. He said that fans know he used to draw very well a long time ago even though now he can't, when he was Hero Jaejoong. He asked fans to look for his manga/cartoon drawings on the internet. He wants to learn to draw again. Jaejoong said 1st place is flower arranging because he has learnt it before, it's fun, it makes your mind at ease, and you can bring the flower to your house. It can make your house pretty, you can also give it as a git too. He said he recommends it.
— Next message asked if Jaejoong can make dalgona. He said he had it in Pohang in a shop in front of the beach, he doesn't know if the shop is still there. Jaejoong said he is good at making dalgona. He mentioned that he ate it in front of his school. He wanted to eat it, even though he doesn't like sweets. He said it is made of sugar and baking soda. Jaejoong also wants to make it again. He gave her Coca Cola. Jaejoong said that if you boil Coca Cola, you can see the black sugar.
— Next message said she wanted to watch a sad movie with Jaejoong on the day she feels like crying. He didn't want to. Jaejoong said he doesn't want to watch sad movies on the day he wants to cry. He said he will contact people and try to feel better. Before, Jaejoong used to make himself feel sadder when he was sad. He said not to watch sad movies when you're sad. He gave her Coca Cola.
— Next message said she wonts to propose to her 8-years boyfriend and asked for a touching way to do it. Jaejoong congratulated her and said that it's usually men who propose but it doesn'i matter nowadays. He said it won't be fun if they just give each other a ring / necklace. Jaejoong gave her cake and asked her to hide the ring/necklace inside the cake. He said analogue ways can make someone touched too as he likes the kinda classy ways. Jaejoong chose 8 pieces of Baskin Robbins ice cream cake and told her to hide it in one of those pieces. Then makes her boyfriend to eat that one piece, Jaejoong said he hopes the boyfriend won't get choked and tell her to be careful.
— A comment said that she thinks Jaejoong may put the ring inside Cola. He said it can cause death, so be very careful and have a happy ending propose.
Photo Studio
— Jaejoong said 4-cuts photo sticker and self-studio are very popular nowadays. He said he took his 4-cuts photo sticker in Jeonju when he was there for filming. He went to walk alone in the evening. There was nobody there. He had glasses and animal hats on too. He also posted the picture. Jaejoong said on the next day he went back there and took another photo sticker he hasn't posted yet. He will post it later. He also thinks it isn't bad to give the photo sticker away for an event.
— Jaejoong said he personally doesn't really like taking pictures, as he is one of the most photographed people. He said when he was active in the group they were in Guinness Book as most photographed people, even though he wasn't really sure. He said at that time the quality of the pictures taken by phone wasn't good. Jaejoong said he is thankful to everyone who takes their pictures. The staff searched for it. So Jaejoong said it again that they got it in 2009.
— A comment mentioned about Jaejoong's record of peeling sausage. He said it isn't worldwide, it's only in Japan. Jaejoong said at that time a female singer held the record so he tried it too and beat her on a TV program. But he didn't challenge her so she still keeps her record. Jaejoong explained how to peel the sausage. He said he unexpectedly broke the Japanese record and asked isn't it amazing, then said sorry.
— Jaejoong said on their Guinness Book record it said they have been photographed 500 millions times. He said it isn't a big number nowadays because at that time the memory was small and it's easier to take pictures with a phone nowadays.
— Jaejoong took his "4-cuts photo sticker" He said when he was in his mid 20s he told his company that he didn't want to do cute poses when he turned 30, but he still does it. He thinks he will still do it in his 50s. Jaejoong said he will definitely do it whenever he is told by the client, so please just find him anytime when he is bald.
— Jaejoong took "polaroid photo' too. He asked if there would be a real polaroid photo, they told him there won't be. Jaejoong said "Ah, even though Naver is a big company, there's something it can't do." He said fans can capture it.
— A comment asked if Jaejoong did NOW commercial because he was holding the bottle when he took the pictures. Jaejoong said it wasn't commercial as it belongs there and only can be drunk in that studio. He hopes they have PPL. Jaejoong said he can promote anything and asked the listeners to send it to Neighborhood Young Man.
— A message asked which one Jaejoong likes more, summer or winter. She said her AC was broken and she likes winter more and she sent a snowman picture. Jaejoong said it's very cute. He asked if she made it herself and said that it's well made. Jaejoong said it seems to be a trend to make a minimalist small snowman because in the past people made big snowman, as big as real person. He hopes winter comes fast as he likes winter more. Jaejoong said it's hot no matter if he puts on or take off clothes in summer but in winter he just needs to wear clothes.
— Jaejoong said he remembered he was really annoyed by winter when he was in the military. He woke up at 6:30 am and went outside right away. It was really hard. He said again he likes winter. Jaejoong gave her a refreshing Coca Cola for her to beat the heat.
— Next message said she went to Jeju Island alone before COVID. She sent a sunrise picture. Jaejoong said it's very pretty. She wishes COVID to be gone soon so everyone can travel freely and without mask. Jaejoong agreed and he said he misses that time. He wondered if people in the future will believe if he "there were night curfew and gathering more than 3 people was banned in 2020-2021." Jaejoong said he feels sad seeing babies wearing masks and kids can't go to school. He misses traveling freely. Jaejoong gave her Baskin Robbins.
— Next message said if Jaejoong came to Argentina a few days earlier, she would bring him to local restaurants. She sent 2 pictures she took in Argentina. Jaejoong said it would be really nice if they met. He made friends there and is still in contact with them. Jaejoong said beef was very cheap in Argentina because there are lots of cows there. He said the food there wasn't strongly seasoned and he personally likes strong seasoned food, so there were lots of food he didn't really like. Jaejoong said she would have introduced the restaurants that suit his taste, so unfortunate. He said the pictures were taken in a hot area. Jaejoong said he probably went to the Northern till the Southern of Argentina, it was really good. He said it's a special country where you can experience summer and winter. Jaejoong said he went to the waterfall and glacier too. He can't forget the experiences. Jaejoong said that Travel Buddies Argentina can be watched on YouTube.
— Next message said she made a choco pie but it's actually a cheesecake and sent the picture. Jaejoong said that the picture looks really yummy. The cheese was all burnt but he said it looks like chocolate. Jaejoong said at least she is good at taking pictures. He sent her Baskin Robbins and said that the cheesecake she made is not edible because it burnt so much.
— Next message said she was feeling depressed so her room mate bought her flowers because there isn't any vase. She put them inside a plastic water bottle, and sent the pictures. Jaejoong said the flowers are beautiful. He suggested to draw or write something on the bottle to make it prettier and to put in near light so it can look even prettier at night. Jaejoong said the flowers are pretty from the point of view of someone who learns how to arrange flowers. He told her to try flower arrangement.
— Next message said she wants to boast about her cat and send a picture of it. She said it's the cat's birthday soon and it's also a fan of Jaejoong. She asked him to sing happy birthday. He sang happy birthday. Jaejoong said the cat is very pretty. He said he had cats and there was so much fallen fur. Jaejoong said he misses his cats who are in his home in Japan. He said he has been trying to find a way to bring them to Korea, and it has been a year. harder to bring in cat from overseas than dog. Jaejoong said he misses Nene and Coco. He said cats like whipped cream. Cats like what is not good for their bodies, just like humans. Jaejoong gave her Caramel Macchiato. He said not to give it to the cat þecause it's really bad for it.
— Next message from fans who works in an entertainment company. The picture she sent is from NOW building when an artist from her company went there. Jaejoong said he knows that many of his fans work in the entertainment industry, as PD, reporters, and even in hospitals. He said they're amazing and it isn't easy to work in this industry. Jaejoong said many CASSIOPEIAs have now become very amazing people. He said there are fans among athletes in the Olympics. Jaejoong said it's a hard time for the industry and told her to stay healthy. They will definitely meet one day and told her to say hello also to say she is the one who sent the message. He gave her Coca Cola and told her to give it back to him later, saying "I return the Cola oppa gave me".
Music Bar
SWJA – Run With Me
Jaejoong said he wanted to recommend the song. He said it's a very good song. Jaejoong said he likes people who sing with half voice half breathing and he also sings like that, with the sound of breathing. He said that including the breathing sound is a way to express the feeling in singing. Jaejoong said SWJA does the same too. He said he doesn't only listen to that song when he feels sad but when he needs encouragement too.
— Jaejoong said the things he heard most from fans after his documentary was released is "Don't push yourself, now be free, be happy, and live while doing everything Jaejoong wants. The burden was so heavy." He said he thought of this song when he heard it. It's okay to run away when things are hard then go back after you feel better.
I live my life diligently
— The message said she finally understood her mom's saying, "It isn't easy to make money". She wants to buy an ipad so she works part-time in a cafe. Jaejoong said he can relate, you must work to buy something you want, her mom is right. There's nothing free in the world we are living in. Jaejoong said there were 3 ipads in front of him and he wanted to give one to her but they all belong to NOW. He asked why there isn't ipad as a gift. He wanted to give even the mini ipad. But Jaejoong said she can buy it because she works diligently.
— A comment said buying an ipad with your own money will make you proud of yourself. Jaejoong agreed. He said it's the same when you exercise or reach the top in hiking. Jaejoong said she will be very happy when she receives her payment and buys the laptop.
— Jaejoong said the cameramen must feel the same when they receive their payment and their wives will look the happiest. He said his mom also like money more than flower, she likes cash even more. Jaejoong wondered why elderly likes cash. He gave her chicken and cola set. Jaejoong told her to work hard, buy the ipad, and watch a movie on the ipad while eating the chicken. He said ipad is nice. He doesn't have it but he has notebook. Jaejoong wondered if he should try to buy an ipad.
— Next message said she likes sparkling wine and asked if Jaejoong likes red wine. He said he likes white wine. He doesn't drink sparkling wine and champagne. Jaejoong gave her Coca Cola because she seems like soda and the only soda in the fortune pocket is Coca Cola. He said he likes red wine but doesn't really know much about the taste.
— Jaejoong said before an i-fans gave him a bottle of wine. The case was unusual, it was a wine from an auction in Spain and the fan bought it in an auction in Hong Kong. It's a Spanish wine. Jaejoong searched for the price and it's over 40 millions won. He said it's still in his wine cellar at home and asked how can he drink that 40 millions won. Jaejoong even thought to re-sell it but the fan bought it for him, how can he sell it again. He is not sure wether to drink it or bury it. But if it's buried and someone dig it, 40 millions won will be gone. So he can't think of any way but he still keeps it safe.
— Next message said "Oppa, why do you hide snacks?! You're not a kid, you're 30." Jaejoong questioned the 'oppa' saying "Why do you hide snacks? Oppa, Oppa-ssi, Oppa-nim, Oppa-ya." He said maybe it's someone who has a big feeling of belonging feeling. Jaejoong gave her snacks and cola. He said he shouldn't do it, eating snacks isn't good and can make you gain weight. Jaejoong said that women have different stomachs for food, appetizer, and desserts. It amazes him because he can't eat anything when he is full. Jaejoong said oppa shouldn't do it.
— Next message asked what Jaejoong would have for his lunch on the next day because she couldn't decide on her lunch menu. He said he already decided to eat a meal box. Jaejoong forgot what it was called. He would have a shoot the next day and always had that meal box if he has shoot. He didn't give her a gift and told her to eat a meal box on the next day.
— Next message said she fell in love with sneakers. Jaejoong said he once collected sneakers too. But it can cause regret later because so many are never worn. He said to put balled newspaper inside the sneakers to keep their shape. He didn't give her a gift.
— Next message said she showers with cold water. Jaejoong said he is the opposite, he always showers with warm water no matter how hot the weather is. He said he understands the feeling, like showering with cold water after a sauna. Jaejoong said it makes him happy to shower after a walk or a run around his neighborhood. He hopes everyone can find joy in small things
— Jaejoong said it was 9:10 pm and it's time for them to go home too.
— Jaejoong said the most comments talked about his glasses. He said it's a corrective glasses because his sight has worsened, maybe because of using the phone too much. Jaejoong said he used corrective glasses when he was in the military too and his sight got better by 0.3. He said everyone can fix their sight and hope everyone will use corrective glasses.
— Jaejoong said in the previous episode he was with ASTRO and promised to play their new song. He said the song was released on that day at 6. Jaejoong said ASTRO's promotion time will be really short, and also asked everyone to support it more. He said "See you again next week. Bye".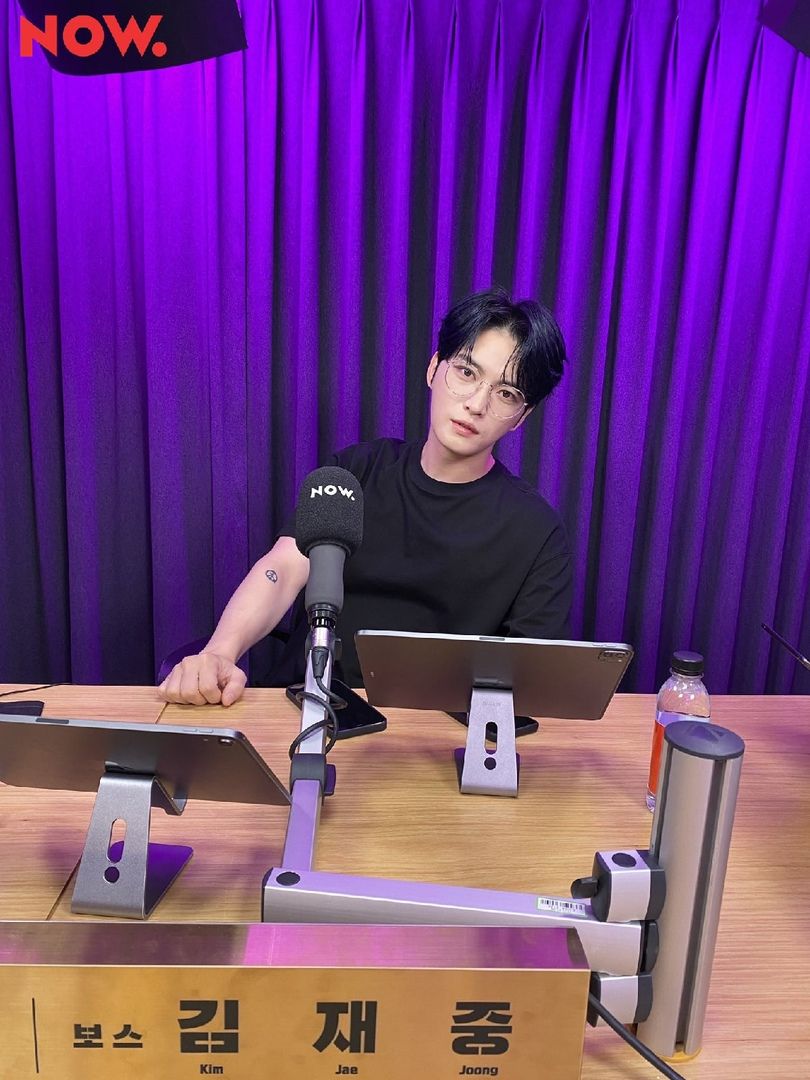 Source: VK
Video Credits: 월드피스 김재중, Only JJ
Shared by: Mia of JYJ3