← Intro
[NO SUB] Episode 10
Date: August 16th, 2021
MC: Kim Jaejoong
Special Guest: F.T Island's Lee Hongki
[OPTION 1] Watch Full Episode on Youtube Only <Link 1>
[OPTION 2] Watch Full Episode on Youtube Only <Link 2>
.
[ENG TRANS] 2021.08.16 Naver NOW «Neighborhood Youth»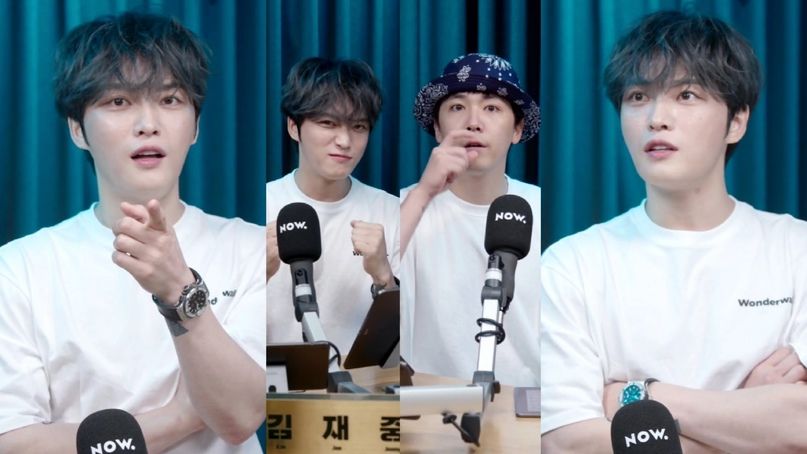 — The opening ment «Hello, everyone. A hyung you know, an oppa you know, a friend you know, Neighborhood Young Man's Kim Jaejoong.»
— Jaejoong said 2 days before he went to Jecheon and greeted everyone for his documentary movie. And between those days he just exercised; tennis, weight training. He said he spent the previous week healthily.
— The opening question was «favorite place». First message said she likes the front of her house because she really likes the smell of grass.
Jaejoong said he goes to Namsan often lately. It isn't as crowded a people think, the air is nice, it's a very clean park. Jaejoong said he always come there on the same time, but the time is a secret. He said that there's stair there and it's good for exercise. There's a pub there too and it isn't crowded. Jaejoong said it's nice to have a glass of beer there, then going home.
— Next message said she likes her house at dawn because it's very quiet.
Jaejoong said his house is the same. He gave her Cola.
— Next message said she likes Han River.
Jaejoong said he likes it too. He used to go there a lot but nowadays it's hard to gather to eat chicken and drink beer with friends because of the current situation. He really miss the freedom to sit on the grass there. Jaejoong reminded everyone to stay safe when they exercise and wear mask.
— Next message said she likes school.
Jaejoong said nowadays schools are empty. He said he saw on a show that overseas there are people who clean and take care of stuffs in empty school. Jaejoong said it makes him sad that the place where people used to meet friends is no longer the same.
Jaejoong said his stress is relieved and feel encouraged by meeting people. He said he really wanted the guest to come to the show.
Community Center
— Jaejoong said from the first guests, he introduced them with their moving register, So he would do the same as well. Jaejoong said he would ask questions and the guest should answer right away.
JJ: First, what's your name?
HK: Hello, I'm Lee Hongki!
JJ: What time did you wake up today?
HK: 2 pm… no, 1 pm.
JJ: 1 pm? So, you woke up late.
HK: Yes.
JJ: Have you eaten before coming here?
HK: I ate chicken breast before coming.
JJ: I heard it's your 2nd time in Naver NOW. What do you think about Neighborhood Young Man?
HK: IT's kinda purple-ish.
JJ: You're known to be friendly with friends, What is the tip?
HK: To talk informally like friends.
JJ: Fans are friends. It's good.
HK: Don't think you're a celebrity.
JJ: Okay, okay. Please say just one thing to the Primadona who are watching.
HK: Leave lots of comments! We'll give gift.
— Jaejoong said the registration was finished and he will introduce him properly. Jaejoong said it's someone he personally likes, a younger brother he really adores, a junior, also a senior, Hong-star, Lee Hongki. Hongki introduced himself.
— Jaejoong asked if Hongki really woke up at 1 pm that day. Hongki said it's actually 2 pm because he should exercise at 3 pm. Hongki said his routine changed because he has lots of work, he went to sleep in the morning. Jaejoong asked if he makes music lately. Hongki sald yes, because he has other broadcast.
— Jaejoong asked what Hongki did that made him stayed up till morning.
Hongki said he played game till dawn and it's part of his work.
— Jaejoong asked for tips from Hongki to talk to fans, as he said there are many situations.
Hongki questioned himself as he was asked by Jaejoong. Hongki said he communicates comfortably with people who support him.
Jaejoong said fans have their own expectation and sometimes it makes him confuse to do the next step.
Hongki said he made a promise to his fans to do his best. Jaejoong summed up Hongki's words to «I can't do everything you want me to do but I promise I won't make you embarrassed.»
Hongki said yes. Jaejoong said that's why he's Hong-star. Hongki said Hong-star is a nickname he has since he was a child actor.
Jaejoong asked if it's way before Primadona. Hongki said it's from a fancafe. Jaejoong said it's nice. Hongki said when he debuted as Ft. Island member, those who recognized him call him Hong-star. Hongki said he was embarrassed as a kid with that nickname.
Jaejoong said Heechul is "Universe Big Star", Jang Geunsuk is "Asia Prince" and they both believe it, Hong-star sounds good. Hongki said he was embarrassed with the nickname so he made his Instagram ID skullhong because he likes skull, but as time passed by he got used to Hong-star.
Jaejoong said he got used to it too. Hongki asked if it's okay. Jaejoong said it suits Hongki because he is like a star, he thinks even among other celebrities Hongki looks more like celebrity. Hongki was embarrassed.
— Jaejoong said he also has a nickname fans call him with since his debut. Hongki guessed Jae-star. Jaejoong said it's Vi+Sho. Hongki asked what it means. Jaejoong said it's Visual Shock. Hongki said because the visual is so handsome they get shocked. Jaejoong said he's also embarrassed with it so he doesn't usually say it himself. Hongki said that Jaejoong is handsome. Jaejoong said it isn't about being handsome but something like his look and charms. Hongki said it's a good nickname and said it must makes him feel good when the fans call him with it.
Jaejoong introduced himself as Vi+Sho and felt cheesy lol
Hongki said it doesn't sound bad, he said that even since his debut till now there are so many male idols because they watched Jaejoong, so Vi+Sho sounds good, he also suggested him to introduce himself as Vi+Sho.
Jaejoong said it makes him thinks that he is the Vi+Sho from 10 years ago. Hongki said that Jaejoong doesn't aged. Jaejoong disagreed. Hongki said Jaejoong is lying and implied that Jaejoong really doesn't aged.
— Jaejoong said not long ago he watched Hongki's Harlan County 1976 musical and was shocked because Hongki was really good, he shined even from afar, his voice also really good, his voice and laughter is very charming, he likes it a lot.
Hongki said thank you.
Jaejoong said that Hongki also an MC for other programs. Hongki said he is an MC for music program and pansori program. Jaejoong said Hongki has many different programs.
— Jaejoong told Hongki to read any stories he found interesting. Hongki complained that on the gifts list, the most expensive gifts are on the very bottom and can't be seen clearly. Jaejoong said Naver isn't like that, it's a big company lol
Jaejoong told Hongki to just giveaway anything.
Hongki read a comment saying that Jaejoong only gave Cola. Jaejoong admitted it and said sorry, he said because it's simple, so he can read more stories.
— First message asked how they got close and what they usually talk aboul.
Hongki said they have friends in common and a friend introduced them to each other, before people thought they were close, and they met once. Hongki also said that Jaejoong likes rock so they talk about music a lot, also about the entertainment world, their private lives, almost everything.
— Jaejoong said they actually has been active for a long time, he wondered why they didn't be friends since long time ago.
Hongki said they went to the same salon before and even now too, when they met they only greeted each other. Hongki said that one of his member always wanted to have the same hair style as Jaejoong. They even talked together, but Hongki just watched them. They said they have so many friends in common and Jaejoong thought they would met eventually, but they didn't. Hongki said Jaejoong also close with his agency's CEO. Jaejoong admitted, he said he is close with the CEO to the rate they can have drinks together and talk. Hongki asked if his CEO ever complained about him to Jaejoong. Jaejoong said the CEO mentioned that "The company can't be without Hongki. He is our company's pride."
Hongki didn't believe it. Jaejoong said it's true, it's what in the CEO's heart. Hongki said then he should be good to the CEO.
— Next message said Hongki is a hyung-collector. She mentioned Lee Seunggi, Heechul, Ha Yeonwoo, Kim Soohyun, etc. She asked what kind of hyungs are them, including Jaejoong too.
Hongki said he used to have more friends around his age and listened to their problems, but now he listens to many advices from the hyungs because they're older and more experienced. Hongki said Ha Yeonwoo annoys him a lot but tells him lots of things too, Heechul is like friend, Seunggi currently can't be contacted a lot, Soohyun is a cool hyung and kinda similar with Jaejoong because they definitely take care of themselves a lot when they have works.
Jaejoong said Kim Soohyun looks like taking care of himself very well. Hongki said Jaejoong is the hyung he can ask the most among those hyungs, because they have the most things in common. Hongki said they both started as idol, act also, actives a lot in Japan, they speak Japanese too, and have many same hobbies. Hongki mentioned that they played tennis together too, so Jaejoong is the hyung with most similarities with him. Hongki added that Jaejoong is also a baby-faced hyung. Jaejoong was embarrassed, they called each other nicknames. Jaejoong said all Hongki's hyung friends mentioned is all baby-face. Hongki said it's coincidence that all hyungs he is close with take care of themselves very well. Jaejoong said he hopes he can take cares of himself for a long time.
Community Center
— First message asked for diet tips from Hongki.
Hongki said he separates it into 2 weeks or half a month, he will do what ever he wants for 2 weeks and has another 2 weeks for his diet.
Jaejoong said he read that on Hongki's Kakaotalk status, it said "controlling meal". Hongki said he gained 4kg compare to when he got discharged from the military. Jaejoong asked if it's muscle. Hongki said he did diet but after the musical performance ended, he gained weight again. Jaejoong said he can't notice Hongki gained weight. Hongki said he gained weight and started dieting again. They said there are so many delicious food and it's hard to restrain not eating.
— Next message told Hongki to not give up on dancing and taking selfie.
Hongki likes it more when his staffs took his picture candidly.
Jaejoong asked if Hongki can't do Tiktok too. Hongki said he doesn't do Tiktok. Jaejoong said he was awkward at first too. They both like to watch Tiktok videos but not good at making videos, and don't know how to edit the videos. Jaejoong said Ji Seokjin is in his 50s and uploads really good videos.
— Hongki said when he was sill in military service he asked his fans to send videos on the open group chat and gave 5 of them chicken. Jaejoong asked how Hongki sent chicken to his fans via group chat. Hongki told Jaejoong how.
Jaejoong mentioned about gives up on dancing. Hongki said there are something to be given up in live and he doesn't have dancing in his DNA. Jaejoong mentioned about the moves in Hongki's musical. Hongki said that's all he can do, so if he gets work with lots of dancing he won't even look at it. Hongki sent her movie ticket and told her to watch a movie about dancing instead.
— Next message asked Hongki to reveal his closet.
Hongki said his interest in fashion is dropping, so he just wore training that day. Jaejoong said no and told Hongki to show his full outfits. Hongki said he waxed his legs so he wore that kind of pants lol Hongki said he just received his fangifts so he wore them, he matched the outfit with paisley pattern. Jaejoong said he want to wear the pants too. Hongki asked "Now?" lol Jaejoong said later lol
Jaejoong said the handkerchief with that pattern was a trend and people tied it around their head. Hongki said people still do it nowadays too. Jaejoong said Hongki has nice fashion. Hongki said thank you.
— Next message said asked Hongki to treat her food in PC room.
Hongki said he will. Jaejoong said Hongki must have received lots of gifts from fans and asked if he ever gives them something. Hongki said he gave his fans a lot and they're the one who started buying something for fans. Hongki said he really wanted to talk about it, it was winter and cold so he gave a credit card to the fans manager and told them to buy something warm for the fans, he said it was criticized before but it has become a culture now. Hongki said he ever shared his location on SNS for 3 minutes and said that he would treat the fans who came, it was before COVID.
Jaejoong said many comments said "FT Island is really great in fanservice." and he hopes many celebrities can do it too. Hongki said it's because he's thankful for the fans, because they can do well now because of the fans. Jaejoong said he learnt something. Hongki said Jaejoong also treat his fans nicely. Jaejoong said he seems wants to try it too.
Street stall
— Jaejoong asked Hongki which one he likes more, wine or soju.
Hongki said he likes soju, he likes whisky more than soju. Jaejoong said they had drinks once. Hongki said it started and ended with soju. Jaejoong said they started with wine then whisky. Hongki said that Jaejoong left him. Jaejoong said he didn't.
— Jaejoong asked if Hongki had a place he went often. Hongki said before COVID, he went to street stall a lot. Jaejoong said he was also the same.
Hongki said there's an outdoor street stall in front of his studio, he likes to enjoy food while shivering in the winter. Jaejoong said he likes it to.
— Jaejoong said most streel stall in Gangnam area doesn't have good bathroom. They both had big bladder and sometimes go to bathroom 2-3 times a day. Hongki said he doesn't drink because he's on diet.
— Jaejoong said when he exercises he wants to drinks alcohol but he avoids soju, he drinks whisky. Soju makes the body feels tired on the next day, but whisky is okay.
— Jaejoong said he just got his medical check up. 2 years ago he was told that he had fatty kidney but now his kidney has turned back to normal. He was asked if he exercises or stops drinking. Jaejoong said it's maybe because he exercises.
— Jaejoong said that Hongki is really good in bowling and took a pro-player test with Kim Soohyun. Jaejoong said the test must be hard, Hongki agreed. Jaejoong asked about the result of Hongki's bowling competition from last monih. Hongki said he lost, he didn't have time to practice because he had musical project as soon as his finished his military service. Hongki said he started practicing bowling again.
— Jaejoong mentioned skiing and snowboarding. Hongki said he likes those too that he literally lives in ski resort in Winter, he also went to Japan for skiing. Jaejoong said he did snowboarding before and rolled down the slope. Jaejoong was afraid that he might injured his leg like before where he had crutch for almost a year, the same reason why he doesn't play soccer. Jaejoong said it's kinda like a trauma. Jaejoong said there so many place for skiing and snowboarding in Japan. Hongki said he went to Niseko a lot. Jaejoong said many of his friends went there too. Hongki when he was in flight to Niseko, there was always at least one celebrity in the same flight.
— Hongki said he started with bowling, skiing, gaming, then singing because he was a child actor before. Jaejoong said he watched Hongki's singing video when he was a child actor. Jaejoong thought that Hongki's singing was good. Hongki said no.
— Hongki said he does musical because he likes the perform live, so if he gets offer of drama or movie and musical, he is kinda more toward musical. Jaejoong said he totally understands it. Hongki said he also likes the to show everything after lots of preparations. Jaejoong said it's fluttering too.
— Jaejoong said he thinks Hongki is a perfect genius who makes mistake doesn't look like mistake. Hongki denied. Jaejoong said he can't wait to see how Hongki will grow better.
Hongki's House
— Jaejoong asked how Hongki's real house looks like. Hongki said it's black and white, and really simple. Hongki said there's bathtub in his bedroom. Jaejoong was shocked, he said it's like in a hotel room and doesn't need humidifier. Hongki said he doesn't use humidifier in his bedroom. Jaejoong said it's very unique and asked for the picture. Hongki said he would send it later. Jaejoong said he saw Hongki's living room before and said that his bedroom must be spacious. Hongki said yes, his bedroom only has bed, vanity, and the bathtub. Jaejoong said he's moving soon and needed to remodel his house so he asked Hongki to tell more about his house later. Hongki said yes and his house doesn't have door, only curtains. Jaejoong said it must be not like a house. Hongki said that's what he wants and he usually tells the guests who come to his house about not having doors.
— Jaejoong said that Hongki has lots of hobbies and seems not a homebody and asked if it's the reason for him to make his house like that. Hongki said it's true and also so he doesn't feel bored. Jaejoong said some people like to have a homey home, some like to have a home they won't get bored with. Hongki said if it isn't because of COVID, he won't stay at home a lot. Jaejoong said Hongki has LED light like the one in the studio too. Hongki said his LED light can change color with remote control. Jaejoong asked the staffs to change the lighting, he asked Hongki what colors he likes. Hongki said blue or black. The lighting changed to blue.
— Jaejoong said Hongki's lucky colors are blue and black. Hongki added that his lucky number is 0, 5 isn't really good for him, so if he has something important he tries lo have them on 10, 20, or 30. Hongki said he tries to avoid 5. Jaejoong said Hongki is always lucky because to fans, he is ranked '0' (top priority). Hongki was embarrassed. Hongki said he's ranked 2-3 to his fans. Jaejoong asked what their 1st is. Hongki said it's their boyfriends or parents, and he likes it.
— Jaejoong said he knows Hongki play game a lot and he saw Hongki's cat on his instalive, he said it's very cute. Jaejoong asked the cat's name. Hongki said the name is Jjeolsem, Eojeolsem (means "what to do"). Jaejoong said it's a unique name.
— Jaejoong said it isn't really hard to have cats at home, but the fur shattered a lot, he asked Hongki how to take care of it. Hongki said that luckily his cat's breed doesn't shattered much fur like others. Hongki said that his cat never screams. Jaejoong said it's amazing, and his cats scream a lot. Hongki said it's the charm of cat.
— They both have a cleaning lady coming once a week to their house. But Hongki said he cleans by himself sometimes. Jaejoong asked what Hongki uses to clean the house, he said it isn't really good for cat's fur, he recommended LG vacuum and said that local brand is good and cheaper. Jaejoong said sorry, said that other brands are good too, added that Naver is the best and said to buy anything on Naver Shopping because they give points lol
— A message mentioned about Hongki on drama You're Beautiful. Jaejoong said it's 12 years ago and asked what Hongki thought about it. Hongki said it wasn't long after he debuted, he made so many good memories at that time, and he thought he was handsome at that time. Jaejoong said Hongki looks the same still. Hongki said he was more like boy with blonde hair and doe eyes, he said his eyes are dropping now, and he had color lenses at that time too. Hongki also said that TV staff thought he was foreigner, so he stopped using color lenses.
Jaejoong said if it was him he would keep using it. Hongki said that everything looked good on him before. Jaejoong said everything looks good on Hongki now too.
— Jaejoong said in 2009 they must went to the same music award show, he said the in-ear monitor wasn't good to compare it to now, it's the worst. Jaejoong said even at that time everyone sang live and he couldn't hear the music clearly. Jaejoong said he supported Hongki a lot since then and wanted to get close to Hongki but he couldn't start to be friend with him. Hongki said it's interesting that they have so many friends in common.
— Jaejoong said it was already 9:10 pm and that the show should end at 9 but they could do it a little longer, he asked if Hongki was okay with it. Hongki said he didn't have other schedule.
— A message thanked for Hongki being with Ft. Island's for 14 years. The message sender's nickname was Momo, so Hongki asked "It isn't that Momo, right?". Jaejoong sang a tiny bit of TWICE's song and said it's probably not. Jaejoong said it's going 15 years for Ft. Island. Hongki said he thinks fans make him sing, without fans he doesn't have reason to sing. Jaejoong agreed. Hongki said there were times when he wanted to give up singing but fans keep him going. Jaejoong summed it up with "Fans is the reason of the existence of singer and musician Lee Hongki." Hongki said it's true.
— A message asked when Hongki thinks he lives welI. Hongki said when he heard praises that makes him wants to do better. Hongki added that Jaejoong compliments him a lot since he got discharged from military, Jaejoong also sometimes suddenly sends message saying he listens to Hongki's songs.
— Jaejoong read their latest Kakaotalk conversation.
JJ: You keep getting handsome, Hongki-ssi
HK: No, it's just the picture. I'm now turning back
JJ: Even so you're still handsome
Hongki said that Jaejoong compliments him a lot that it makes him think how can Jaejoong does that. Jaejoong said it's the truth. Hongki said at compliments like this he feels he lives his life diligently and should take care of himself more, but then after that Jaejoong will ask him to go eat lol
— Jaejoong said it's time to end the show and it's unfortunate. Hongki said his studio is very close by so he can come anytime. Jaejoong told the staff that a very busy person wants to come again. Hongki whispered that he isn't busy lately. Jaejoong said it will be nice if they invite Hongki again. Hongki said he wants to just come and bring chicken then eat together with Jaejoong. Jaejoong said Hongki treated them all coffee. Hongki said it's the fans. Jaejoong said thank you and said other things will be nice too. Hongki said soju lol Jaejoong said anything is fine.
— Jaejoong said he and Hongki would go home together. They both said bye and waved their hands.
———————————
JJ: How did you spend the week? I greeted the stage at Jecheon and played tennis and weight training.
JJ said he played tennis and exercised. Also recently he often goes to parks near Namsan. There's a road their for trekking which he goes cause there's not that many people around. But now that he mentioned it. People might now come there.
JJ said he likes han river so much, it's where people usually drinks and plays. But nowadays it's hard to do that. People might have places to go to relieve stress, as for JJ meeting people relieves his stress.
JJ introduced Hongki as an important friend and dongsaeng.
Jaej said heechul hyung is universe big star, geunsuk is Asia's prince and hongki is known as hongstar. HK said that he's getting used to hongstar these days. Jaej: it suits you, it feels like a real celebrity name.
Hongki getting shy with all the praises. He explained that hongstar is a nickname that just stuck with him way back when he was still acting as a child. He used to be shy about it but got used to it in the end.
JJ was talking about nicknames and he mentioned how his nickname is "비쇼" (visual shock) and HK said it fits him cause he's rly handsome and a good nickname, makes one feel good but JJ felt embarrassed and cringey when he introduced himself as «bisho»
JJ said he was surprised when he saw HK in musical. He said HK was so good, that his voice really carried the character very well. He found it attractive.
—How did the boss and HK became friends?
HK: we had so many common friends that finally introduced us. JJ hyung likes rock, so we get along well.
JJ: we're also been active long.
HK: we also go to the same salon.
JJ said that hongki's pants are really fashionable, he asked HK to show it. HK said he usually wear clothes that was given by fans.
JJ asked HK if he's a soju or a wine person. HK said that he prefers to drink soju instead of wine. But he's really more of a whiskey person. JJ said the last time they drank they started with wine, then went ahead with soju and whiskey.
Hongki teased JJ that he throw the whiskey away instead of drinking it. But JJ said he didn't throw it. He drank it, HK must've seen it wrong.
JJ: If you want to exercise, whiskey is better than soju. it is hard to exercise the next day, but whiskey is good.
HK: I know. I know.
JJ: I had a physical examination and my liver level went back to when I was young.
HK: Is that the case?
JJ: I feel like I'm going back after exercising.
JJ said that HK does a lot of hobbies. HK said that he does bowling, skiing, online games, and singing. JJ said he used to like snowboarding, but remember that he once fell and hurt his legs while he was still promoting in the past. HK said he must be traumatized.
Hongki said that since everyone tells him that he's good at singing, he worked hard to do better in singing. JJ said that he saw a video of HK as a child singing, and said he's already good at that time. HK siad that he still has a long way to go and improve.
JJ said that for him HK is perfect, when he sees HK he sees a perfect person. Even if he makes some mistake it doesn't look like a mistake. Hongki was like eeeeyyy and thanked JJ.
HK said that he gets scripts for drama and musicals, but these days he's leaning into musicals more. JJ said that he must've like performing infront of a live audience. And said he'll be looking forward to more performances in the future. He then introduced HK's song.
JJ asked HK to describe his room. HK said that his room is really just simple, it's all black n white. JJ said that HK usually does play games at home and asked about his cat. And said it's hard to clean house if there's a cat.
HK said that his cats breed is a Scottish Fold so it doesn't really lose that much hair. He also said that his cat already has favorite places in the house where it likes to play, sleep and eat.
JJ and HK cleans their house only once a week. They talked about vaccum brands. HK said that he uses Dyson. JJ said that everyone seems to use Dyson but it's a little small to clean dust properly and said LG's vacuum is good.
JJ said that it's almost time to wrap up but they can extend a lil bit if they don't have other schedules after. HK said he doesn't have any. And he's free to extend.
JJ said that today they're drinking coffee given by fans. But the next time HK comes he'll buy it himself. Hongki said Soju? JJ said not soju but coffee. JJ wrapped it up and HK said that he'll come again if JJ asks him to come.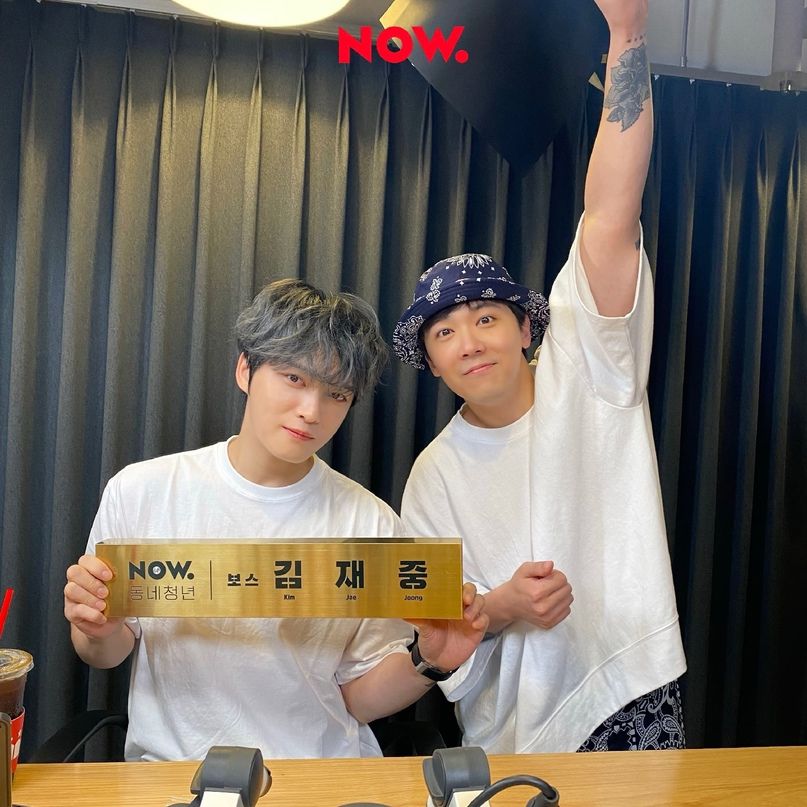 Source: VK
[NEWS] 2021.08.21 Kim Jaejoong showers compliments and praise for FTISLAND's Lee Hong Ki via Allkpop
Video Credits: 월드피스 김재중, Only JJ
Shared by: Mia of JYJ3