← Intro
[NO SUB] Episode 12
Date: August 30th, 2021
MC: Kim Jaejoong
[OPTION 1] Watch Full Episode on Youtube <Link 1>
[OPTION 2] Watch Full Episode on Youtube <Link 2>
.
[ENG TRANS] 2021.08.30 Naver NOW «Neighborhood Youth»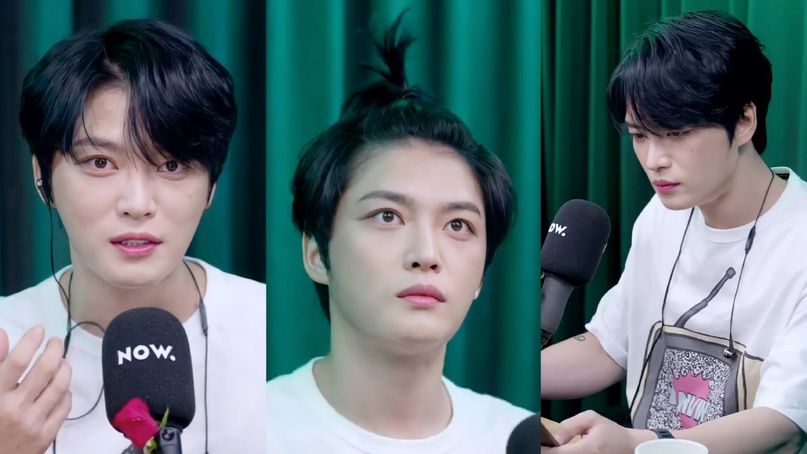 — The opening ment "Nothing to hide, more honest, Neighborhood Young Man, Kim Jaejoong."
— Jaejoong said as the host he said "It's already Monday" a lot. It's the last Monday of August already.
•- Jaejoong's first TMI was he chipped his front tooth while eating. He ate so well, it was cockle bibimbab. He said it isn't because of the shell, but because of the spoon. He said that's how he chipped his tooth. And because he had the audio show, he went to the dentist that morning, at 9 am. It got fixed within a day. Jaejoong said the hospital is so good nowadays, it's fast. It was hard to lay down on the dental chair for 3 hours. And he dyed his hair that day too, so he had been sitting or laying for around 5 half or 6 hours, that's how the day was for him.
— The opening song was Mine, Jaejoong said it had been a while to listen to that song.
— Today's question "What is your laughing button (something that makes you laugh)?"
First message said that hers is Jaejoong's front teeth. Jaejoong unconsciously said "Hey!" He said he knew it can be fixed in one day so he posted the picture so fans can see it. He was sure that the fans would ask for the picture.
— Next message said herself is her laughing button because she went out from the house wearing clothes inside-out and realized it when she reached home. Jaejoong said of course she can feel embarrassed because of it. He said many brands have the tags outside or the inside-out model. Jaejoong said not to be embarrassed and if someone points it out and asks "Don't you know about nowadays' fashion? This is popular." He said to never feel embarrassed and people often fall down but pretend they don't too.
— Next message said her junior cries everytime she eats delicious food so it makes her laugh. Jaejoong got confused and asked "Because it's so delicious, she feels touched? Something like that?" He said he ate malatang with so many chilli the day before. It wasn't really spicy for him. He ate it while coughing and tearing up a lot. Jaejoong said he understands that people feel touched with delicious food but it's the first time for him to hear someone really cry.
— Next message said here is her niece because she's so cute learning how to sing in kindergarten. Jaejoong said "I see" and moved to the next message.
— Next message said she bought a cone of ice cream from Baskin Robbins but dropped it as soon as she opened the door, she laughed at herself. Jaejoong gave her Baskin Robbins double ice cream as a gift. He said how upsetting that it fell down soon after she bought it. He hopes she enjoys it double as he gave her the double ice cream.
— Next message said she went to work and off work listening to Jaejoong's songs, so her Monday's happiness is Jaejoong. He said it makes him feel happy but kinda embarrassed. He said thank you and was happy to make Monday fun.
— Jaejoong said his new house isn't ready yet. There are so many things to be taken care of because he bought it cheap. He thought he would move soon so he only prepared around 20 t-shirts and because he keeps doing the show there aren't many t-shirts left. He doesn't want the fans to think "Eoh, Jaejoong wears that t-shirt again. So he wore the t-shirt he didn't want to wear this summer (the t-shirt he was wearing). He said it was fangift that he wanted to wear summer next year. It's kinda made him sad to open the gift and wore the t-shirt. Jaejoong said he only prepared t-shirts and it's slowly getting colder, he doesn't have warmer clothes. He said he should go shopping by next week or it will be a problem.
— Jaejoong said he got his front tooth fixed but it still felt very weird.
— A message said Jaejoong's way of hosting is so fun that it becomes her happiness. He said thank you and was happy too. Jaejoong said he would make everyone happy and laugh that night too.
Community Center
Jaejoong said it's Boss Kim Jaejoong's first job-desk.
First message said her manager talks alone a lot and it bothers her. Jaejoong said to tell the manager right away can hurt the manager's feelings, but to talk back is also not good. He said using ear-phone seems good but it depends if the office allows it or not. Jaejoong read that many comments also said to use ear-phone. He said those who are office workers can relate. Jaejoong said giving reactions to the manager may lead to a worse situation. Again he told her to just use ear-phone.
— Next message asked how to organize her dekstop, she sent the picture too. Jaejoong said the dog on the wallpaper is cute and she really can't organize the icons + files. He told her to compile all the excel files and the SNS together too, that's how he does with his phone. Jaejoong recommended to make one folder for work and put it on the dog's left eye and personal folder on the right eye or on the left and right ears or on each of the dog's nosestrils. He said organize it simply is the best.
— Next message asked how Jaejoong takes care of his lips. He said he doesn't really take care of them but he uses Nivea. Fans gave him a lot that it may take 10 years to use all of them. Jaejoong said he often loses the lip balm and the hair ties he uses to make apple hair with, so he tries his best to not lose them. He said Vaseline is good too and recommended to apply it on the lips before sleeping. Jaejoong said the person who made Vaseline used it a lot and even ate it, he lived till 90 years old. Jaejoong recommended to use it but don't eat it, it's was just a FYI.
— Next message asked what vitamin Jaejoong eats. He eats Kim Taehee's vitamin, Orthomol vital f. The vitamin became popular because of Kim Taehee, it said the vitamin is very good so he tried it. Jaejoong said it has so many vitamins in it and it can be eaten in one go, very easily. He also eats red ginseng vitamins. Jaejoong typed the name of the vitamin in the comment section.
— Next message asked for ingredient recommendations for malatang. Jaejoong said lamb, beef and pork. He told her to order everything. Jaejoong said pork is cheaper and told her to order it a lot. He added mushroom, glass noodle from Chinese restaurant because the ordinary noodle will get too thin and too small when it's hot, tofu, or just put instant noodle in the maldatang. He said by just putting lots of meat it will be delicious and to make sure to boil it at home.
Museum
— Jaejoong said our neighborhood has a museum too and we should go see what it has. He said that day's tour destination was the museum.
— First message said she made a letter including set-list and ticket of the concerts she went to. Jaejoong said it's so interesting, the ticket has the date and the venue of the concert. He said he doesn't keep the ticket. Jaejoong said tickets should be made more special, not just paper. He said he is jealous because he doesn't keep any. He's thankful and gave her chicken as a gift.
— Jaejoong said last time Woohyun gave lots of chicken and fans teased Jaejoong saying he is stingy. He said he can give chicken too but he doesn't give it on purpose. He will tell the reason next month, next month is coming very soon. Jaejoong said to himself he should think of making the reason. He said sorry for only giving cola.
— Next message said she wanted to put her selfie with her mom as even though she is busy with work she always has a walk with her mom once a week. Jaejoong said she must have a very good relationship with her mom. He gave her one ordinary cola and one zero cola and told her to drink it when they go walking together. Jaejoong said that people don't usually take pictures with their parents a lot. He said he usually takes pictures with his parents when they come to his concerts, they almost never take pictures on a daily basis, like when he visits them. He said it's something common but actually not common. It's a nice thing to take pictures with parents. Jaejoong said he will take pictures with his parents when he visits them later.
— Next message said she got the towel Jaejoong threw in his concert in 2014. She said she never washes it. He said that all the towels he threw in his concert were tied by himself, not by the staff. The staff only tied it once and it's too light. It needs to be tied twice so it becomes shorter and just right to be thrown. Jaejoong said it doesn't smell because he didn't wipe his sweat with it. He said the message sender would be even happier if he wiped his sweat with the towel. Jaejoong questioned the cameramen who were laughing. He explained about Jae-romones. Jaejoong said his pheromones is different. He said he doesn't smell even when he sweats. Jaejoong said even after 4 hours of concert, the clothes he wore and took off in the hotel smelled good. A staff said it's because he can't smell himself. Jaejoong said even his military boots aren't smelly even though he used them a lot. He said his feet never smell. Jaejoong said he is also amazed that he doesn't smell. He said he doesn't even have bad-breath even though he eats garlic, spicy, or drinks alcohol. Jaejoong said maybe his body has a filter LOL. He said he really doesn't smell and even people around him ask what perfume he uses. Jaejoong said he doesn't apply body lotion too.
Jaejoong mentioned the movie, 'Perfume: The Story of a Murderer.'(it's about a man who makes perfume from women's bodies.) He said if he lived in France at that time he would definitely be killed.
He was about to read the next message but stopped. He said he wanted to drink, his throat was dry because he talked too much.
Jaejoong read a comment saying he has rhinitis lol. He strongly denied saying that he can smell things lol. He had rhinitis but he got surgery for it already.
— Next message sent a picture of her memorabilia from her Europe trip. Seeing how Jaejoong looked so free when he came to Paris for the first time in 2007, made her want to go there too so she went when she was a university student. He said it's nice to keep small things from overseas trips. Jaejoong noticed something with the Starbucks logo and said even though Korea has it too, it feels different to enjoy it overseas. He gave her a dessert set from Starbucks.
— Jaejoong said he talked so much that his throat hurt.
— There's Jae-breze ID (from Febreze, an air freshener product). Jaejoong told those who have seen him close in real life to leave comment about how he smells. He said he didn't put on perfume or body lotion and went close to a cameraman to smell him LOL Jaejoong read a comment saying "the smell of cigarette". He strongly denied it. Jaejoong said he has his own smell and it smells good.
— Next message sent a picture of Jaejoong's first solo concert's official goods in 2013, a blanket with Jaejoong's picture. He said it's when he had rock-illness. Jaejoong said it was like Sex Pistols, he didn't wear tops. Sex Pistols used to carry a bottle of beer and cigarette, he was kinda like that. Jaejoong said rock-illness is worse than puberty. He colored his nails black and a reporter took the picture of it, also made an article about it. Jaejoong said he had that kind of personality. He said he even wanted to wear all leather to the airport too. At that time, he even wore leather pants daily. Jaejoong said if he was born 10 years earlier he would have very long hair, longer than his hair when they promoted Tri-angle, long hair till his waist and use a headband like Changsik (his character in TVXQ's drama, Vacation).
The message continued, she said her mom always put that blanket on the top of her bed so it can be seen nicely. Jaejoong said thank you to the mom. He said he likes the blanket because it's soft. He always wants to have his merch blanket too because it's useful. Jaejoong said he has one with his face, the one with Sunny Day photoshoot. It's warm. He said thank you once again to the mom. Jaejoong asked "Didn't the make up look so good for that time?". He said he wanted to try new things at that time. Jaejoong said it won't be nice to try it again nowadays. People will say "That dude does that." Jaejoong said he used to have smokey eye make up, tight pants, shoes with heels, it was his personality at that time.
Jaejoong said among the celebrities in Korea, Youngwoong Jaejoong was the first one to use long boots. He told everyone to search for it. He said it isn't Noh Hongchul, it's Youngwoong Jaejoong.
— Next message said she has Jaejoong's autograph from his very first fangsing and from others fansigns too, also the ring he made on Travel Buddies. He said it's amazing that she got the ring. Jaejoong was amazed that she has lots of his autograph. He said he made the rings by himself and there are only 2, it's really amazing. The teacher prepared 2 half done rings but he wanted to make it himself because they're for the fans so he made 2 more by himself. And one of them is with the message sender. Jaejoong said the other fans must be jealous of her so he gave her zero cola as gift.
— Jaejoong asked "If I give away coca cola, won't the delivery fee be more expensive?" The staff told him they give coupons so no delivery fee. Jaejoong then understood that they just need to show the coupon and he said he's from the delivery (older) generation. He said he was "Postman To Heaven" and explained that it's the title of his movie. Jaejoong called himself a fool.
— Next message said she wanted to put all the diaries she had written since kindergarten in the museum. She also sent her handwriting when she was in junior high school, from 2007 that "I like Jaejoong-ie like crazy." He said it's really a memory. Jaejoong said he used to write diary too and when he reads it now it makes him think "Why I was like that?" It's kinda cringe. Jaejoong said when he was in the military he couldn't bring his phone so he made a note of phone numbers. He took note of people who visited him because he's thankful. There were more people that came to visit him than on his phone numbers list. He said there was rumour that he wrote a "Death Note" in the military so there were exactly 147 people visiting him. Jaejoong said he felt really sorry to those who came to visit him. He said he made the list just because he's thankful.
Jaejoong strongly recommended to go to military visitation. He said there are so many people who don't have anybody visiting them at all. Jaejoong remembers that they shared food with other soldiers serving the military too.
— Next message said she wanted to put the costume she wore to Jaejoong's fanmeeting in the museum. He said he told fans to dress up like halloween to the fanmeeting. He remembers there were lots of amazing costumes. Jaejoong said he might not see the message sender because the costume was so dark. He said there was a makeup booth too. Jaejoong said he wore Super Mario costume, walked around outside of the venue, and nobody knew it was him. He said it will be nice to have another halloween costume concept for his concert later. Jaejoong gave her a gift coupon.
— Jaejoong said the "Museum" corner really reminded him of many memories. The song Jaejoong recommended for that day was Jesse Powell – You. He said the song was originally by Darkchild (Rodney Jerkins) that he once worked with. Jaejoong also said that this remix is really good. While the song was playing he said he's hungry twice.
I live my life diligently
— The message said she didn't cry at all even after a month breaking up from her boyfriend, but it was his birthday and she finally cried a lot remembering him. Jaejoong read some comments related to their break ups. Many comments said investing in stock gives more pain than break ups lol. Jaejoong said now Kakaotalk reminds friends' birthdays too. He said she might live her life just well then suddenly the birthday notification showed up and it reminded her of the birthdays they celebrated together. Jaejoong told her to try stock investment. He said a big company's stock dropped at that day. Jaejoong said who knows it will be a good decision, but don't say he recommended it. He said new love will come and it isn't bad to contact the ex personally, just congratulate him simply. Jaejoong said to not think deeply about it.
— It was 9:10 pm, Jaejoong said he would read the messages a little bit more.
Next message asked about the words Jaejoong said often. He said the words he said a lot are "일단 firstly" and also added "하물며 much more".
— Next message sent a painting of Jaejoong that she did. She wanted to show it off on the online fansign but she was so nervous. He said it's really nice and told her to not do it for a hobby. Jaejoong wanted it too. He said if it was on the online fansign he may remember her face. Jaejoong said almost everyone was stuttering during the online fansign. He thinks it's better to prepare a note beforehand because the time is short and very precious.
— Next message said she doesn't get along with people older than her and asked for some tips from Jaejoong who is also loved by older people. He said he gets along with older people. Jaejoong said just like his nickname, 국장님 General Director, it's just because of his personality. He said he is from Gongju, that's mostly the personality of people from Chungcheong province. He just gets along with people. Jaejoong said he just doesn't take the things he doesn't like too seriously. He also feels okay when the juniors just greet him or call him "hyung".
— It's 9:20 pm. Jaejoong said he really had fun sharing his TMI and hearing others' TMI. He said next will come very soon and said bye.
———————————————
TMI.
Yesterday JJ was eating Bibimbap and hit his front tooth with the spoon that's why it chipped. He went to the dentist early morning today to get it fixed.
He said it took 3 hours to fix his tooth, he also dyed his hair today…
He complained that he has been sitting all day today.
Jaejoong said the words he said a lot are "일단 firstly" and "하물며 much more"
Comment: My boss talks to himself a lot. What should i do?
JJ: If you try to answer him you might get in trouble. If your company allows it, try wearing earphones and just let your boss be.
Comment: My PC screen is so messy, how do you organize it?
JJ: Firstly the puppy (wallpaper) is so cute it attracts attention. How about you make it simple by arranging them separately? Place company related items on top of the dog, personal items on the left, videos on his face.
Comment: Oppa has pretty lips, how do you take care of them?
JJ: I don't really do much, i just use lipbalm like nivea. I got a lot from my fans so I use them well. Vaseline is also great, it's not only good for dry lips you can also apply it to your skin.
Museum
What kind od memories do you want to put in the museum..
Comment: I'm gonna place oppa's concert ticket
JJ: I'm jealous, I don't keep concert tickets, even set lists. It's really good to keep things like that.
Comment: I wanna place the pictures my mother and I took when we went on a walk.
JJ: It seems like you're really close with your mom. I will gift you drinks, so that when you walk with her next time you have some to drink when you're thirsty.
I don't take that much pics with my parents. I should really take many pics with my mom then.
Comment: I wanna place the towel I got from bossnim's concert. I haven't even washed it yet.
JJ: Ohhh do you know? I usually tie those towels I threw in a knot so that it'll be easier to throw. If I tie it twice, I can throw it far away. Thw towel doesn't smell doesn't it? Yeah
JJ: Why are the staff laughing? I don't smell even if I sweat a lot. Why don't you believe me? (went to pdnim to let him smell his clothes LOLOL)
I don't smell. Even my breath smells good. What's really amazing is that even if I eat a lot of garlic or drink a lot. My mouth smells good. It's like theres a cleaner in my body. I don't even apply any lotion or body cream. People that's close with me, please leave a comment. Please be honest and tell them that I smell good.
Jaejoong trying to convince the staff members that he doesn't smell
He has no:
– body odor
– foot odor
– bad breath
He talked about his "Jaeromones" lol
Fans also made a joke about "Jaebreze" lol
Comment: I have a ticket and money to my trip to europe.
JJ: When will we be able to travel again? If you go abroad it's really nice to take the scenery with your eyes. I'll give you starbuck certificate.
Comment: I have oppa's blanket, my mom used to make up my bed and then put it in the middle.
JJ: Oh that was when I still have my rock disease. I had my nails painted black. Your mom is precious. This blanket was of good quality right? My makeup is also good here. I was trying to do a lot of things that time. I wore leather pants, I even painted my nails black. Reporters took a picture of it and made an article about it. Also I was the 1st male celebrity who wore long boots. People assume it's Noh Hongchul but it's not. I wore it 1st.
Comment: I have oppa's goods.
JJ: There's a lot, letters and perfume. You got my ring? There's only two of them that I made when I was filming. It's amazing. I'll gift you coke.
JJ said that since he couldn't have a phone in the army he kept a diary. Said he was embarrassed to see it now. He wrote the names of the people who came to see him in the army so that he can thank them when he gets discharged
*some pages of the diary was in his treasure book
He said that when he was about to be discharged some of his friends who weren't in the list came to see him. There was even a rumor that JJ was keeping a death note(black list). lol
Comment: I have troubles getting along with people older than me. How do you do it?
JJ: You can try to get to know them by talking or eating with them. Then you listen to what they say, understand each other, share stories with each other. You'll eventually get along better.
JJ also mentioned that once he set up a booth for the fans to have their makeup done for a fanmeet. He even dressed up as mario and he was glad that nobody noticed it was him.
Source: VK
Video Credits: 월드피스 김재중, Only JJ
Shared by: Mia of JYJ3