← Intro
[VIDEOS] Episode 10
Date: May 14th, 2021
Special Host: Kim Jaejoong
[NO SUB] Watch Full Episode on Youtube only <Link 1> via 월드피스 김재중
.
[ENG TRANS] 14.05.2021 NAVER NOW Kim 'Jaejoong's Nighttime Workshop'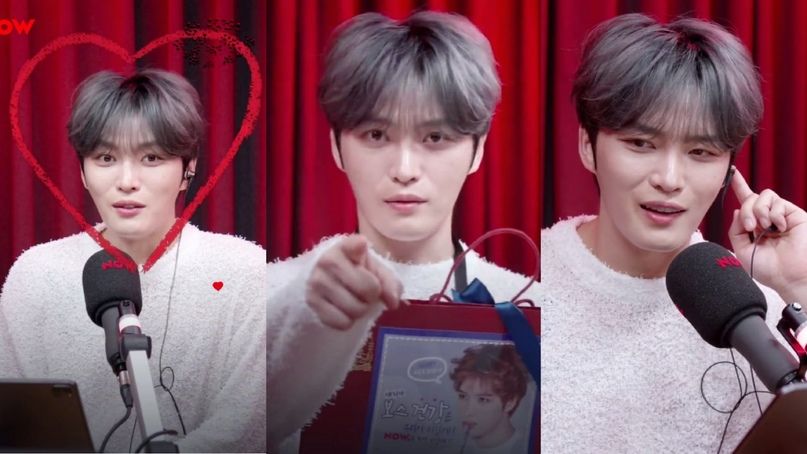 JJ comments: All the outfits he wore in Nighttime Workshop have been his own + some privately sponsored ones (whisper…)
Jaejoong said last time he felt it really passed by so fast and felt unfortunate. This time when he hosted for another week he feels the same
Jaejoong said he usually hosted this for 1 and half hour. So he will make it longer than that. Longest record of Naver NOW show is held by actor Lee Junki for 4 hours. He held his birthday at that time
Jaejoong said he also can do that because his concert is around 4 hours too. If it were JJ's birthday party, he'd go all night too, we'd go home in the morning
Jaejoong greeted in Japanese for Japanese fans Jaejoong also mentioned Vietnam, Malaysia, Indonesia, and Taiwan fans
Jaejoong said this morning he woke up early and went out for a while but the sun is too bright
He said he wore pants with the color he doesn't usually wear.
Only 4 crew members in the studio for social distancing, fans provided lavish, plentiful snacks/drinks for them as well, red ginseng included, lovely gifts from JaeRea: JJ's favorite color GREEN, Naver color GREEN, ginseng has green too.
He said the quality is no joke. He boasted about it proudly
Jaejoong promoted the red ginseng too
He had one and said he will sleep well today
Jaejoong said it's been 10 minutes and the opening doesn't end yet
Jaejoong mentioned the previous special hosts. And said that he did 2 weeks. Jaejoong is talking about making a special program for him for 2 weeks. He wants to have it live as he likes it more. And he wants the color to be PEARL GREEN. Like the box of the red ginseng
5 days per week program is too tough for JJ, he has a lot of different schedules, 5th day is a risk, I like live communication! 1 day per week, I can do! I discussed it with the camera director! I can do longer than 1 hour!!!
Naver NOW has 1 hr per week programs, JJ has been collecting data from the crew members if they can do overtime if JJ does a show
Jaejoong said he doesn't need all staffs and said "let's go for a long broadcast"
Jaejoong said there is live vote in Naver and told to choose how long it will be
1. 1:30 hours
2. 1:50 hours
3. 2 hours
4. 3 hours
He said tomorrow is weekend too~ So far it's 2 hours has the most vote
Jaejoong explained how to send messages.
First story, a fan who likes summer as she became Jaejoong's fans in summer.
Jaejoong said it's so hot today, it reach 30°.
Next story told Jaejoong that today is Rose Day. He was surprised and said that he likes rose. The fan asked Jaejoong to do the flower pose. He said because he was told to he should do it~ He received a bouquet from the staff~~~
Jaejoong roleplaying, going back to few years ago "Darling, congratz to be an adult" . Jaejoong touched the flower and said it's real flower. He thought it was fake.
Jaejoong opened and shared some red ginseng to the staffs~
Jaejoong said the singer wrong before. He went to gave the ginseng to the staff so he said please wait for a while and just watch him
Jaejoong said he should take care of the staffs too to have a long broadcast
Jaejoong is reading the voting result. He asked for a BGM but ended up made it by himself by hitting the table.
They gave him the BGM and CG effect.
Jaejoong said it's possible to have 3 hours broadcast. He said they have red ginseng, snacks, water, everyone can go to bathroom too. And when he goes to the bathroom they just need to play one song as he did in his concert
Next story said she doesn't friend and said she lives in vain. Jaejoong told her to start making friends now, it's okay. He said that maybe people with many friend envy her
Jaejoong said that they're still in the age to start things because people live till 100. And told her not to worry. She was worry about who to invite to her wedding later. Jaejoong said small wedding with just family is a trend nowadays. Jaejoong gave Baskin Robbins cups for her.
The next story said her dad is also youngest with many big sisters and when he was little called her noona, "eonni". She asked if Jaejoong ever did it too. Jaejoong said he never calls his noona with "eonni".
Jaejoong remembers that when he was in 6th grade he wore his noona pink jacket below his black padding. It was hot in the classroom but he couldn't take it off because the pink was so striking. So he sweated and the teacher asked if he was sick. He said he wasn't.
SMART UNIFORM
Jaejoong said he remembers that time when he was the model. There was signed postcards sent. JJ and members signed 3,000 photo cards per day themselves when they were the models for a school uniform company, nor printed, they were so busy at the time working around the clock, traveling everywhere
Minimalist vs Maximalist? Anyone with a house if they live in them for some time, turn into maximalists, don't they? JJ became Maximalist due to all the gifts fans sent, ppl say oh JJ went shopping, but usually gifts from fans
Jaejoong read the next story and told the writer-nim there's a typo.
JJ: "I should said it but~"
The story talked about moving house and asked how Jaejoong packed if he moves. Jaejoong said he has so many stuffs because there are a lot of fan gifts and he has lots of his own things too.
Jaejoong said if you really need to throw away clothes, throw away those you doesn't wear at all for 2 years. Or maybe sold it on the used things site
Jaejoong said he can't wear his clothes when he was in the military because of his weight difference. And also the shoulder
The next story talked about teacher. Jaejoong still remembers his teacher from 6th grade, he remembers her name too. He said "I love you, teacher". He also remember his friend who was called Kangta. It was when Jaejoong was so into H.O.T
The most proud moment as a singer: when looking at fans laughing + crying at concerts, receiving letters that says I'm their hope, ppl suffering tells him his singing and voice give them energy to go on
A fan w terminal illness, who passed, the last wish was to listen to his song, some say he is the reason for his existence… so grateful, JJ gets energy from them, fans encourage him to strive to do better
Jaejoong said he is very thankful twice.
Next story is from 5 months fan, she tried spicy food because of Jaejoong and wish to be support Jaejoong to be fans for a long time. Jaejoong doesn't know what is newbie and even asked each words (new-bie) mean
Next story is about a fan who has new company and she wishes that if her company is bigger later, she wants to work with Jaejoong. Also asked tips for new company. Jaejoong told her she should stated the brand name so he can promote it
Jaejoong said she can promote it big with lots of money or something. He said he had company before, it was good when he handled it but after giving it to the staffs, it's all ruined
Next story talking about food. Jaejoong said he becomes hungry. He even asked the staffs to eat. He said that we need to eat to live so it's better to just do it.
Jaejoong gave her blueberry macaron from Starbucks
I see msg saying they became a fan recently. Wondering how ppl become my fan, tell me how you became a fan
Next story from someone who just became fans few months ago. It's first time being a fangirl and asked what should she calls Jaejoong. Jaejoong checked his schedule and there's nothing special. Jaejoong said "Jaejyu" is okay
Jaejoong screamed he doesn't want to be called "baby" couple times
He said Choi Jinhyuk looks so manly and cool, they are also the same age
Jaejoong said to not call him baby, not even in English or Japanese. No "puppy", "dog" is better. No "woof", "bark" is better. And to not babying.
Jaejoong said how can Japanese fans understood and said "baby" "kawaii" He said "yamete stop". And said it's not right to say it in the middle of the night
Jaejoong also said don't use "내 새끼 my child" it sounds like curse
Jaejoong also doesn't want to be called princess
Jaejoong is eating he said he will have a short ASMR. He said it's very delicious, as expected chicken is the best.
There are many new fans' messages. Jaejoong read one from someone who became fan by watching his videos on youtube. He said the alogarithm is scary
Jaejoong said he can't watch his old videos
Next story said she become fan after watching HUG MV and fell in love to the boy who held a bouquet of red roses. Jaejoong held the bouquet and re-act his part on HUG MV also lip sync it .
Jaejoong said he will have wrinkle when he loses too much weight right when he had rock-illness
Jaejoong said his cheeks become puffy if he eats something too salty
Next message from someone who became fan during Protect The Boss. Jaejoong said it's his first drama and has lots of memories with it. He also said that the OST is I'll Protect You.
The next message said she became fan because of Jaejoong impersonating Y2K's members and the helicopter sound. She asked him to do it again. So Jaejoong did them. He said he's very thankful
Jaejoong said the following message makes him looks old. And he continued mentioned old stuffs
Jaejoong said he still friends with those second gen singers. He mentioned Rain, Seven, Bigbang, SS501. And said that he's at least friends with a member of those groups, also friends with Rain and Seven. Jaejoong said they talks about old times when they meet
At that period loving Jaejoong was just popular thing to do, everyone loved Jaejoong At that period? You're calling me old??? You are digging your own grave, you revealed that you are old too. That period when fever of 2002 World-cup was not cooled down yet? We were still using folder phones? Rain, Seven, BIGBANG etc. we're popular?
Next messages said she became fan after seeing Jaejoong's military pictures. He said he usually denied when fans said he's handsome or cool. He said his face isn't handsome, but unique. But he wants to admit that he is kinda cool when he was in military
Jaejoong said "you can't call me baby during my military service, right? I'm oppa, right?"
Next a fan in her 10s. She became fan because she watched the video of Minhyuk's Vogue Ship Show the phone call part. She said she fell in love with how Jaejoong treat his fan. Jaejoong said that his appereance there gives lots of exposure too
Jaejoong remembers he went to see H.O.T performance in Everland and even threw gift to them
Next story sender became fan because of Tender Love. Jaejoong said the song is really good and asked wether they have had a time where they get dissapointed because the singer's look.
Someone became fan because of MKMF 2008 where Jaejoong wore all white, only coat with fur and no inner. He said he doesn't know how he can dress like that at that time
Next someone is fan since SHOW TANK (probably 2004). Jaejoong remembers that his hair style at that time. And said that when they sang HUG sitting, they would carry the chairs by themselves
Jaejoong said we just listened to Tender Love and he enjoyed his food. He said the only thing only someone can eat by themselves are their tooth
Jaejong legendary snow white picture with his legendary hand mirror showed up. He said "didn't I look pretty? I was in my 10s"
The next sender became fan last year because of WWW concert video. Jaejoong said his weight was 55 kg. And felt very confident at that time
Jaejoong said he's a success fan of L'arc en ciel and X Japan. He boasted about it.
He said "do you think I'll be modest about it? No. Arent you jealous?"
The next sender became fan because of Travel Buddies 1. Jaejoong said that's the reason there is Season 2 and asked for lots of support for the Season 2 so there can be Season 3
The next message asked how to fall asleep. Jaejoong said he used Youtube and shared the sound he usually listens to
The next message asked can Jaejoong becomes friend with people who don't drink alcohol well. Jaejoong said he only focus on himself when he drinks. He said it's okay if they just drink non alcoholic beverages
Next message is from a teacher who received so many "fan letters" from her young students and it makes her flutter. She isn't 30 yet. Jaejoong said the 30s feel so fast
Jaejoong said it's been 2 hours. The message said it's 1 am and she's sleepy, she asked Jaejoong to wake her up. Jaejoong said "wake up". He called her! Her nickname is "baby" so Jaejoong called her "baby"
She said she left to the bathroom and had no idea that Jaejoong would call her. As usual Jaejoong is always curious about the age. She said she's in her 30s. She called him "oppa". So Jaejoong asked if she's in mid 30s. She said yes
Jaejoong gave her Olive Young voucher She said she likes Olive Young and Jaejoong said he likes it too. She said she is now all awake.
She has been a fan for a long time and just chose Jaejoong among them. She is also the one who sent the certificate. Jaejoong complained because she put his age on the certificate.
Jaejoong said he doesn't want the others to know his age. She said it can means "36 months old". Jaejoong complained again that he will be called "baby"
She ended the call with "thank you, I love you, and for your rib to get well soon"
Next message said that she is watching this show with her husband. Jaejoong called her. Her phone number last digit is Jaejoong's birthday.
She has 2 phones and 1 phone is all Jaejoong from wallpaper till the phone case. She has been fans for 18 years and went to the concert with her husband too.
She said if she has a son she will named him Jaejoong. But Jaejoong said don't because there are many beautiful name. Jaejoong heard that she spoke informally to her husband and said how nice.
Jaejoong asked if she has something she really wants to say. She said she never has Jaejoong's sign. So Jaejoong signed a paper with his SMART uniform picture and will send it to her instead of gift from fortune pocket.
Jaejoong is talking with her husband and asked «what do you think of me?»
He said he knows Jaejoong from his wife. He also said it's okay for his wife to fangirl Jaejoong. They have been married for 2 years and have a 10 months old baby. Jaejoong said he's very happy to talk to them. He wished them well. And told him if they have a son later, named the baby "Youngwoong" instead of «Jaejoong»
Jaejoong was saying still talking but she hung up the phone. Jaejoong also said that she's like her mom who hung up after saying "get in" even tho he's at home.
JJ: "Let's listen to a song, not by Hero Jaejoong, but Kim Jaejoong – Let The Rythm Flow"
It's been 2 and half hours. Jaejoong said when it's short you talk about it, when it's long you also talk about it
Next story's sender started to work in new place. Jaejoong talked about actors on set as example
The next messaged asked does Jaejoong get annoyed too? He said will take a time for himself and think. Jaejoong isn't the type who right away tell the person that made him annoyed
A comment said Jaejoong somehow looks like a baby.
He screamed "What?! What?"
The ipad is low battery. Jaejoong asked how long has we done this?
Next message said her phone is also low battery. Another also said the airpods battery is finished.
Next message asked for a encouraging words from Jaejoong as she just failed an audition as an actress. Jaejoong said there are people around him who want to be big actor, so he said it's okay and there no late.
Jaejoong read comment that said cheer up. He said "I'm not tired it's suppose to be for you"
I complain a lot but usually to my self to improve myself but not to others, I experienced a lot of backlash when I did complain, instead of complaining I suggest something positive in public. I don't want to hurt others' feelings, it's more mature thing to do, ppl work around me are all professionals
The next message said that she never seen Jaejoong in person as she became fan after Jaejoong's concert last year. She also said that there are many fans like her too.
She asked how does Jaejoong look in real life? Jaejoong said he just looks like this, like how we see now on screen. He even asked the cameramen.
Jaejoong said he is very shy with the nicknames from fans
JJ claims he looks the same in person as on camera: fans disagree, he looks so much better in person, Visual Shock
Crew: JJ looks handsome from any angle, talks a lot more than they expected JJ: Chungcheong (JJ hometown) ppl like Chanho Park(baseball player) and Park Seri(golfer) talk a lot n fast too. Ppl from Chungcheong are famous for their slow speech, JJ wants to break the prejudice.
It seems Jaejoong read comment that said "too much talker"
Jaejoong said he supposes to talk because it's an audio show as a special host too. And he said that it's Gongju's people's characteristic. He gave example of other celebrities too.
Jaejoong said Lee Junki did 4 hours. He said he will be sad if they said that to him, his rib already hurts, his heart will be hurt too
Jaejoong said doesn't really like wearing tie because he feels suffocated
Jaejoong said he doesn't have short neck, it's long actually. And he has turtle neck according to doctor because his posture isn't good
Jaejoong said he has lots of noona and his brother-in-laws are also much older too
JJ: I was not my purest in my 20s, "I have to achieve something!" Now he's freed himself more, maybe more pure, relaxed
Next message said she want to speak informally to Jaejoong like friend. Jaejoong said okay. Next message said "Hey, Kim Jaejoong" He said "What?!"
Jaejoong: "Suddenly the night too has come." *laugh* "Suddenly the night too has come. It isn't night anymore, it's dawn. Suddenly the dawn has come. Lemme get the feel first"
Jaejoong said that mom may feel strange when her daughter becomes adult. Jaejoong said that her parent still call him baby. He said just like a 90 years old mom still calls her 70 years old son "baby" too.
Jaejoong said it's now time to close the door, it's been 3 hours 20 minutes. He said Lee Junki's was on his birthday and started way earlier. Jaejoong mentioned 4 hours but he said that the staffs have sleep tired face already.
Jaejoong said a Naver NOW staff posted his picture and it was shown on his instagram. Again he said the alogarithm is scary
Jaejoong said that Jinhyuk hasn't receive his chicken. The staff said that they sent it to his manager. Jaejoong said then it's the manager.
Jaejoong asked the staffs to consider his own show
The last message asked is there someone Jaejoong thinks of when he sees or eat something? That person also sent flowers pictures that reminded her of Jaejoong
Jaejoong said don't be sad. He said he has been the host for a whole week, 5 days. He mentioned all the guest of this week. Jaejoong said this is may not be the end. He may be back again.
Jaejoong said it's been 3 and half hour. He said Jukjae will be back next monday. And he feels happy to be able to fill his spot. Jaejoong said he will be back to NOW. To his love the green, the best portal side.
Jaejoong introduced the last song.
He said good night and bye.
Source: VK
Shared by: Mia of JYJ3