← Intro
[VIDEOS] Episode 01
Date: April 5th, 2021
Special Host: Kim Jaejoong
[ENG SUB] Watch Full Episode on Youtube only <Link 1> via iJaeFans FanSubs
[ENG SUB] Watch Full Episode on Youtube only <Link 2> via Only JJ
[NO SUB] Watch Full Episode on Youtube <Link 3> via 월드피스 김재중
.
[ENG TRANS] 05.04.2021 NAVER NOW Kim 'Jaejoong's Nighttime Workshop'
First song : K-Will – Love Blossom
Jaejoong using "Jaerea Boss" as his nickname commented "the song is nice"
He introduced himself and said that he will be special host till friday as the original host is taking a break
Jaejoong is asking for CG effects
A fan said that she's so happy that it's her birthday week and Jaejoong uploaded 2 videos on youtube and for the whole weekdays she can ends the day with Jaejoong on this radio show~
A fan said she's very happy with Jaejoong on Vogue Ship Show and even more happier that he's on for a whole week~
A regular listener said Jaejoong made a good choice to do this show.
Jaejoong gave her a gift card.
Jaejoong ate the meal box prepared by DC Jellery.
Jaejoong said his tension is so high, he would try to lower it as it's late night. But he said it's a bit weird.
Jaejoong said he is a type of person who is active at night.
A comment asked to come again to Jeonju.
Jaejoong said there are many good restaurants in Jeonju. And he also went to run alone at night in Jeonju. He said next time he won't tell where he is with instalive.
Jaejoong said exercise is troublesome but it's good for body, same likes medicine. It taste bad but good for health.
Someone commented that she hasn't removed his make up or changed her clothes, she just laid on sofa and watched Jaejoong
Jaejoong asked fans to send more stories, as 1 SMS only costs ₩100. He said it's very cheap.
Next song BTOB's Lee Chang Sub – At The End
Jaejoong introduced him as someone who is really good in singing.
Jaejoong is continue eating the meal box.
Jaejoong said he personally like the song and he will listen more of BTOB's Lee Changsub's songs.
A comment asked if Jaejoong has a hobby.
He talked about filmed and edited his own video on his phone for his youtube.
Someone said she has spent ₩5000 for sending messages. Jaejoong gave her a Dunking Donuts gifr card.
Jaejoong said don't be upset even if the messages aren't read yet, he will still be the host till friday.
A fan said she went to Japan for Jaejoong and she got a job in Japan. Jaejoong said he's very happy
A fan asked for a short birthday song from Jaejoong. He really sang short.
Jaejoong is told to choose a name among
Seon Woo
Eun Ho
Si Hyun
He said Seon Woo is his character name in SPY
A fan told Jaejoong that she wants to change her name "Can I recommend a gender neutral name… Youngwoong, Youngwoong. I am still Youngwoong Jaejoong… means there is Hero or Hero in the middle" "Why are you laughing? Nowadays Im Youngwoong-ssi… Im Youngwoong is really good"
Jaejoong chose "Seon Woo" at the end, and said that the name sounds good
Jaejoong said again that "JAEREA" is a nickname for his fans who live in Korea
A fan asked for Jaejoong's kimchi recipe
Someone in university just become Jaejoong's fan this year.
She used to study in England. She was born in 2001
Jaejoong said he's very happy to be called "oppa" by kids. As he gets older, also people around him are married and have kids.
A fan asked what makes Jaejoong happy? Jaejoong said he cleans or eat He talked about human routine Eat — gain weight — exercise.
Jaejoong asked if he can get another meal box for him to eat it when they plays a song later
Someone said that his noona is Jaejoong's fans so he watched a lot of Jaejoong's video on youtube too. And he thinks that Jaejoong is cool. Jaejoong said that he also do his own youtube for fun. Jaejoong said he will post more videos.
Jaejoong said he thinks he can have talk with people who have good manner. He said manner is important.
Jaejoong asked to send hamburger emoji to grow his CG plan.
Jaejoong said it's his first day so he hopes everyone understand if he's not really good
Jaejoong said he doesn't want to introduce the last song as he will end it. But he still needs to let us go to sleep, because we should have worked tomorrow morning too.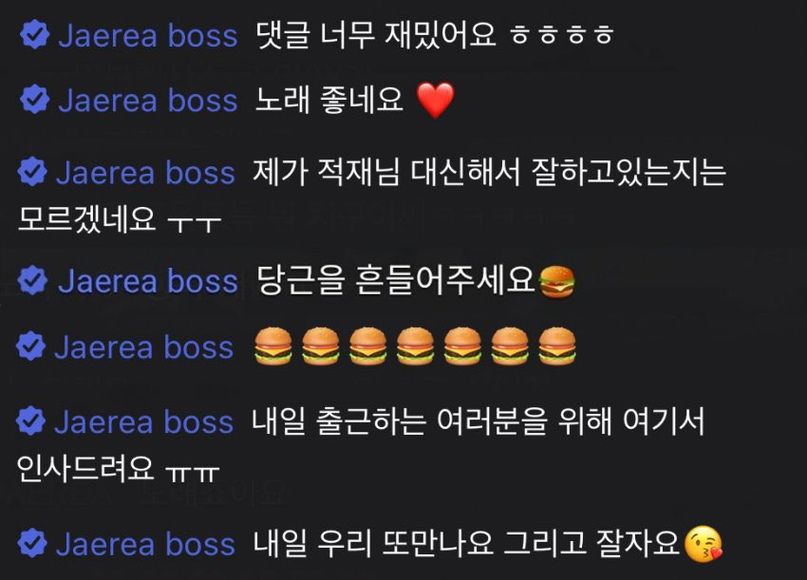 JaeRea Boss:
Your comments are so much fun lol
This song is good
Not sure if l'm doing a good job in place of Jukjae ㅜㅜ
Share the carrots please🍔
🍔🍔🍔🍔🍔🍔🍔
I'll say goodbye here for those of you who have to go to work tomorrowㅠㅠ
See you tomorrow and Goodnight
—————————————
Kim Jaejoong — Tender Love
*read comments, type comments, read comments, talk to staffs, read comments*
JJ: [opening ment] Today, I am very excited all day. Right, it seams not only me who feel that way. People are busy with their phones. On the sidewalk, busy taking pictures of flowers. Busy to tell others that the weather is nice. (I am) jealous tho. Then I will also start talking. "Where are you? What are you doing now?"
K-Will – Love Blossom
Kim Jaejoong – Now Is Good | Kim Jaejoong's Night Time Workshop
JJ: Yes, hello. Night Time Workshop's first song. K-Will – Love Blossom, we just listened (to it). Just in case, for those who are listening now, curious where is Jukjae-ssi the original host. Let me tell you, till May, he goes for a short vacation. That's why, this week, from today till Friday, I'm going to be Night Time Workshop's special host. I am Kim Jaejoong. Now this view-able audio show is live.
First, today is my first time, like this… it's a radio but doesn't feel like radio. This, it's really kinda… (make me) very excited, very nice, nervous too, I think it will be fun. Today, it's like being at home, comfortable. The feeling come, ah, more… It's like, after working hard, dreaming…
And taday… Because I am hosting Night Time Workshop, (the fans) prepared flower too and a meal box. (The fans) sent a lot. Really, sincerly thank you. Well.,, I ate it already.
First, there's a set (of meal box) left, if l'm hungry… Or put it in the fridge, and eat later. Ah, I sincerly thank you.
If you send the stories you want to share, we can see it on real time. So with really content heart, by chat or SMS, everyone, send your stories. (We) will be thankful.
The number for SMS is 7117. The cost of one message is 100won. Please make sure to send together your name or nickname, thank you.
Instead of phone number, we often introduce (people) with nicknames. And also it has kind of essence and sound nice. So, at the beginning, make sure to put Night Time Workshop, and write your nickname, don't forget. Please send a lot.
Originaly if doing this kind of live broadcust… I want to talk about this, weather, "Today's weather is very… fantastic" like that. I want to talk about it. Everyone, today's weather is really good, right? Today's weather is really nice, I think. From yesterday, the weather is really… nice, it's warm, the clouds are pretty too. Today's air is really good too. But, for real, really, the springtime itself… makes lots of people feeling happy and very excited, I think. So the first song too, has fun spring feeling in it.
Also, because it's almost time to end a day. I'll share a little, how my today was. Honestly, the… this meal box set you sent… my manager brought it by himself to my house. I am thankful for the delicious meal. And… script, I received this script before hand. But it kinda feels like I shouldn't see the script before hand. Kinda… like, (I am) a bit nervous too. And firstly, even tho basically there's a script, the script is… I want to talk, share my feeling now with everyone like in real time. So for the script… I am a bit sorry to the writer as I will not follow the script too much, yes. I om sorry.
Yes. First… Today is Arbor Day, right? Planting new seeds so lots of trees can grow. It's a day full of affection and care. I also on this Arbor Day, hosting Night Time Workshop. Is there anything I can plant? Something like CG, no? Planted by Night Time Workshop or by Jaejoong-ie something like that? No? No? No? No?
Something like, CG will be nice. Will it be on thr re-broadcast?
This, this is it! We have it. Here, this, this, this… It's cute~ I also plant like this.
*lough* First… Reading the comments, everyone is saying «PGLOA». How do I not know this? «Please give lots of attention» isn't it the meaning? Right. This… everyone knows.
Then, first, since the beginning, everyone… there are so many comments coming. First, I will introduce everyone's messages that have been recieved earlier.
4746-nim. This person, next time make sure to write your nickname, I will be more thanksful.
«Jaejoong-oppa, hello. Yesterday was my birthday. Oppa yesterday, on Youtube suddenly uploaded 2 videos. So I feel like I got a surprise gift. In addition for this hole week, I can finish my days with oppa. I think this becomes the happiest birthday week in my life. My Monday Syndrome is already gone too. I'm very exited and looking forward to it. With Kim Jaejoong, it's really really Now is Good."
Yaa, this person.. has the feel. Yaa… I, yaa… feel touched with thing like this. For becomes the happiest birthday week… I'm also contrariwise very thankful. From now on, I will post lots lots of fun videos. So if it can relief your stress a little, I'll be verry happy.
Next, we'll continue…
Jaejoong's-voice-that's-like-whipping cream-nim sent this:
"As soon as I heard JJ becomes the host for this week, I canceled all my schedule for the weekdays. I was very happy with Vogue Ship Show last week too. This week, for 5 days, I can see oppaㅠㅠJAEREA is so happy."
That's how it was sent. I am also, that's what I want to say. I really wanted to do this. The, DJ? Of course I did one DJ once before. But I never became NAVER NOW's host, right? But, this is like… it's more like, there's set. Next time there are guests expected to come too. Guest, talking with the guest like this, ahh~ It feels exciting. I think it will be fun. I personaly also really look forward to it.
Till Friday, my Night Time Workshop. Everyone, I hope you listen to it.
I'll read next story. Going-to-buy-ice-cream-nim:
"I have broken up with my ex-boyfriend for 2 months."
Oh, my, what to do? So, it has been 2 months.
"My life pattern is on contrary with my friends, so at night like this, I'm bored as there's nobody I can talk too. But now I can contact here, it makes me excited. #7117 is saved as 'boyfriend' (in contact). *lough* Yes! Mom, I got a boyfriend for a week."
I think you really can send msgs like talking to your boyfriend. It's nice tho. And even tho the pain of break up is big. Because you already break up, there will be a other feeling, other meeting, right? Think positively, don't be too sad. It's spring now so there will be new beginnings, right?
And we will introduce one more story. The nickname is Kong-eonni:
"Jaejoong-nim, it's really been a while. For receiving well the baton from host Jukjae, thank you. Jaejoong-nim's voice is really the color of pink. Being host is seems your right place. I hope you get continous opportunity to host Night Time Workshop."
Yaa~ Whatta very nice person. This person really thank you, really very. Kong eonni, eonni is seems like a really nice eonni. Originaly, she is the listener of Jukjae-nim's radio tho. For saying that, really thank you. Should I send a gift? This is called fortune pocket, here. There's so many fortune pockets here. Our Kong-eonni-nim, from now on, please loves our Night Time Workshop a lot. So, night…we don't go to sleep, to continously watch… Should I send something like coffee?
Ah, nice. Right. Mode by 5 ratio, there's nice sweet coffee. I think I shouid send something pricey. There ltalian roast… Ah, there's 12 (cups of) Colombia too. It's 12800won. Waa, it's 12800won. Then, 12 (cups of) Colombia worth 12800won, is given to Kong-eonni-nim. Ir's used. Thank you. It's really touching.
From here slowly, we'll listen only to one song and continue sharing stories. LUCY – , we'll listen to it.
LUCY-Flowering.
Night Time Workshop, I am the special host, Kim Jaejoong. Because today is the frst day, I want to comfortably share stories of this and that with everyone. Should I share how will this whole week be to everyone?
Then, Kim Jaejoong's Night Time Workshop, first tomorrow. It's Tuesday, Nigh Time Ensemble Room's door will be open. And Bass: Goo Bonam, Drum: Kim Seungho, Keyboard: Yoon Joonhyun, and special vocal gues Golden Child's Joochan-ssi will be with us. It's a day for an on the spot ensemble. It's a Night Time Workshop's representative corner. I also personally look ferward to it.
On Wednesday, it's a day where I and everyone will chat a lot.
On Thrusday there will be a guest. I didn't know l'll meet this person, Jungyup-ssi. Jungyup-ssi will come. He will come with his new song, and is expected to sing live. I really look forward to it.
On Friday, again we will have friendly conversation, and wrap up, those are the plans. Mon, Tue, Wed, Thurs, Fri are all view-able audio shows broadcast. Everyone, please look forward to it a lot. Then, like this from today till Friday will be together with Kim jaejoong's Night Time Workshop. For Night Time Ensemble Reom, we also receive song requests. So, SMS to #7117#117. You can send any messages. Story, question, please send to the same number, (I) will be thankful.
Then, I will continue to read everyone's story. There are many chats now too. There are so many stories coming up.
Yaaa, no. That, foday's firstime viewers… also there are people who see me for the first time, it seems, Jukjae-nim is that… Kinda really calm, that's how he hosted the show. But l'm so… this late night, so, like this… Like, the tension is too high, isn't it?
As it's late night, should I try to (tone) it down?
So,like this, from today till Friday together with Kim Jaejoong's Nigh Time Workshop. *talk with lower voice* Ah, it's weird, isn't it? It's like, I'm sorry. It's like, it's a radio that is libened before sleeping. But it's so high tension like this, I'm sorry.
Everyone's story, I'll read it.
I-want-to-know-this-nim, sent this: "Oppa, honestly what do you usualy do around this hour?"
Around this hour, honesily, my tension is this high. Like this, tension is high. «Honestly what do you do?» really sounds like there's something. It's just the same. I am actually also… a 'night owl'. So, (I am) the type who is active at night time.
Continue to next Story. No-Kim-Jaejoong-l-die-nim, sent his: "Oppa! Not long ago you had fiming (and) went Jeonju, you seems had lots of fun. When I was in 3rd grade of Junior High School, I went there for fansign (event). And it seems I came back after 10 years. Now, I am in my 30s but the area is sill the same, it made me crazy. At that time even tho I didn't get the chance to get in the fansign (event), to see Oppa, that night, I sat in front row. The memories were flowing back. Anyway, how's Jeonju afier a while? Please come again. With a picture of Magnolia in Jeonju Hanok Village, I send this."
Yaa~ Magnolia. This is… Right, I… I saw this in person too, of course. It was really pretty. The Jeonju Hanok Village, l went there myself. From experiencing it,it's really pretty, clean… It's really a pretty neighborhood, that's how it feels. Neighborhood, calling it a neighborhood, is it? City? Pretty city? That's how it feels. Jeonju has so many delitious food… like, restaurants, I went a lot. And filmed. And, Jeonju firstly… At night, I… go running… often alone outside, but just around there. Thefe are so many pretty spots. That, there's samething like Hanok, but it's a restaurant. There's somehing like Hanok, but it's a… clothing shop. Something like those, it's very nice. Later, privately, once, I think I will go there, Ah, right. At that time, I did instalive. How… people of Jeonju must be feeling weird. Later, I won't tell. (Insta)live won't do, I think.
I'll continue to next story. Strongly-don't-want-to-do-anything-nim. How much she doesn't want to do? Strongly don't want to do anything:
«When you reach home from work, there's time when you're tired, you don't want to do anything, right? To be awake from that lethargy, is there a personal tip from Jaejoong oppa?»
Tip? To be awake from lethargy… my own tip… I honestly, when I have lethargy, I just stay still… at home. Just, stay with the lethargy. Then, that lethargy, will be gone. Then, without anything to do, everyone, without knowing, I'm using my body. For lethargy, isn't work out really good? When you work out, it's like… The lethargy will be gone. Ah, having lethargy make you can't work out. Like thare?
Right, work out can be the most troublesome thing in the wold too. That's why it's work out. That's why it's good for body, the work out. Body… Originally, bad… what's bad for body is the most delicious, we crave it, right? But work out is like, really… Reolly troublesome but good for health, right? Like good medicine is also bitter but good for body, right? When our body doesn't feel good, forcely… we need to do it sometime too, when having lethargy.
This parson… now at this time, doesn't remove maka up, doesn't change clothes, just lay down. There are people like that tho.
Now, doing it. Now, honestly, this… People who are watching this, now doesn't wash face, sitting on sofa or laying on bed, watching this, are there, right? Please sleep with that condition. It's good for today, but tomorow your skin will… So, even tho it's traublesome, you should wash up before go to sleep. Yaa, this… is something you can't avoid while alive, this. There's nothing can't be done. Even tho you hate it, you should do it. Cheer up, strongly-don't-want-to-do-anything-nim.
We'll go to the next sory. Neighborhood's-young-man-is-mine-anyway-so-nim sent this:
«Oppa when you order delivery food alone, how much you think it's okay to spend for one meal and what is the maximum of the delivery fee? For me if the delivery fee is W4.000, I don't contemplate about it. But it's above W4.000, my hands are shaking. But today for late snack, I order giblets and the delivery fee from the giblet restaurant was W5.900. What should I do? Oppa, what should I do?»
What to do? W5.900. She doesn't contemplate if it's W4.000. W5.900, is suddenly too far tho. Giblets.. Personally, for the food I eat alone, I'm a person who doesn't want to do complicate things. That giblets… everyone, that.. On inlernet, something like that, they sell it. Naver Pay, ah Naver…r Shopping too, they sell it. They'ke instant giblets tho. Buy that giblets, put it in fridge, when you want to eat it, just put it on a wok or a cooking pot. And then you just add cabbage something, or ramyeon put together. Ah~ Like that, will do. Do it. It doesn't cost (much) money. Definitely cheaper, and (you) can eat way more. Do it at home. That's the best. What's this W4.000 and W5.000 concern? Just do it like that. Eating at home, I strongly recommend.
Source: VK
Shared by: Mia of JYJ3