Main [Videos] | SNS 2018 | SNS 2019 | SNS 2020 | GIFS | NEWS | Review 2018 | Fans & Nonfans Reactions
[NEWS 2018]
[NEWS] 2018.11.29 Kim Jaejoong will appear on 'FNS Music Festival 2018' after 9 years… Unchanging popularity!
(via @JaeFans_Global)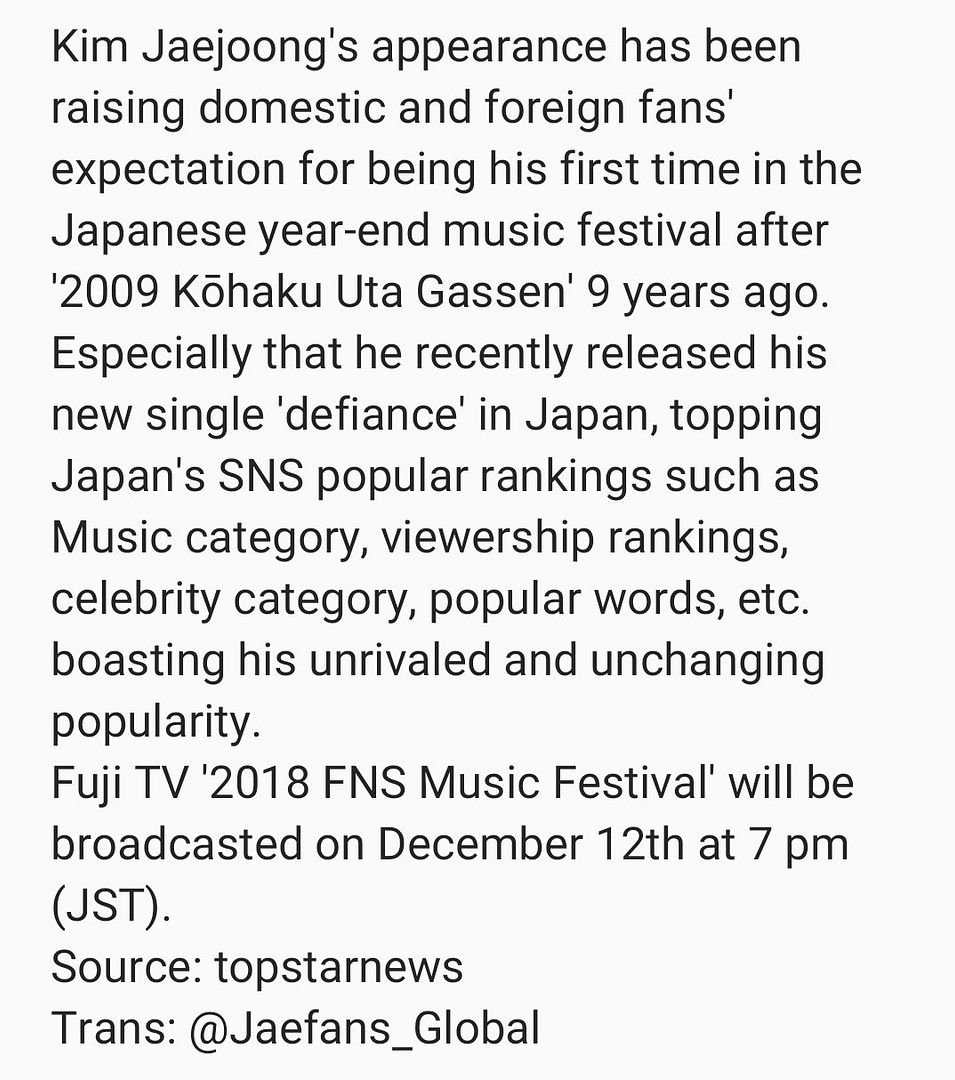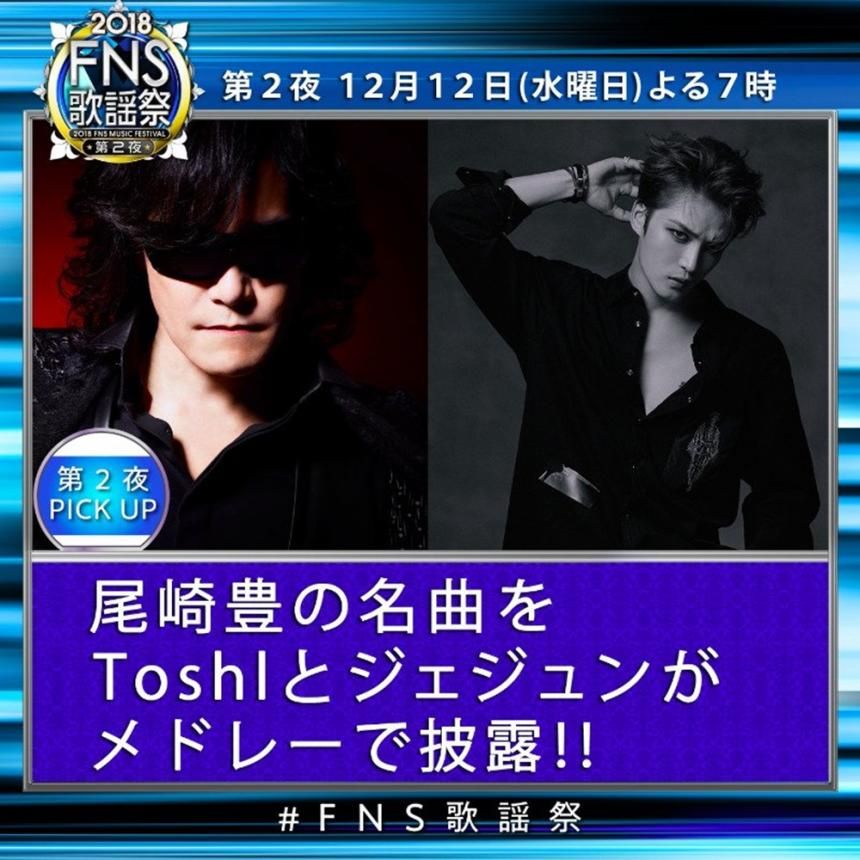 .
[TRANS] Ozaki's Fans impressed by Jaejoong's singing voice!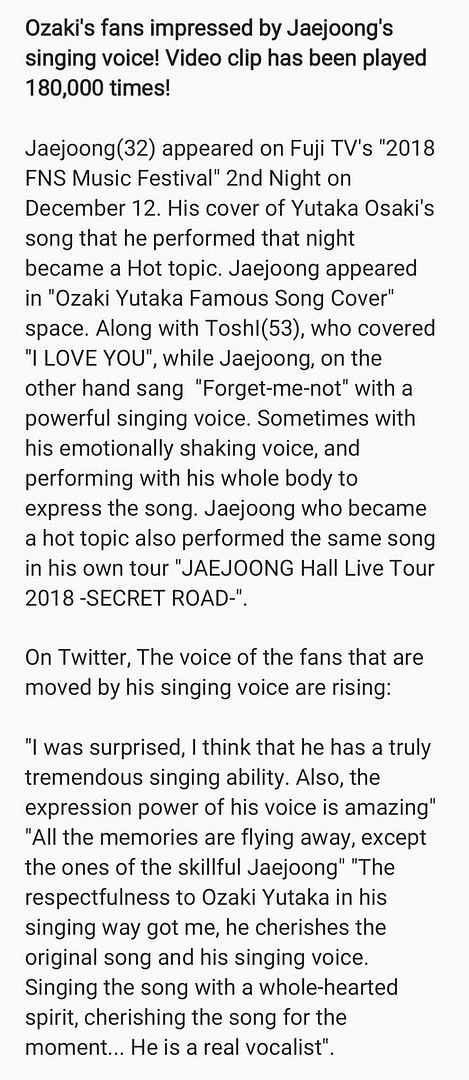 .
[NEWS] 2018.11.28 #BoA, #IZONE, #KimJaejoong, And More To Perform At Japanese End-Of-Year Music Program via Soompi
+
[NEWS 2019]
[NEWS] 2019.12.03 Kim Jaejoong, TVXQ and BTS to Perform at Japan's FNS Music Festival 2019 via Allkpop
+
[NEWS 2020]
[NEWS] 2020.12.03 Jae-joong covered Kazumasa Oda's masterpiece at the "2020 FNS Song Festival"
Jaejoong delivered the stage from South Korea in the Fuji TV series "2020 FNS Kayosai 1st Night" broadcast on the 2nd.
He performed "Itaewon Class" by Kazumasa Oda, which is also included in his own cover album, at the location of the drama "Itaewon Class", which was very popular in Japan.
With the beautiful night view of soul in the background, the appearance of Jaejoong singing like biting the lyrics and the delicate singing voice evoked a deep emotion.
After the stage was broadcast, Jaejoong posted on his Twitter "Thank you for watching a lot!" In Japanese.
In addition to Jaejoong, BTS (BTS), IZ * ONE, ENHYPEN, NiziU, JO1 and others performed at the "2020 FNS Kayosai" on that day and attracted attention. Also, on the second night, which will be broadcast on the 9th, SEVENTEEN will appear from South Korea, raising expectations.
Source: KStyle
[NEWS] Jaejoong sings enthusiastically from the location of "Itaewon Class" at FNS Music Festival 2020
Korean singer Jaejoong (34) appeared on the first night of the Fuji TV special program "2020 FNS Kayosai" covering Kazumasa Oda's "Surely". He delivered his singing voice from the location of the Korean blockbuster drama Itaewon Class.
He sang enthusiastically on the roof of the drama's main character, Park Seroi's shop "Tambam." After singing, he commented: "Did you enjoy the song tonight? I was worried if I could sing on the cold rooftop, but I remembered everyone. However, I did my best"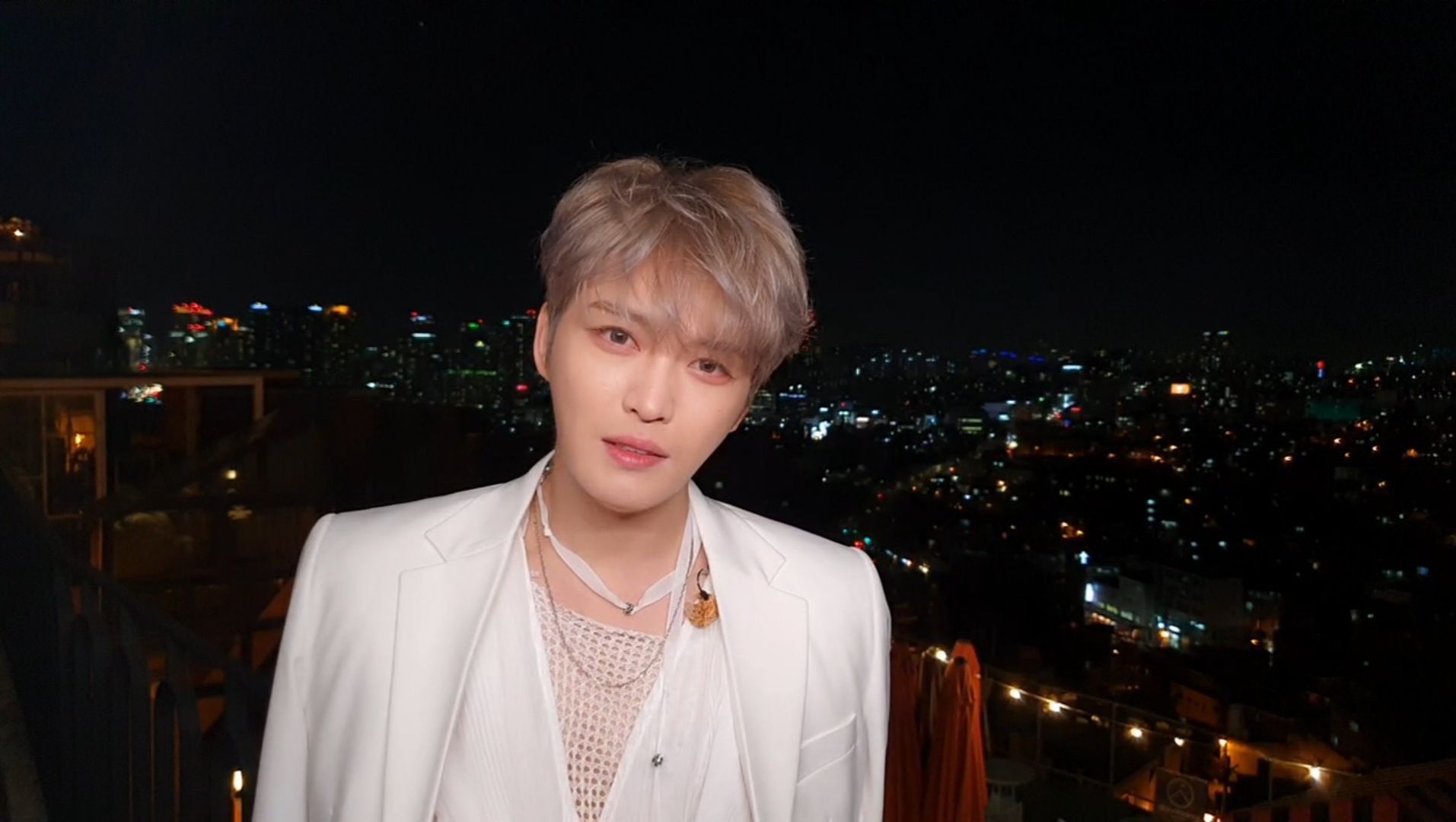 Sources: nikkansports, ModelPress
Shared by: Mia of JYJ3