Main [Videos+Trans] | SNS | GIFS | Fan Support | Preview | News News2
Download Full Photos & Gifs 85.02 MB<Mediafire>
Music Talk Show 'Lee Hongki's Playlist: Once'
Broadcasted on MBC Music
MC: FTISLAND's Lee Hongki
First Guest: Kim Jaejoong
Date: December 3rd, 2021
Official Twitter Account: @playlist_once
Official Instagram Account: playlist_once.official
Official Facebook Account: playlist.once
Official Youtube Channel: 원스 ONCE
Watch Official Video Preview <Link>
Once is a live music talk show where you can share the artist's Playlist and enjoy their life history and high quality live performances together. The title "Once" of the program means "once" and "once", meaning the performing artist will release a recommended playlist suitable for the theme along with his/her history talk that you couldn't hear anywhere else, and will present songs that have a great meaning for him to live.
.
[OFFICIAL VIDEOS]
"One Kiss" by Kim Jaejoong
"안아줘 (Hug Me)" – Original by Jung Joonil
달팽이 (Snail) – Original by Panic
"Run Away" by Kim Jaejoong
+
[Once/Episode 01 Highlight] [JPN SUB] Kim Jaejoong almost couldn't debut in #TVXQ?, The back story will be revealed for the first time 👍
Watch only on Youtube <Link> via Playlist ONCE
[Once/Episode 01 Highlight] [NO SUB] Kim Jaejoong's WWW Time❣ Fans are paradise for Jaejoong💖
Watch only on Youtube <Link> via Playlist ONCE
+
[ENG SUB] 2021.12.04 CJESEnt official Youtube Channel [Kim Jaejoong] Live Master + Behind Master Kim Jaejoong's ONCE Behind! | #.cjes_record #.CJES_REC
Watch Here <Link> via @SteVieOliVie
• Select a language
English
• Select version
SteVieOliVie
+
[FULL VIDEO] 2021.12.03 MBC M 'ONCE' Kim Jaejoong's Cut:
ts: https://url.kr/bw2r8t
mp4 : https://url.kr/r18p69
Stream recording so the quality isn't so good

(via @jaemorize)
+
[TRANS]
By @jj1986jj_reico:
H: I definitely wanted Jaejoong Hyung to come first.
There are many questions on SNS.
JJ: Mr. LSM said, if you talk about something cool, it's a concept that you don't talk about.
JJ: I really liked HOT from elementary school to junior high school.
The song they were singing was really good.
"One Kiss"
H: So how did you go to SM?
I sang a Japanese rock song! And it caught the eye of Mr. LSM!
H: I would like to ask Jaejoong as an artist. Where do you get your inspiration when composing?
JJ: When I get drunk, I always come up with ideas that I can't think of.
H: I have a lot of inspiration when I drink alcohol
JJ: Especially when I had rock disease, it was very dominant.
H: Jaejoong Hyung doesn't get drunk even after drinking 6 bottles of soju.
JJ: I don't get sick when I drink outside, but when I get home, I get sick. At that time, I make songs.
JJ: The song I made at that time was Get Out.
H: This is my first guest. I've always wanted to invite Jaejoong Hyung first.
I'm looking forward, but I think Jaejoong's fans are also expecting it more.
JJ; I'm really worried about what kind of questions will come
H: You composed and wrote lyrics for One Kiss, 9 + 1#, where did you get your inspiration?
It's time to drink.
H: Hyung has the image of not getting drunk
JJ: I don't get drunk outside, but I get drunk at home.
H: I'm relaxing!
H: Let's see when it's a turning point!
JJ: I like to listen to R & B and sing to rock.
JJ: When fans ask me to do this kind of music, I think I'll try it.
A fan who always becomes Jaejoong's hidden helper in the same place.
About the unconditional love of fans
JJ: The more the fans spend their emotions .. If the fans ask me to do this kind of music, I definitely want to do it.
H: What if you want a trot?
JJ: Trot …
H: Pansori?
JJ: Pansori …
H: What are you going to do?
JJ: Maybe if I get older …
H: No, right now!
JJ: Right now … Pansori?
I think it can be done on stage, not on the sound source
H: When I see it, the relationship between the fans and Hyung feels like a friend.
JJ: We often can't express our true intentions because of our profession.
H: That's right, really!
JJ: There are many things I can't say to my family, I don't want to worry, so it's a song I want to listen to at such times. It was
H: A song that comforts Jaejoong. Let's listen to what kind of song it is live!
→ "안아줘 (Hug Me)" – Original by Jung Joonil
"Run Away" was written by a foreigner, and the demo was in English, but it seems that the song was made because I wanted to sing it in Korean as well. 
JJ: I was very nervous about the music program after a long time, but thank you for allowing Honggi to relax. I would love to see you again if I have a chance.
By @moonbinmemes126:
They mentioned JYJ's In Heaven T.T
Jaejoong said that it was the 1st album he did everything (produced/composed) rather than getting it from someone.
Jaejoong talked about that time he covered a rock song during trainee that Lee Sooman heard and decided to debut him…
Jaejoong cured his rock slouch cause in the army they were supposed to stand straight in alert. Hahahaha
Jaejoong mentioned their debut story again. Where they were told that they're gonna debut 3 days before the said date. And to record and come up with the choreo for their song.
Jaejoong said that he wrote "Paradise" for his fans..
Jaejoong said this song is what he heard playing on the training room about 2-3 days before their debut -> "달팽이 (Snail)" – Original by Panic
Jaejoong mention CN Blue…
Hongki who's from FT Island
About "Run Away", Jaejoong mentioned that the style of this song is similar to adele's Hello.
It just amazes me that despite everything he went through, Jaejoong has always remained respectful. Even to people who did him wrong.
You know what? It might be years late but I'm glad Jaejoong's Masterpiece such as Runaway and One Kiss were finally performed on tv broadcast. Waiting for more opportunities like this to come to him. Thank you Hongki…
JJ: "Right before I debuted, I was almost dropped as a trainee. I came from the countryside, so I was working part-time jobs while training [as an idol]. Because of my part-time jobs, my amount of practice decreased, so I was almost dropped". <Soompi>
During Jaejoong's trainee days, he was almost dropped but luckily the trainees had to sing jpop, he got a good song that had a more rock vibe to it. Jaejoong recorded that song. LSM heard it and said This kid has to debut. And the rest is history.
Now who says he can't dance?? Jaejoong got moves…
Jaejoong's playlist for his life history…*He included mirotic and Youngjin's song for the who he is playlist… And Hug for When playlist…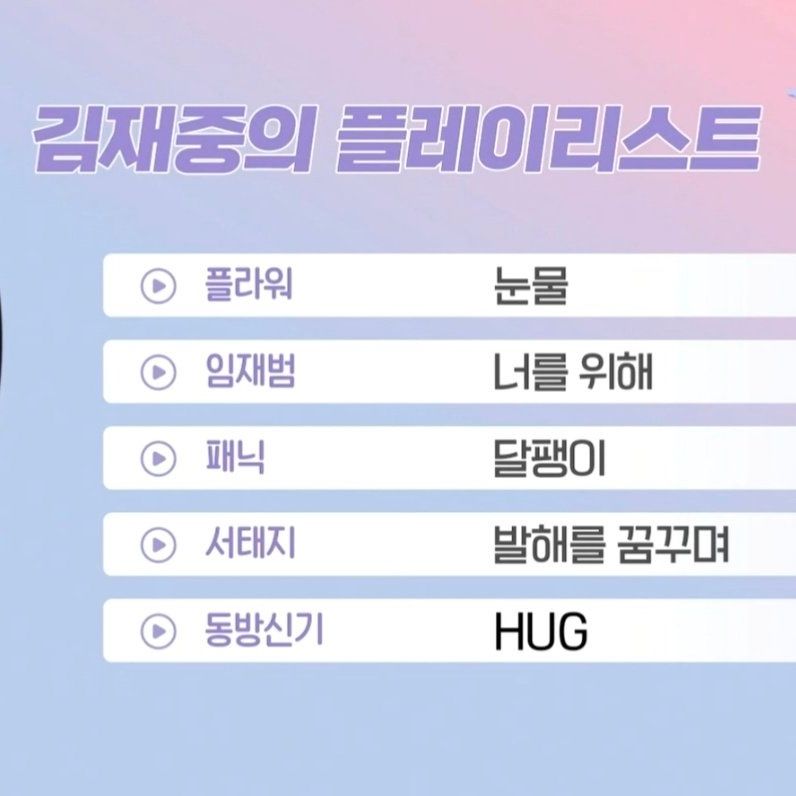 Why playlist and the playlist that gives you solace more than a gf/bf * the hug me and Leehi's breathe is 😘👌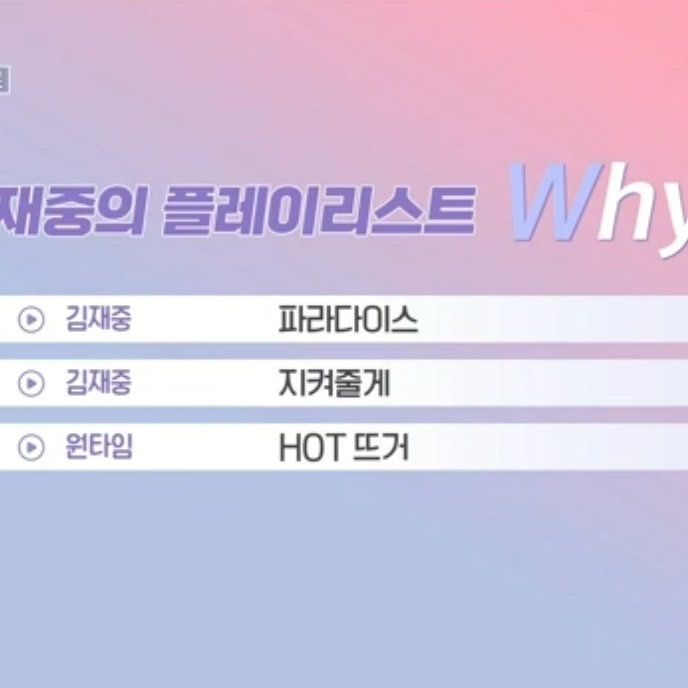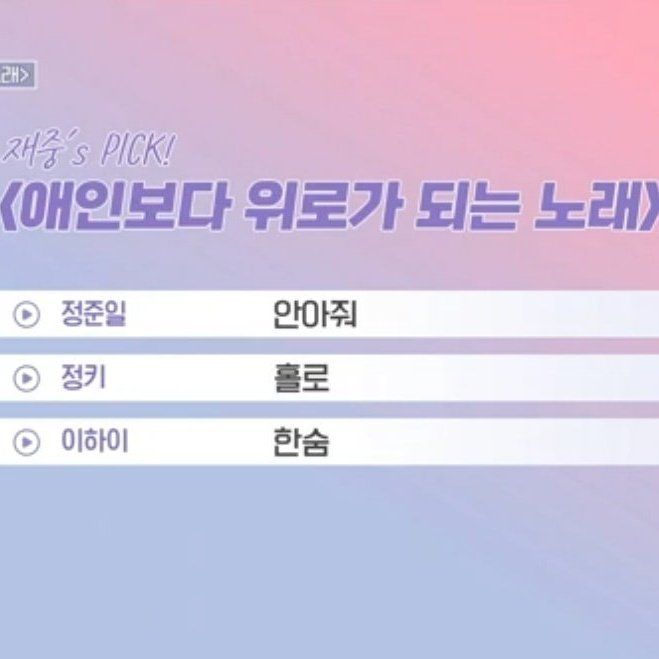 +
[FULL TRANS]
Hongki: This is a show to display everyone a playlist that cherishes the stories of artists.
Our first guest is the K-pop legend Kim Jaejoong.
Jaejoong: Hello, everyone. This is Kim Jaejoong. I'm glad to meet you here.
Hongki: When I was preparing the show, I mentioned Jaejoong-hyung, he must be the first guest. There was evidence on SNS.
And, not only I am looking forward to it, but Jaejoong's fans are also looking forward to today's show.
[Question session once: 무물보]
Jaejoong: Suddenly I feel a bit scared, I don't know what questions will be asked.
Hongki: Do you know what 무물보 means? It's an acronym.
Jaejoong: It's not the cabbage Taoist and the carrot Taoist? (homonymous)
Hongki: Aniyo, it will be any questions.
Question 1: First impression
Hongki: We have been always going to the same beauty salon.
Jaejoong: Hongki, when you used 'beauty salon', it's very old school. Nowadays, people are using 'shop'.
Hongki: The first thing I feel when seeing Jaejoong in the shop is 'like ice cubes'. His face is white, his eyes are big, his facial features are like sculptures, and he never laughed on stage.
Jaejoong: At that time, producer Li Sooman told I shouldn't open my mouth and speak at all. Why? Because my appearance is obviously cold, but the image will be shattered when I speak. So in order to maintain this image, I just did what I was told.
Question 2. Imitate emoji and hey mama (omitted as both were shared in other posts)
【Today's once】
Hongki: Hyung, do you still remember what happened ten years ago? I still remember that time 10 years ago when you won the Best Idol Award of the Best Icon from KBS.
Jaejoong: Ah, yes I can recall.
Hongki: The title song (of the group album) is In Heaven.
Jaejoong: At that time, I preferred to be a producer myself rather than writing lyrics and composing music.
In fact, when we were five people, we really liked to use harmony, so I was always worrying about how to achieve harmony (Admin add: with only 3 person) like as a complete group. I wrote the song "In Heaven" while worrying about this. During the recording process, I have been acting as a director, and at the same time feeling odd. I was with a mixed feeling.
【History playlist】
(Jaejoong used his first regular album name WWW divided into three different themes)
❤️ The first theme: WHO
(Songs list in picture)
▪️The reason why song of Yoo YoungJin was selected
Jaejoong: I especially liked HOT during the time from elementary school to middle school. It was really crazy. For sure, I have to know who wrote their songs and to listen to the songs he sang. After listening, I realized he was really great.
Hongki: Was it also the reason why you went to SM at the time? You also want to receive songs from the same producer?
Jaejoong: I came to Seoul with this kind of dream.
Hongki: And you actually received his songs.
▪️Rocker Kim Jaejoong
'MINE' probably is the first song I changed my singing method
🎶 <One Kiss>
▪️Why you pick rock when you debut as a soloist?
Jaejoong: I have told this story many times before.
When I was a trainee, I was almost eliminated, have to go home and couldn't make my debut. Fortunately, there was a piece of music I recorded during practice. It was a J-rock song. Producer Li Sooman asked, "Who is this guy" and "What's the situation of this kid" after hearing this song (feat. vocal imitation).
It can be said that I was able to make my debut because of the recording of this rock song. By then, I had that in mind when one day I can go solo, I must sing rock and roll. After some time, I received a song (ie MINE) from Mr. Kim Bada.
Jaejoong: I had a rock disease at the time. I walked back and forth with my back hunched every day for about 4 years. I was healed once when I went to the army.
Hongki: The army operation is revolving around principles.
Jaejoong: Look at our legs now, they all were put down properly.
▪️The source of inspiration for song creation?
Jaejoong: It's mainly alcohol. After drinking alcohol, it is easier to have thoughts that you don't usually have. During the rock disease period, it is completely dominating.
Hongki: I know that for Jaejoong-hyung, 6 bottles of shochu is nothing.
Jaejoong: If I drink outside, it's okay not to get drunk even it's a lot, but I'll get drunk quickly if drinking at home. 'Get out' is a song written under this situation.
❤️ The second theme: WHEN
(song list on picture: top 1)
Hongki: 4 of them are rock songs?
Jaejoong: I liked listening to R&B by then, but I have more love for rock and roll. The emerge of coin-operated KTV really made me feel alive.
Hongki: It is through continuous practices with this kind of love that Jaejoong-hyung finally met the opportunity to debut, and with this song, the debut song HUG.
Jaejoong: Yes, it wouldn't work without this song. At that time, we got notifications suddenly from the company that we would debut in 2-3 days, so we recorded a non-broadcast stage.
It was the first time that I saw the group name in Chinese characters. I couldn't help laughing on the stage, and took the mic away halfway during performance, leaving it a substandard performance. At that time, I thought, gosh! I was really finished?
But in the next two or three months, we still were performing this song in such non-broadcast stages while waiting for the official debut.
(Hongki: The effect was a direct explosion)
Jaejoong: There have been a long time for the industry without any singing groups, probably because the public didn't have high anticipation of groups.
🎶 <Snail (cover)>
❤️ The third theme: WHY
(song list in picture: 2nd top)
Jaejoong: Paradise is a song for fans. They are the driving force for me not giving up on music. In fact, the lyrics are very naive: Look at my eyes, everything can be achieved; no matter what you can tell me, as long as it is what you want and like, I can achieve it for you; after all these are achieved, it will be heaven.
Jaejoong: My fans are very enthusiastic, kind of like moms. Just like the sacrifices and contributions that everyone has made for me, if everyone tells me that they want to listen to such a song, I will definitely go back and try it.
Hongki: My relationship with my fans is more like friends, and sometimes we quarrel.
Jaejoong: My fans are also very good at preaching. "I'll support you from behind, work hard!" It's terrible, I must work hard.
Hongki: Then say a few words to fans who like to speak up.
Jaejoong: For now, please preach me for a few more words. When I return to the "rock sickness" state in the future, it will be my turn to preach you. There will be no accommodation by then.
▪️Guessing game: 3rd picture
theme: A song that comforts people more than a lover
The two first guessed Lee Hi "Breathe", Im Chang-jung "A Glass of Soju", and Tae Jin-ah "The Companion", but these songs were not in the playlist provided by the program crew.
5th place: (hint – wild chrysanthemum) Lee Juck – Don't Worry (Jaejoong has guessed it right, but he forgot the melody)
3rd place: (hint -musicians' musicians) Sunwoo Jung-a – Run with Me (Jaejoong guessed it right, after all, he has listened to it for the whole summer)
First place: OKDAL -You Did Well Today (jaejoong got it right, saying he always hear this song in advertisements)
4th place: (Hint – National Rock Band) YB – I'm Butterfly (Jaejoong won again, after all, he loves singing this song so much)
Hongki: For the National Band, it should be FTISLAND?
Jaejoong: I got it I got it, the correct answer is CNBLUE
(Jaejoong is being playful. FT & CN are under same label)
In the end, Jaejoong won 3:1, and the prize was 2 pairs of sneakers.
❤️ Jaejoong version playlist – same theme as above
song list (4th picture)
▪️When will you get comfort from these songs?
Jaejoong: As our profession's uniqueness and limitations, many times we can't fully express our inner feelings, because we fear our family members will be worried and it is not easy to talk to them. At this time, I will want to listen to these songs.
🎶 < Hug Me (cover)>
▪️Jaejoong's famous hidden song: Run Away
Jaejoong: This song has a very different style compared to my previous songs. I received it from same composer that is with Adele. The first demo was in English lyrics. I didn't want to change the mood it has, so I wrote those Korean lyrics with similar pronunciation.
▪️Jaejoong's thoughts on the show ONCE
Jaejoong: It's been a long time since I was able to sing on TV. This made me very happy and nervous at the same time. But with Hongki's help, I have enjoyed a good time. It would be good I f there're chances I'd be invited again. Thank you to you all.
🎶 < Run Away >
~ END ~
🎶 Today's live playlist:
1. Lee Hongki – Flowing Slowly
2.Kim Jaejoong – One Kiss
3.Kim Jaejoong – Snail (cover)
4.Kim Jaejoong – Hug Me (cover)
5.Kim Jaejoong – Run Away
Video Credits: MBC every1, 원스 ONCE, CJESEnt, SteVieOliVie (Youtube) + Jaemorize (Google Drive) + Morning J (Bilibili)
Shared by: Mia of JYJ