[AUDIO]
.
[TRANS]
By @cloudnine0919:
Today is Children's Day
He's still happy with this holiday. He's again telling about his childhood dream, to be an owner of supermarket.
The broadcast is pre-recorded. So I can't answer your requests sent me tonight.
Brava! Brava! Brava! is now playing on #ANNX
The first ramen I had when I first came back to Japan was salty 😂
I've already ate sushi 7 times! Sushi is best in Japan. The air or ambiance is also very important to appreciate it.
I like ark shell & 🦑.
HYDE-san asked me to go to a Korean restaurant!
Tbh I had wanted to eat Japanese food then! 🤣
I really enjoyed talking with HYDE-san, but next time let's go to a Japanese restaurant!
J: My fans all know about this(?). I'm into hair removal.
I didn't know that!😆
Jaejoong talked about hair removal, diet, & tennis … very girly topics 😂
J: When I was offered to appear in a drama #悪女わる I was so happy only to find that I had only short lines of "Thank you. " & "It's correct."
J: Did we need to even rehearse? 🤣
#六等星 (Sixth Magnitude Star) was originally written to sing alone.
Junsu and I worked together after a long time but we didn't feel so. We didn't take long to record it but everything went well. The long time of not working together didn't matter at all, which I'm so proud.
Jaejoong showed the script of the show, written all in Japanese!
J: Look! There's no hiragana alphabet to help read difficult Chinese Characters.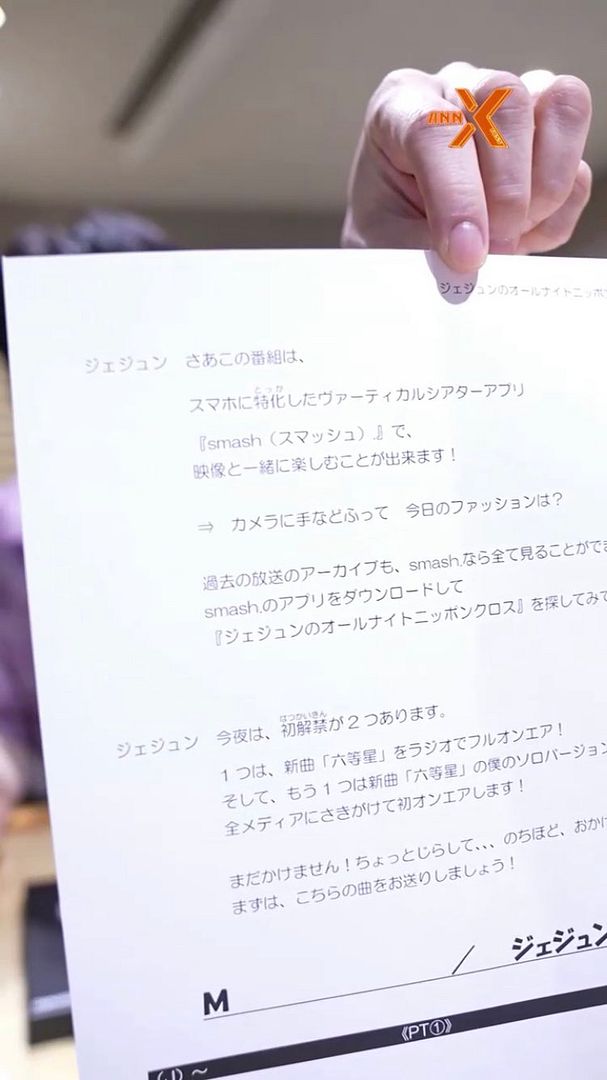 Jaejoong's script for last night's ANNX was written in Hiragana, Katakana and Kanji…
And he was able to do well…
How amazing is that… (via @moonbinmemes126)
#六等星 (Sixth Magnitude Star) solo version is now playing on #ANNX
J:I've listened to the solo version only once so I'm also looking forward to it.
Cameo appearance in #わるドラマ
J: Broadcast time was only 2.3 seconds💧
Including rehearsals it took 4 hours & including traveling time it took 5 hours. My mom couldn't find me. 😂😂😂
Trending words at midnight-"ark shell & squid" 🤣🤣🤣
What's the hell is this!
#ANNX
Thank you for listening to Jaejoong's All Night Nippon X✨
#六等星 solo version has been released🌟
You can listen to #ジェジュンANNX with radiko (app) time free🎧
Go to ⬇︎🔽
https://radiko.jp/share/?sid=LFR
(Source: @ANN_Xross)
👏👏👏
Jaejoong's All Night Nippon X
Please offer our man a TV commercial of hair removal for men 😂
(Source: @achachapen)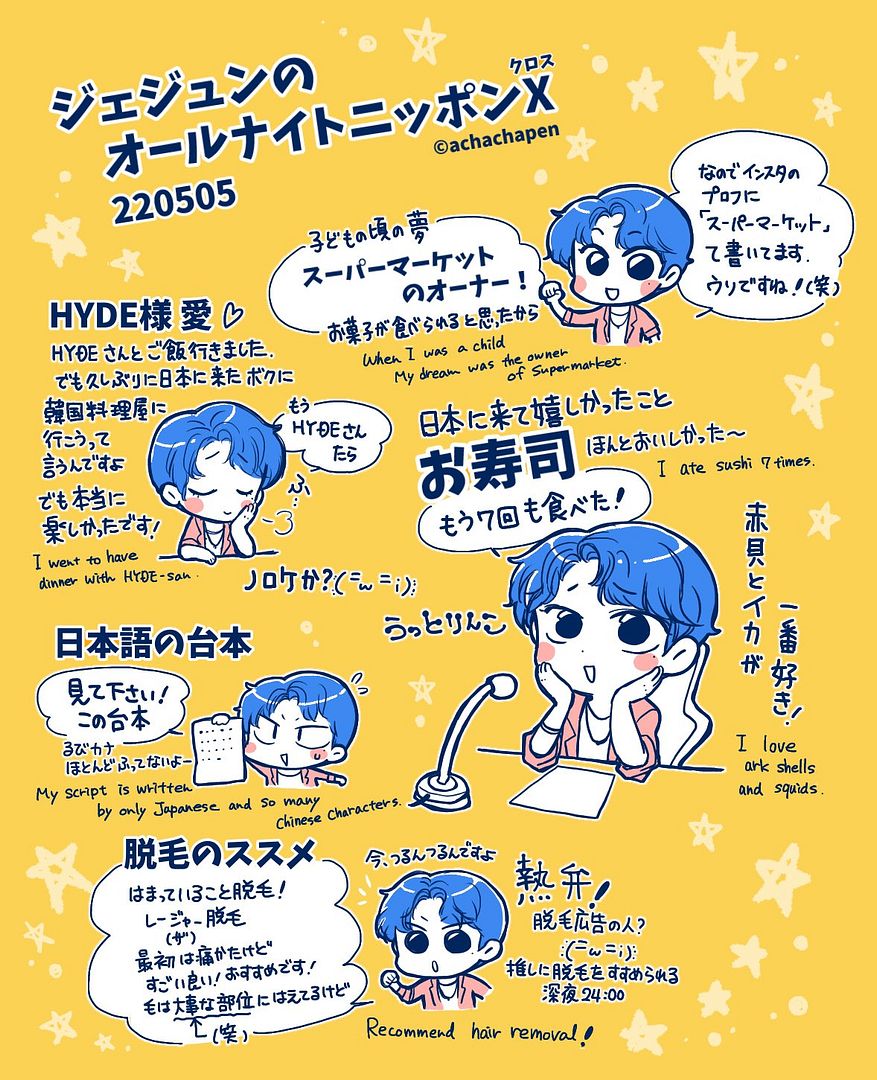 Source: @ANN_Xross 1, 2
Audio Credit: nekonekoneko34
Shared by: Mia of JYJ3