[OTHER SNS] 220902 CJeS Instagram Update:
KIM JAE JOONG 3rd ALBUM [BORN GENE] TRACK LIST
✔️2022.09.13(TUE) 6PM RELEASE
💿 [BORN GENE]
1. NOBODY LIKE YOU *title
2. Tick-Tack (feat. Zuho (SF9))
3. BPM
4. 묻고싶다
5. Locking Love
6. Broken Mirror
7. Walking On Water
8. In the rain
9. NOBODY LIKE YOU (Inst.)
#김재중 #재중 #JJ #Kimjaejoong #Jaejoong #金在中 #ジェジュン #JJun #씨제스타그램 #cjestagram #BORN_GENE #NOBODY_LIKE_YOU
https://www.instagram.com/p/Ch9-YAxv8ra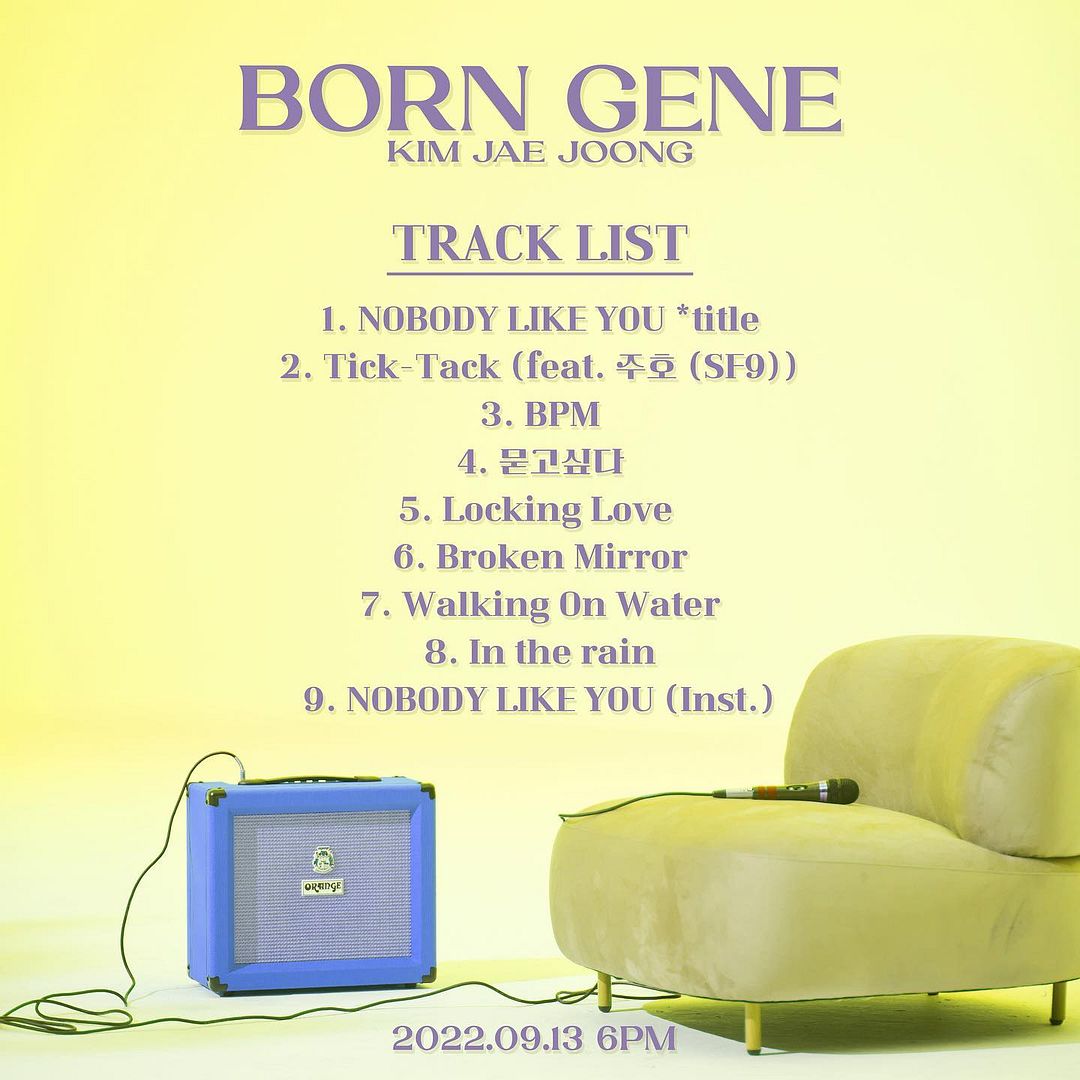 Note: Zuho is a south korean singer, rapper, and member of SF9, which debuted in 2016. He won the FNC Def School Audition in 2011 and trained for six years before debuting with SF9.
.
[SCHEDULE]
August 26th: Concept Photo #1
August 27th: Concept Photo #2
August 29th: Concept Photo #3
August 30th: Concept Photo #4
September 01st: Visual Film
September 02nd: TrackList
September 04th: Lyric Poster
September 05th: Lyric Video
September 06th: M/V Teaser
September 08th: Highlight Medley
September 09th: Spo Live #1 / Spo Live #2
September 10th: Spo Live #3 / Spo Live #4
September 11th: Spo Live #5 / Spo Live #6
September 12th: Spo Live #7 / Spo Live #8
September 13th: M/V, Album Release
Source: cjes.tagram,
Shared by: Mia of JYJ3