The unfolding scene of the main actors of MBC drama Miss Ripley fighting with the heat was captured.
In the heat wave of more than 30 degrees and the rainy season that continues day after day, the actors who fully engaged themselves into the filming have their own way to chase away the heat. Especially, the scorching sun in hot summer is the hardest to bear. In order to avoid the sunlight, a thick black umbrella is a necessity for outdoor shooting.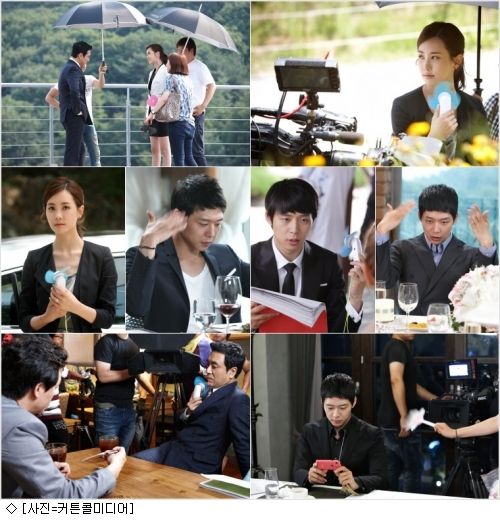 Lee Da Hae blocks the sun by using a thick black umbrella and cools down with a portable electric fan. That cute little electric fan is the thing Lee Da Hae loves the most in the summer. During filming or break time, she always holds the fan in her hand.
Kim Seung Woo's favorite is also electric fan. Since Kim Seung Woo has to wear long-sleeved formal suit as a hotel representative, he feels the heat even more. According to an official at the filming location, he (Kim Seung Woo) gets rid of the heat by switching on the fan in his spare time and having a cool drink.
For Park Yoochun, who is particularly sensitive to the heat and sweats a lot, filming in the summer is very difficult. The lighting team used a big reflecting plate to fan him and the staffs that came along with him also fanned his face continuously with a fan. Park Yoochun himself too, once finishing his scene, would immediately use the hand fan as a method to bring fresh air to his face and reduce sweat.
The production company's side said, "In the heat wave of more than 30 degrees, the actors are working hard for the drama filming" and "Hand fans, cool drinks and several methods were used, we're trying our best to increase the drama's perfection. Please look forward to their best image in the future."
Reporter Kim Yang Su liang@joynews24.com
Source: joynews
Translation credit: The_Little_Pear
Shared by: JYJ3