Main [Eng Sub] | Fan Support | SNS [Photos/Vid] | Viral on Weibo | Fancams | Fanboy Minhyuk | KJJ Vlog & SNS | VSS Ending KJJ Message
Naver NOW's Vogue Ship Show
Starring Monsta X's Minhyuk as MC
Special Guest: Kim Jaejoong
Release Date: March 31th, 2021
Episode 36
[VIDEOS]
[ENG SUB] Watch Full Episode on Youtube <Link 1>
[ENG SUB] Watch Full Episode on Youtube <Link 2>
[ENG TRANS]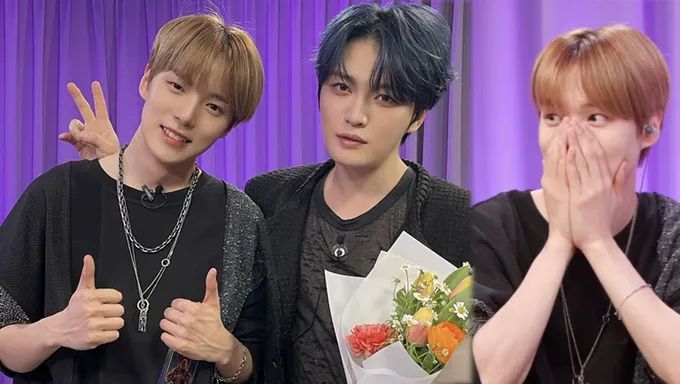 Minhyuk said that with Junsu before, it was a 1-on-1 fanmeeting. And today with Jaejoong, he will also have his 1-on-1 fanmeeting too
Jaejoong read a comment that says minhyuk said that he will calm down but he can't calm down at all.
MH: I'm sorry. I gave up with "calm down"
A fan shared a picture of tape recorder from Jaejoong's old TV show
A comment said that Jaejoong has so many popular song and asked Minhyuk to choose one. Minhyuk chose MAZE. Jaejoong said "the one performed in Tokyo Dome". But he said he likes the older performance one (from 2008).
Jaejoong said MAZE is an old song and asked when was it released. Of course Minhyuk answered it correctly, 2008.
Jaejoong asked Minhyuk likes that kind of song, he said he just like to listen to it. Minhyuk said he used to wonder which one should he liked Junsu or Jaejoong.
Minhyuk said that he's more into Junsu because Jaejoong's key is too high for him. He can't follow Jaejoong's way of singing.
Minhyuk also knows that Jaejoong have covered Im Jaebum – For You 너를 위해
Jaejoong shared how the casting director came to the company. Expressing how Minhyuk would really like if Jae appeared on his show. Jaejoong thinks that Minhyuk is a celebrity, which Minhyuk replies with "no way~ no way~"
Jaejoong said he got 1st on Oricon daily chart today. Minhyuk: " I know. I saw it too"
Jaejoong: "But I don't get 1st on my first song for his solo debut in Japan"
Minhyuk: You always have vampire-like concepts in your mvs but I think in real life, you're really like a vampire. Your skin is so pale and you don't age
Jaejoong: Eyyy that's just the makeup!
Jaejoong said he filmed, edited, and uploaded his vlog alone because he's bored. But it takes a lot of time.
Jaejoong said that he learned how to edit and it's fun to do it, he recommended it to Minhyuk too
Jaejoong said he also recorded some today and recorded Minhyuk secretly a little when he had rehersal. Minhyuk said "please use it"
JJ's current hobby is making and editing his vlog. He even went to learn about video editing. He said that he knows what fans want more than the company, so he edit the video by himself. He also recorded the radio show today for his vlog while he was in the waiting room.
Jaejoong said he ate alone today too.
Minhyuk said he watched a lot of Jaejoong's video and was amaze that Jaejoong looked way cooler even tho Jaejoong was younger than Minhyuk
Talking about Minhyuk's favorite TVXQ – Tonight performance.
Minhyuk said Jaejoong's high note is so cool on that performance. Jaejoong said at that time the in ear monitor wasn't good
Jaejoong shared a story he remembers the most that he and other members needed to fix their make up for each other in the airport's bathroom
We have no hair and makeup stylist back then. Now you have a separate stylist and hair makeup stylist but back then there's only 1 stylist.
For schedules abroad, we had our hair & makeup done in the shop. Then we travel to our schedule without a hair & makeup stylist. We would bring our own makeup box. We sleep during flight so our hairs get messy so we would fix each other's makeup in the bathroom when we land we would have makeup early in the morning and then that stays in our face until the end of our schedule. We were basically bare face. The system now is great. Fortunately I studied about hair & makeup before being a trainee, so I used that it was hard. Even when my company that time was the best company in korea but we still have it hard.
M: I was gonna mention it but me saying it is a little…..
JJ: No No it's fine. It's my past anyway
M: still I don't want to make you uncomfortable
JJ: NO NO. Other people feel uncomfortable instead of me. I'm really fine
M: Fans only see the pretty side, but don't really have an idea behind the scenes.
JJ: it's all in the past anyway
Jaejoong said his old company was the best company in Korea
Jaejoong and Minhyuk both like rose.
Minhyuk said most of his tattoos are rose, he said he has one on his lap. Jaejoong wanted to see it, but Minhyuk can't roll his pants. Then Minhyuk said he has rose tattoo on his back and Jaejoong went to see it
Minhyuk gave Jaejoong a bouquet said even tho it wasn't bought by his money, please take it
Jaejoong said that he has a gift for Minhyuk. He said he has new single, the MV has been released. Minhyuk said he watched it and asked if Jaejoong will give him a CD
Jaejoong said he wears all his own clothes today.
AND JAEJOONG GAVE MINHYUK HIS OWN NECKLACE THAT HE WORE FOR THE BREAKING MV. JAEJOONG PUT IT ON MINHYUK BY HIMSELF.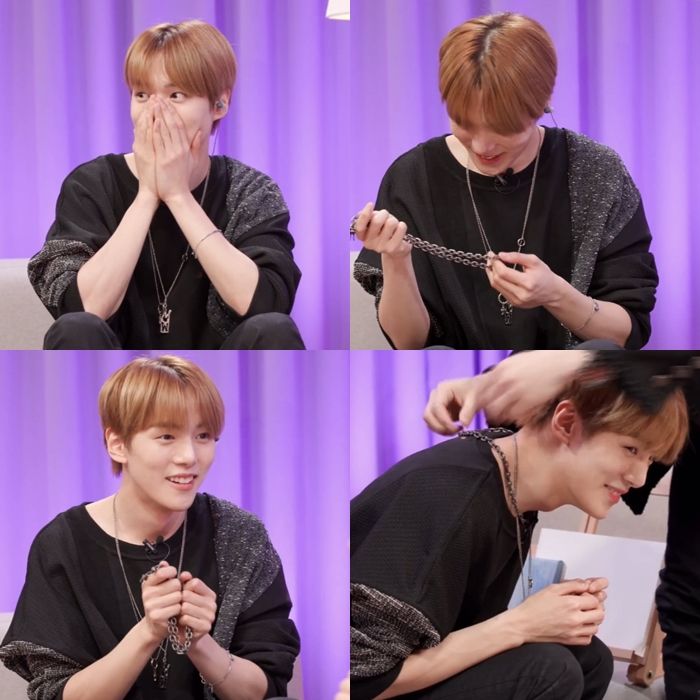 Minhyuk was super happy saying that he never imagined it and will treasure it till his death.
Minhyuk is currently teaching Jaejoong how to draw.
Jaejoong said Minhyuk is a genius.
Minhyuk said he likes Jaejoong – Tender Love and also Greeting 인사 He knows it's for ost of a movie
Jaejoong made a joke but Minhyuk thought he was being serious
Jaejoong said he's actually not a funny person
Jaejoong said he learned to sing while promoting as idol
Minhyuk said that Jaejoong is good in singing since he was very young
Minhyuk said that there's no other Visual + Vocal after Jaejoong. Jaejoong denied it and of course Minhyuk still instead
Jaejoong talked about Vi+Sho, of course Minhyuk knows it stands for "Visual Shock" Jaejoong said it's only used for him, and Minhyuk said because there's nobody like him even till now
Jaejoong told him not to say it, he will get criticized, Minhyuk said so what it's his opinion
Jaejoong said it's good to draw and talk like they're doing and asked whose idea it was, Minhyuk said it's his
Jaejoong asked how's Minhyuk's relation with fans, Minhyuk said kinda like Junsu, because he is teased by fans too
Jaejoong said he still gains young fans, someone became fan because of her mom Minhyuk gave Jaejoong a sunflower painting he made on spot
Jaejoong said it's so pretty and will treasure it
Jaejoong and Minhyuk are talking about songs for each seasons
And mentioned TVXQ – Hi Ya Ya
A commented as Jaejoong to rap the "rap" part in BREAKING DAWN Jaejoong and Minhyuk agreed that it's not a rap
Jaejoong said he hasn't sing that song beside during recording
Minhyuk asked then if Jaejoong did rap on TVXQ – Wrong Number
Jaejoong said that was rap
They're watching BREAKING DAWN MV together
Minhyuk said that many people said Jaejoong is vampire, and said that Jaejoong is a vampire because of his looks and skin
Jaejoonf and Minhyuk talking about the "rap" part again
And Minhyuk really mentioned TVXQ – Wrong Number "babo gateun fish" twice
Minhyuk asked if it's okay for him to receive Jaejoong's necklace, he asked what his stylist think. Jaejoong said it's his own personal item, so it's okay
Minhyuk said if he ever receives a song from Jaejoong, he can't accept it because he is too nervous
Jaejoong said he doesn't really remember his songs
Doing a guessing song
• Bolero – Jaejoong and Minhyuk answered
• … – Minhyuk answered first but Jaejoong gave the exact answer
• Minhyuk is correct, Jaejoong said it was My Little Princess
• Asu Wa Kurukara – Jaejoong got it right
• Living Like A Dream – Minhyuk answered, he knows it's an OST
• Share The World – Jaejoong sang it for a while and said the title
Jaejoong got a chicken coupon from the game, he said this is a good show
A comment said this show is really for her, her mom is Jaejoong's fans and she's Minhyuk's fan. She was born when Jaejoong debuted, and when she was little her mom brought her to Japan to watch Jaejoong's con. She wants to have a daughter and make her the 3rd gen fangirl.
Jaejoong and Minhyuk is talking to the mom and daughter fangirls via phone call. Jaejoong said if she uses iphone she can't record the call. Jaejoong called her mom's "noona" and Minhyuk called her "mother in law"
The mom said she also really likes MAZE
Jaejoong called the daughter's name and also asked Minhyuk to call her name too. Minhyuk said he doesn't have as much as Jaejoong, but he gave them gift card.
Minhyuk asked Jaejoong to wrap up for today. Jaejoong is writing something on paper. Minhyuk said that 1 hour 30 minutes have passed so fast. Jaejoong was surprised. Minhyuk said it's usually 1 hour, but special for today it's 1 hour 30 minutes.
Minhyuk: Its been 1.5hrs since we started
Jaejoong: It doesnt feel like it. Was it suppose to be 1.5hrs?
MH: It's suppose to be 1h but there isn't any other show after this
JJ: Lets do it till 1am!
JJ: When I said that, the writer nodded ok but the cam director peeked out & went whut??
Minhyuk said Jaejoong's handwritting is cute. Jaejoong said it's because he has many noonas.
JAEREA is officially decided as Jaejoong's Korean fans' nickname.
Jaejoong said today's show is way way better than he thought, Minhyuk also very good in treating the guests. Minhyuk asked Jaejoong to come with Junsu. Jaejoong said it's good and asked Minhyuk to bring a friend too. Minhyuk said he has a friend who is Jaejoong's fans too.
MH told JJ to come with Junsu another day. MH also said he will bring his MX member Hyungwon if that happens. MH said he hasn't been to Signiel yet, JJ said he hasn't been there too.
JJ gave a shout out to Hyungwon, to go to Signiel together with Minhyuk and him. JJ said Junsu will have to buy them food because the food around that neighbourhood is expensive
Jaejoong and Minhyuk taking picture together. They frame they used has Minhyuk's handwritting that said "There's nothing better (in) my live".
Jaejoong has left~ It was so fun
Video Credits: dear sunshine, SteVie OliVie
Trans Credit: VK
+
[VIDEO CUTS]
+
[VIDEO] Maze – JYJ "Thanksgiving Live Concert Tokyo Dome" in 2010
+
[NEWS]
[NEWS] Kim JaeJoong Sweetly Gifts & Puts His Necklace On His Long-Time Fan MONSTA X's MinHyuk via Kpopmap
[NEWS] MONSTA X Minhyuk Took A Photo With Jaejoong Kim via Kpopida
[NEWS] Kim Jaejoong to flutter hearts on Monsta X's Minhyuk Vogue Ship Show via Hellokpop
Shared by: Mia of JYJ3