Main [Videos/Audios/Trans] | SNS [Photos+Videos] | Random Mentions
Naver NOW's Midnight Idol
Starring Ha Sungwoon as DJ
Special Guest: Kim Jaejoong
Release Date: January 14th, 2020
Time: 11:00 PM KST
The same day Jaejoong's 2nd Mini Album "애요 (Aeyo/Love Ballad) " was released
Episode 100
[VIDEO CUTS]
Naver Now's Official TV Naver Channel:
Sungwoon Host deciding how to call Kim Jaejoong Mr. JJ✍️<Link>
Jaejoong & Sungwoon talking about each other's handsomeness🥰 <Link>
Apricot song sung by Jaejoongie hyung~ 🍑 <Link>
Hun Hoon Brothers👬 Ha Sung-woon and Kim Jae-joong's tastes don't match <Link>
[AUDIO]
Full Episode via Bilibili <Link 1>
.
[TRANS]
DJ: How should I call you?
JJ: Just like in english, Mr Kim, or Mr JJ *jokingly*
DJ: I would like to call you Jaejoong-hyung
JJ: that's good too, call me as you like
DJ: We met at the award ceremony. do you remember?
JJ: Cuz there were many people, recognizing each of them is a little..
DJ: Jaejoong-hyung was really cool
JJ: Don't say that, cuz I'll get nervous (Jpn: jj1986jj_reico)
DJ: I watched a lot of audition videos (including Jaejoong's)
JJ: e? my? Why do you see that?
DJ: I wanted to be a singer, so I watched many
JJ: It's really embarrassing because it's an old video (Jpn:jj1986jj_reico)
DJ: Want to ask a personal question. What does Jaejoong think when goes to the bathroom & look in the mirror?
JJ: When I'm doing makeup, I think it's good, but when at home, Omo! I think I'm old
DJ: How did you injured yourself?
JJ: I fell. It'd be hard if my leg was injured, but it's okay because it's my hand (Cr.jpn: jj_jima_jj)
DJ: What's the difference from your debut and now?
JJ: I used to be Hero Jaejoong, but now I'm Kim Jaejoong
(via @JaeFans_Global)
JJ said he gets really embarrassed/shy when someone says he's handsome.
JJ said that he choose ballad now because he already sang rock before and has a powerful image, that's why he chose ballad now.
JJ said the MC looks innocent and cute
(via @strawberryjae)
SW: Today I have a very special guest~ I am very honoured Kim Jaejoong ssi? Kim Jaejoong nim? Kim Jaejoong sunbaenim? i dont know how to address him.. let me ask him later,, i feel like i need to let him listen to my song let's listen to BLUE!
SW: Kim Jaejoong nim, Kim Jaejoong sunbaenim, Kim Jaejoong hyungnim? Jaejoong-ie hyung? what should I call you?
JJ: I like all of them.. what abt in english? Mr. kim? Mr. JJ!
SW: Mr. JJ okay~! I'll call u that, altho I wanted to call you Jaejoong-ie hyung..
JJ: I like that! of course you can call me that!
First impression of each other?
SW: We first saw each other during an award when you are the presenter
JJ: Yes Wanna One has a lot of members
Mia's Note: On January 23th, 2018 Kim Jaejoong and Wanna One's Sunwoong met at 5th EDaily Culture Awards, Kim Jaejoong was set to hand out the Best Concert Award to Wanna One.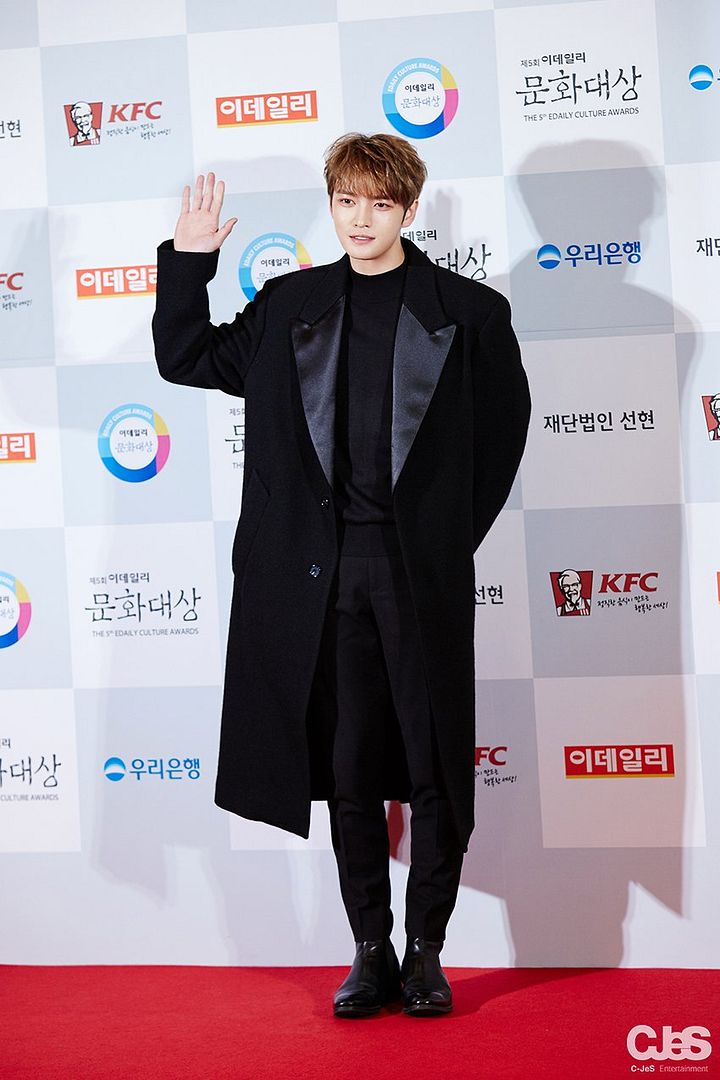 SW:  For me you are such a sunbaenim I really really look up to
JJ: I have also been watching over you a lot
SW: Really? You know me before? I'm so honored!
Sungwoon kept addressing Jaejoong as hyungnim (very formal) so Jaejoong told him to call him comfortably HHHHH Sungwoon also said that he searched a lot about Jaejoong and even saw his audition videos a lot before, he did because he raised his dream by looking at DBSK he was a very big fan JJ: Sungwoon but as I see you, you have a very pure side of you, you don't dress up today so you look very pure
SW: yea I didn't dress up at all today
JJ: AHAHAHA no, I say this because for me, when I see a sunbaenim I will get nervous but you dont & just try to show yourself you are so cute
Jaejoong said that Sungwoon looks like a little kid HHHHH
(shocked) wait what u are 27 yrs old?
SW: yes, I am 27 years old hahaha
JJ: omg but truthfully speaking u look like you are 21
SW: yea, I have that kinda charm, a small/tiny (boy) charm HHHH
<Talking about Time of Sea>
SW: You like the seas?
JJ: yes I do. I really like seeing the sea
SW: which sea do you like?
JJ: the winter sea! I hate being sunburnt
SW: I like the summer sea! I apply a lot of suncream
JJ: oh so that's why you are really white! I am also really white but you are so white
Sungwoon kept on asking jaejoong questions that they dont have the time to hear the songs properly HHHHH everytime Sungwoon said "let's listen to the song" but the song ended already HHHHH
SW: What are you more comfortable with ballads or rock songs?
JJ: rock songs are comfortable for me, I like ballads but they are hard for me
SW: I actually also really like rock song, I did 'Run across the sky' during my concert, I like ballad but it is pretty hard to sing & rock is a lot more comfortable for me to sing but rock doesn't match my concept so I don't do it
JJ: You should! in the end it would be a great experience for you! should we do one together one day?
SW: I would be so honoured!
<Asked to give a midnight snack recommendation>
SW: For a midnight snack I always go for chicken or pig trotters or bossam!
JJ: For me i like carbohydrates so for me I like korean pancakes
SW: Oh! for me i like kimchi pancakes, oyster pancake, chive pancakes~
JJ: I don't warm up my throat when I record, I warm up my throat while recording
SW: Oh wow.. as expected..
JJ: yea I usually record a song for like 2 hrs and then I warm up my throat as I do, so I finish my recording and warm up my throat at the same time.
SW: oh really? I can't do that 😦 recently I recorded a song for 5 hours but my voice tone gets weirder each time so I didnt finish it.
JJ: But actually it's better to re record than editing the recording you already have because it can get weird (..)
SW: wow.. I'm learning a lot today~!
Sungwoon said that once when he was on a strict diet, he doesn't eat carbs and even quit drinking soju for 3 months so he lost a few friends HHHHH but then he got them back because he finished his diet HHHH
SW: I'm curios about something, how do you take care of your throat?
JJ: I just don't talk
SW: Ah.. so thats why my throat isn't good, I always talk.. I do midnight idol… but I believe that if i lose something I will gain something~!
Sungwoon sang Jaejoong's "Living like a dream" and stopped a few times and halfway because he was so nervous, he said he will do a proper cover next time~ Jaejoong kept on praising how he did so well and even asked Sungwoon to do a remake
(via @forsungwoon_)
+
[ENG SUB CUTS]
Personal Tastes
.
[NO SUB]
Sungwoon Host deciding how to call Kim Jaejoong Mr. JJ
Kim Jaejoong singing Apricut Song🍊
+
[NEWS] Kim Jaejoong to guest on Midnight Idol Radio with DJ Ha Sung Woon via Allkpop
Video Credit: HA SUNG WOON GLOBAL 2, 오하요오ohhayo jeje, 다음생은김재중집애옹이
Shared by: Mia of JYJ3