[TRANS] 2021.06.01 HMV Interview for OST "Jaejoong: ON THE ROAD"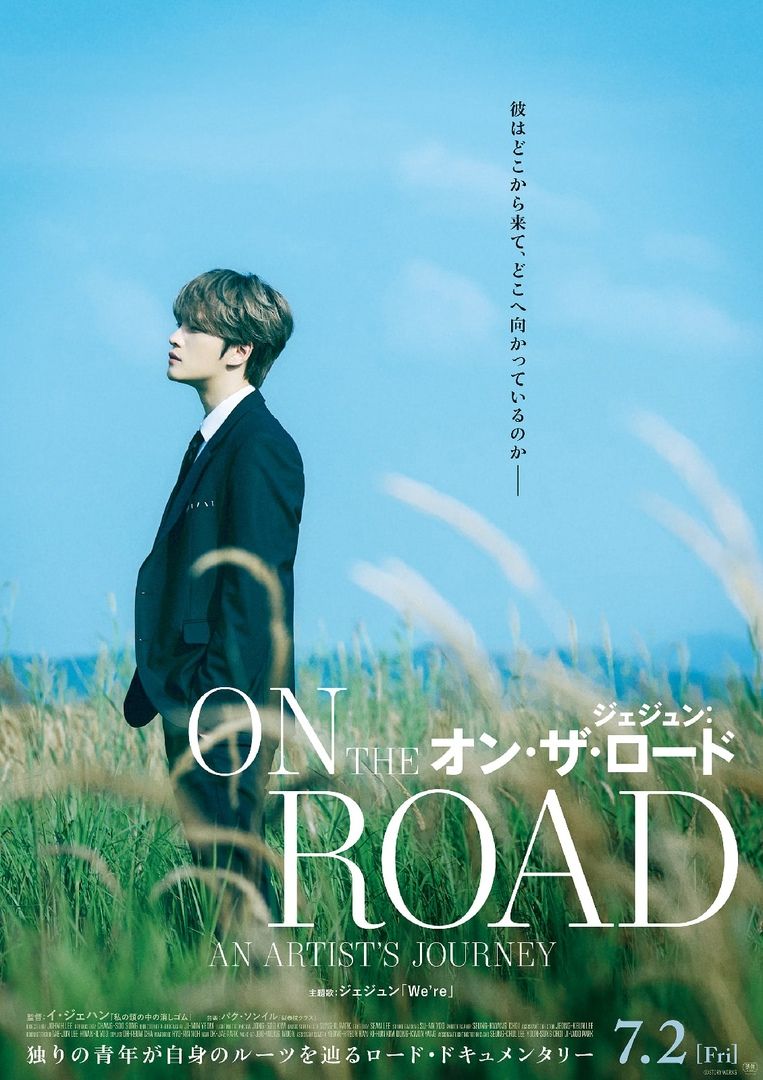 The special interview to commemorate the release of OST of the movie "Jaejoong On The Road"
Q: "We're" is the main theme of the movie, tell us about it.
A: I started to write this song soon after the filming was over. As I have been unable to see our precious family, friends and my fans, I often have a moment when I miss them so much. So the song has a little painful feeling. I included the message that I'm not alone, we're not alone.
Q: In the album we can listen to "We're" both in Japanese and Korean version. Tell us your favorite parts and the parts you're particular with in each version.
A: Well … I have many fans in Korea and Japan as well who have been waiting for me. So it's good to be able to sing thinking about such fans. Moreover I consciously wrote the words to fit the story line imagining the scenes in the movie. I think it well matches the atmosphere of the movie.
Q: "Rain, Tomorrow" also in the OST album, is the song played in the love story movie "A Moment to Remember" directed also by Mr. Lee Jae-han. What was in your mind when you covered this song?
A: It was a great honor indeed. I was so happy because I had respected him much. I was very nervous when I recorded it. (lol) I was under so much pressure. To be honest I'm afraid of listening to the song till its release… While recording I tried to be very careful not to damage the world of the song. This is what I always keep in mind whenever I cover the songs. I sang the song carefully and dearly
Q: Besides the songs sung by you the OST album includes other songs.
A: This is the first album for me that hardly includes my voice, but the music and the images are in perfect match. I think you can frankly enjoy the music so please listen and indulge yourselves in the world of the movie.
Q: The movie "Jaejoong On The Road" is scheduled to be released on July 2nd.
A: I would be happy if you find my expressions that you have not seen yet through the movie. As for this I myself much look forward to.
Q: Lastly can we ask you a message to those who are reading HMV & BOOKS online and thinking to buy the album?
A: This is the CD which will remind you a few years later of your present thoughts. I want every one of you to cherish the present moment and even several decades later I want you to remember the past with me. Let us live a deep and long life together. I'm always grateful to you. Take care of your self and see you soon.
---
[TRANS] 2021.06.22 Magazine 'WITH' Online
"I feel like I'm naked in front of you." The story till the documentary movie tracing Jaejoong's roots is completed.
— The reason why he could the answer straightforward questions is that the director is his friend. Jaejoong On The Road, to be released on 7/2, is a documentary to trace the life of Artist Jaejoong who's been active both in Japan and Korea. is the director Lee Jae-han who stayed close to Jaejoong, doing creative activities, enjoying hobbies and the time with his friends, and who interviewed him about the struggle as a person. "A Moment to Remember" directed by director Lee is the one of the movies that influenced Jaejoong the most.
In the movie Jaejoong tells about the time when he got on the bus to Seoul with only 4000 won in his hand dreaming of becoming a singer, about the complicated upbringing of himself, and about his companions who used to work together. He refers to everything that has happened to him in his life. The struggles as a young man and as an artist, which have not been told till now are there to impress us.
JJ: Director Lee Jae-han and I have been friends good enough to have a meal together for a long time way before we shot the movie. Among the friends I made with after I became an artist I felt so close to him and thought I could say everything to him. While filming I was asked so many questions from my upbringing to the activities as a group. Then I realized that, if all of me is 100 I had told only 20 so far. (laughs) The questions included quite deep ones that I have never been asked by media during 18 years or I had never told to my fans. I couldn't have answered to those questions if I had took them as a job. There were many questions I could answer because the director and I have spent a long time as friends.
— Risking everything of my life I wished to get out of my town.
Jaejoong told everything as he is now in front of the director, which eventually became a quite long movie.
JJ: I spoke in a quite straightforward manner so the stories of my background and my childhood may surprise you like «Wow is that so!» The town I grew up till I was fifteen is so small that I was scared, If I had stayed there until I became an adult, I would end up as a tiny existence like an ant in the wide world. So I wanted to get out of my home town risking everything in my life. However as I was a child I didn't have any money or courage to go to Seoul. 4000 won … if converted into Japanese yen it's about 400 yen, is the bus fare from my town to Seoul. In the movie there's an episode that I mustered up the courage to get on the bus holding 4000 won. Without that 4000 won I would not be what I am now.
Even after he left his home town Jaejoong faced many difficulties. In Seoul he spent the days without money and barely made a living. Jaejoong looks back and says "The experiences of those days have made me strong."
JJ: To be honest when I was sixteen I thought "my dream wouldn't come true" and I almost gave up. Even making a living is so hard how could I make my dream come true? But I was not able to complain or tell my family that it was so tough. Back then I could not consult even with the staff of the agency. I tried to give up hundreds of times then. But having gotten over the lonely days somehow I think I became strong.
The work to shoot the documentary is also the work to confront one's big setbacks of the past. When he was chasing his dream desperately there was a time when he was crushed by the loneliness and a time he felt being poor was tough. However he didn't think such things were setbacks. In his life there are two points. One is his family and the other is the group he strived for with the other members towards the same goal.
JJ: About these two I revealed my honest thoughts a lot in front of the director, but about 80 % was cut out in the movie. Actually I wanted to talk frankly about various things but as for my family, considering my parents who are well in their late 70s and supporting me, there was something I thought I should not talk about yet. To what extent should I talk? This was one of the worries I had during the filming.
Of course what he mentioned in the movie is not only painful memories. In the scene where he enjoyed being with his comrades from the military we sometimes see his true face, and in the scene where he had a reunion with his middle school teacher he showed an innocent smile just like he returned to a middle school student.
JJ: Because it's a movie some surprises were provided. The one which surprised me the most was Jang Keun Suk appeared and talked about me enthusiastically. (laugh) I didn't know about his appearance at all. Moreover I could introduce some other friends of mine through the movie and I'm happy about this. As for the dinner party scene with my friends in the show business it was filmed in my house in Seoul. There is also a scene of a grassland, that is a place where I can release my feelings and feel free. I was able to take my precious friend; the director to my special place I only know and eventually it became such a beautiful image. I thought how blessed I was.
— I don't feel lonely now because I have lots of bonds that I have built up myself.
We should pay attention to the music as well. Along with the release of the movie its OST is to be released as a CD.
The theme song "We're" and the making video of its working process are included.
JJ: Asked by the director "How do you usually write a song?" I played the keyboard for a musical phrase and using this I completed this song. After I wrote the music, remembering various emotions during the filming, I wrote the words. I had long suffered from the loneliness but by facing those who are supporting me right now; my fans, friends and family I've continued to strengthen the bonds out of my own will, and which made what I am now. So the song includes my feeling that I am not lonely.
JJ: I feel I'm naked in front of you, honestly speaking. (laugh)
This is what he expressed while being embarrassed after he saw the movie "Jaejoong On the Road" The work to expose his inner self involves pains and awkwardness, however, he came to the conclusion that "I am the happiest right now."
JJ: I am often asked "If you could go back to the past, when would it be?" I don't want go back to the past. Having overcome my tough & painful days in the past here I am now and I'm dreaming of myself in the future who is happier than I am now. For this I think I can get over any hardships. It's because now I have every one of you who are always supporting me. It's because I have what I want to cherish and protect more than anything else.
— I really don't want Shirota Yu-kun or Yamashita Tomohisa-kun to watch the movie (laugh)
Jaejoong in the movie as well as Jaejoong interviewed right now his remarks are always positive although he looks back his painful past. He accepts his mistakes and failure as precious memories, and declares vigorously that he never neglects to make efforts.
JJ: I'm always thinking seriously how to make people around me happy. This time I confronted myself who was young, poor, raised in a complicated family situation and lonely, which made me reconfirm how precious and indispensable what I have now is. The movie has become an important work in order to find the origins inside of me. Someday, if possible, once again I want to shoot a movie like this and I'm eager to know what my future self will think of my present self. At least I wish to get the data of the parts cut out for editing from the director and would like to see them 10 years later. The words I said this time after seriously thinking may sound childish to my future self so I want the director to ask me the same question once again in the future.
I asked Jaejoong, who was speaking unusually seriously, "Do you want your friends in Japan such as Shirota Yu-san and Yamashita Tomohisa-san and not your friend to be exact but HYDE-san watch this movie? Then immediately he said " I never ever want them to watch it!" while blushing.
JJ: Yu-kun and Yamashita-kun and I are the same age, but they say "Jaejoong is such a cute boy" and treat me like a child in front of the people.(laugh) I'm a type of person who hardly gets angry but if they see this movie they might say "He's cute after all." So I never want them to see it. HYDE-san is no different and he often teases me calling me "a cutie" Therefore I'll be embarrassed if they see my naked self. Please don't watch the movie, for God's sake!
Source: Withonline.jp
Credit: VK
---
[NO SUB] 210720 CGV Official Youtube Channel
[ENG SUB] 210720 CGV Official Youtube Channel
Watch Here <Link> Via @SteVieOliVie
Feeling like going for a drive with Kim Jaejoong..★ [On the Road] Exclusive release of Kim Jaejoong's commentary video!!
• Select a language ➡️ English
• Select version ➡️ SteVieOliVie
Video Credit: CGV

---
[NO SUB] 210729 CJESEnt Official Youtube Channel
[ENG SUB] 210729 CJESEnt Official Youtube Channel
Watch Here <Link> Via @SteVieOliVie
[Kim Jaejoong] Tears warning Kim Jaejoong's "On The Road" Q&A that is filled with sincerity | #KimJaejoong #ontheroad
• Select a language Flecha hacia la derecha English
• Select version Flecha hacia la derecha SteVieOliVie
+
[TRANS] 2021.07.29 "On The Road" Q&A interview CJES YouTube
(Questions and fan comments)
Q: What was the opportunity to make this documentary? Was it suggested by others, or did you want to do it?
JJ: Shooting a documentary is not my suggestion. I have had many meetings with director Lee Jae-han on what kind of videos to make.
Maybe from the director's point of view, there is really a lot to say in the movie. Until I started filming, I didn't know anything about the questions from the director. The director may have done so to prevent me from mixing the slightest exaggeration in the film, and to hear my pure answer.
Q: What was the deepest feeling during the shooting?
JJ: The content of receiving questions and answering them are thoughts that have always been in my mind, which I am actually used to.
After expressing these thoughts that I have never expressed, I feel a little more relaxed. I need to answer the director very sincerely, and for this I always relax and calm my mind.
Q: This is the first time that you have talked so deeply in front of the public. How do you feel?
JJ: Still a little…worried? No… I am worried that someone will get hurt because of this work. Although a long time has passed, there may be people who do not want to hear (these topics) now. I am worried whether this will become a work that will traumatize some people.
On the other hand, after all, the time has passed long ago. If I start making ON THE ROAD, I hope I can relax my mind and tell this story more calmly.
Q: (Through the documentary) Can fully feel the how Jaejoong manages and controls yourself, is there still such a situation now? (Subtitle: Is there anything still oppressing yourself now?)
JJ: I feel that even if I want to be free, I may not be able to be free. This is actually very difficult. Humans are not as free as imagined.
For the word "family", although I hate it, but I can't be sure of my disgust, this reality seems to be oppressing me. I spoke very candidly about what I feel at my current age about "what is like my family". If I regret it in another 20 years…it should be very regrettable, but now I am telling my current thoughts. Those who watch the video may feel that Kim Jaejoong really couldn't let himself be free at the time and was always oppressing himself, but now he has grown even more and lived an epiphany. These things will always change, right?
Q: Why do you still look so lonely after you have gained so many loves around you?
JJ: Hahaha, this is no way, loneliness is loneliness. This may be congenital, maybe I was born with this kind of emotional line? But I think loneliness is good. Always live happily without asking for others. Will this make you happy every time?
In the 20 generations who lived in abundance, I felt that there were not enough even with 10 or 20 people around me. For example, for a birthday party, I will probably invite sixty to seventy people to get together and receive congratulations from everyone. Just like no matter what you do is not enough, I am very eager for people and want to get everyone's friendship and love.
However, this kind of loneliness is what I have hoped for recently, and I often feel longing for it. Even if I only meet with one or two people, I am already very happy.
Q: Use the tattoo on the back to remember the many memories of the past, and portray the mind that you will continue to guard in the future. Is there anything else you want to remember in the future?
JJ: Will such things still appear? There should be.
Although I still don't know when I was and what I remembered behind my back, these are not the present tense, but the past, which makes people feel sad at first. The so-called past is something that should not be forgotten even if the heart aches.
When people ask me if I have a dream, I will answer "I don't have a dream now." Because my dream has been realized, my debut is my dream. Are there dreams bigger than the dreams that have been realized? I don't seem to have it.
Q: This is a question about OST. Although it is the lyrics and music composition by Jaejoong, fans are saying that the lyrics of the Japanese version and the Korean version are a bit different. Did you create two versions of lyrics with different meanings?
JJ: No, and it's not that different. In fact, I wrote the lyrics in Korean first, trying to carry the greatest meaning. I also want to keep the two versions consistent, but the meaning I want to express will change a lot if it is reflected in the word order, sense of language, wording and sentence formation in Korean and Japanese. Therefore, the final result is like this, but the meaning is the same.
Q: Have you also been writing lyrics and music recently?
JJ: No. I'm now in a state of homeless. When I have a new home, I want to start a new studio. You still have to work hard to move the bricks.
Recently, my pleasure is: eating delicious food and exercising. I have always been this kind of schedule: Although I want to work and show good state, but I really want to eat delicious food, then I have to exercise. Continue the cycle like this, but I think it's pretty good. If people do not move, they are easily mentally exhausted, and they are the most tired when they stay still, and they will also have a sense of depression and hardship. At this time, you must go for a walk or run. I am developing this habit.
Q: There are many expressions like "we" in the song. What is the meaning of "we" to you, who do you want to call "us"?
JJ: The person who feels the most when hearing the words "we" should be the fans. But when I was shooting (documentary), I listened to many questions from the director, and discovered that there are still many people who only exist in my heart and have never been remembered. On the road to success, many people have walked with me, and many people close at hand have walked with me.
In difficult times, I don't have to feel difficult. To carry these meanings, I used the word "we". I want to tell everyone that even if you have only had a one-sided bond with me, you are also a member of the "us" community.
Q: What does Kim Jaejoong want to say to Kim Jaejoong when he was a child?
JJ: When I was a child, Jaejoong was really a person who lived very hard. I even wanted to call him "hyung".
Yes, thanks to your hard work, I am alive and well now! Because you took out so much courage at the beginning, I am also plucking up the courage to live well; because you met so many good people at the beginning, I am also moving forward with those good people. All this is thanks to your blessing, so you should also be a good person and live more carefully. Thank you for your hard work!
(The question session is over, PD has specially selected a fan message, and I want to read it to you)
«Kim Jaejoong is a person who is fully qualified to express love and accept love.»
Credit: VK
---
[TRANS] 2021.06.21 '美ST' Interview
Jaejoong: "I can't go back to those painful days when it was so difficult, and I don't want to go back"
Pioneer of Korean artists, Jaejoong J-JUN. The documentary film about his life "Jaejoong: On the Road", will be released nationwide from July 2nd.
After the MV was released, a remote interview was held connecting Korea and Japan.
The Press Conference started with Jaejoong's current situation, and proceeded with his Movie and music content, closing with a message to his fans.
Jaejoong appeared in a rough style of a white T-shirt and a light beige jacket. With the same brilliant visuals and beautiful skin, he sent a transparent smile through the screen.
Q. It's getting hot in Tokyo today, with temperatures reaching 29 degrees Celsius, but what about South Korea?
JJ: Wow, that's a good question (laughs). How hot is it today? It looks like it's really hot outside, but I haven't got out yet. (To the staff) Howhot is now? ?? The temperature seems to be 27 degrees. It's hot here. Maybe this jacket looks hot today? Should I take it off? (And he took it off once reveals a T-shirt that shows the hot chest. After that, he wore a jacket.)
Q. What did you eat in the morning and lunch?
JJ: Well, actually, I haven't eaten breakfast yet today. I just drank iced coffee (laughs). I'm thinking of eating it after today's shooting. Originally today, after work, I thought of eating home-style food at the cafeteria run by a Japanese friend. I was thinking. The owner there is having his birthday today. He's in his 70s. He doesn't speak Korean, so … I speak Japanese.
Q. Recently, you spend more time at home. Is there a habit that Jaejoong didn't do in the past, but now?
JJ: I'm exercising lightly. Take a walk twice a day. How much … (worry). Do I walk about 20,000 steps? I'm living more like an uncle-style (laughs).
Q. It seems that an online live was held only for Fanclub members in May, but it was a live of 4 hours or more in a day. How was your live performance after a long time?
JJ: Originally it was an event scheduled to be held in January, so I was full of regrets that I made the fans wait for more than 4 months… It was the first event in a long time, and it was complicated but I was very happy. We could only meet remotely like this. While feeling such various feelings, I also felt happy and sad at the same time, I was thinking about how to convey my feelings to everyone. I'm grateful that I can still have interview like this, I want to be able to meet with everyone and talk and shoot in Japanese style as soon as possible. It makes me sad that what I thought was common/ordinary has become difficult. It's regrettable!… I just want to meet everyone.
Q. The set and costumes of the online live were gorgeous. How was your feeling of being wrapped in costume after a long time?
JJ: Right now, l'm holding events remotely, shooting and appearing on the radio. But after a year and a half, I'm getting used to it.. then, I wonder why is it. Since it's remote, costumes and make up for my appearance, I only think "isn't this okay?" (Laughs). But when it comes to concerts, I think it's important to manage myself properly, make good things, and welcome everyone with a good smile!
Q. The director of this movie "Jaejoong: On the Road" is director Lee Jaehan, who worked on "A Moment to Remember", which was a big hit in Japan. Please tell us your impressions of working with him.
JJ: I've been long-time friends with director Lee Jaehan before this shoot… After 18 years of performing arts activities, the director asked me all the things that the media didn't know and I haven't even talked to the fans about (bitter smile). Questions that I was afraid to answer before were answered unintentionally because the director made it look like a natural conversation (laughs). I confirmed once again that that's also his charm.
Q. So You were impressed by the actions and words of director Lee Jaehan?
JJ: If you watch the movie, I think you'll only see some of the edited footage, there are more parts that became NG in the video~ I'm not sure why it turned out to be NG (laughs). There was also a straightforward story about my family and how I grew up when I was a kid. I think that fans will be surprised just by looking at it. How much will it be released~? Actually, I haven't seen the final version yet. So, how much of the story I tried to tell will be released? I'm wondering. To be honest, I can watch it once, but… to watch for a second time I think it'd be too embarrassing! There was also a scene where I said too much (laughs). I used to meet the director at drinking parties, people talk about various things when they drink. I'm thankful with him for taking my conversation really seriously, for thinking deeply and asking the proper questions.
Q. In addition to director Lee Jaehan, various friends and teachers will also appear in the movie.
JJ: Well, I was able to co-star with my teacher for the first time in a long time, it really has been a long time, so the moment I saw my teacher's face, I was really excited~ Also, I didn't know that the last interview was going to be with Jang Keun Suk. The moment I saw Gun-chan's interview, I was truly surprised! (Laughs).
There are two scenes where I have meals, and I was happy to be able to introduce my friends to everyone, those friends who I got to know when I was a soldier, my juniors in the entertainment industry who I've been getting along with recently, through video since I've never shown it to everyone. Since the camera is usually only in front of me, it was also fun to see everyone in front of the camera (Laughs). It was interesting to see how honest they were, there were times when I was in trouble talking about something I shouldn't say (Laughs), It was really fun.
Recently, there are more dinner parties at home than at stores… So I didn't really feel like I was shooting but my two juniors were too conscious of the camera, so I was wondering what to do (laughs). Eventually everyone got used to it, so I'm glad everyone enjoyed shooting.
Q. In the scene released in the preview video, there was a scene where Jaejoong crossed the bridge while driving a car. Is it a place that has a special connection to Jaejoong?
JJ: Well, when you see it actually it's only an old and small bridge. The bridge is more than 100 years old and is a place of memories since childhood. It's a small city so I didn't have much to do and I only played in the river under the bridge. At that time, the bridges and rivers felt big, and when I became an adult, I got the impression that "Is it really so small?". I thought it was amazing to drive in my own car and pass over the bridge. When I was in elementary school, and I went through the bridge by bicycle, I came across an uncle about 50 years old that said to me "To be young~ really. I envy you". During the shooting, children of elementary school age were walking and I felt exactly the same feeling (laughs). Ah, I understand uncle's feelings now! I don't want to grow up anymore (get old)! That's what I thought (Laughs).
Q. A scene that the director was holding a big camera and you were smiling has been released. How did you feel during this scene?
JJ: That place is, a place where I feel free to be myself without worrying about the surrounding environment or things at all. So, I asked the director to give me a sense of freedom in that place. I wanted to brag about a secret place that only I knew about. I saw the video, it was a very beautiful image… I'm glad I went. In that place, there is a dinosaur museum nearby, but when I went there, there was only a toilet (Laughs). So, to go to the Dinosaur Museum when you go to that place, it's a must. It's a factory area, that's the only side with nature.. It's a nice place to be healed if you go there.
Q. Everyone can listen to the Japanese version of the movie's theme song "We're", and will be able to listen to the Korean version in the main part of the movie. Please introduce the song.
JJ: It's a song I made after I was talking about releasing an album for the soundtrack of this movie. "How do you usually write/ make songs?" the director asked me, and it was a song I made using the chords I was playing on the keyboard at that time. I think the scene where I was touching the keyboard is part of the movie, but I wrote the lyrics while remembering the various emotions I had when shooting. There are many times when I feel lonely and sad, but I continue walking forward because I have loved ones, my friends around me, everyone who supports me, and my family, It's a song about the feeling that there's no choice but to keep going.
Q. There is another important song in the movie, "Rain, Tomorrow". This is the song from "A Moment to Remember" directed by Lee Jaehan, It's a famous song sung by Kim Tae Won, the leader of the Korean rock band "Born Again (BOOHWAL)". This is a cover song, but what did you pay special attention to when you sang it?
JJ: I think something big had happened in my life. I met him for the first time… "Born Again (BOOHWAL)" is a nationwide popular band like "X JAPAN" if you compare it with a Japanese band, It's an honor to be able to work on music together. So I was very surprised to hear about the song. It was an honor that he came directly to the studio during the recording, It was the same feeling as when HYDE gave me one of his songs. It's a song I got from a very big person, so I have to sing it properly! So, I was really nervous before recording.
Q. How was your impression after singing?
JJ: How was it, everyone? (Laughs). I can't say anything about myself (about his own singing). Isn't it in Korean? What did everyone think when they heard only the song? (The interviewer told him that it was a wonderful song that made them feel the heightened emotions) Thank you so much.
Q. You talked about the hard times in the past in the movie, but what do you think about it now?
JJ: As I get older, when I look back on the past, I only remember "It was really hard, it was painful". There are still some difficult things to do, and there are still obstacles to overcome. However, I repeatedly hope that the result will make me think "I think I'm the happiest now". Even if I'm asked what would I do if I could go back to the past, I strongly think "I don't want to go back to that time". Now that I have overcome the difficult and painful past, I would like to work harder and more positively to open up a happier future for myself.
Q. Today, while looking through the monitor, I thought that Jaejoong looks rejuvenated and thin
JJ: Eh!? Am I?? I'm fat! (Laughs) I gained 3 kg! My constitution is changing steadily. I used to lose weight after dieting for 2 days… But I can't lose weight at all now (Crying).
Q. I think Japanese fans are waiting for the movie to be screened, so please send them a message.
JJ: I want to meet you guys! Really! Whenever I meet everyone through videos, I try to convey this message "I hope people who don't know me well yet get to know me more". Because of this movie, I could greet many people, I am also grateful to those who gathered in this interview today. This is a documentary film, so I'm not sure how people who don't know me will see it and feel about it… To be honest, I feel like l'm exposed in front of everyone. And the content is also embarrassing, I think that a very good movie was completed thanks to the director who took beautiful images. I hope everyone will watch it.
Interviewer: On the film, it's not the artist he shows on stage, but the memories and dreams of a young man, I was impressed by how he talked about his worries and his family without decorating it. And also tells us that life is not so easy, and no matter how successful a person may seem, there was anguish behind it and an unimaginable effort. Jaejoong, who likes loneliness but also shows his endurance to loneliness, just exudes "humanity". It's a wonderful movie.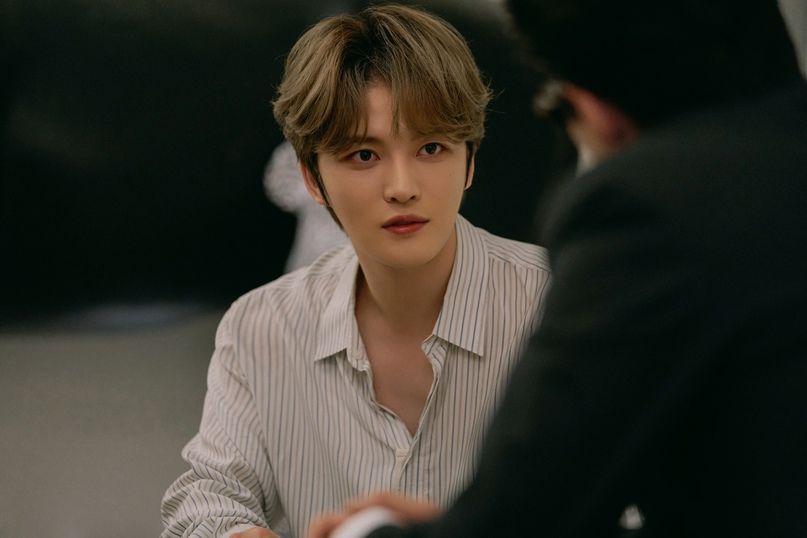 Source: be-story.jp
Credit: VK
---
[ENG SUB] 210917 Kim Jaejoong's Interview with Sina Music Weibo
Original Post Video <Weibo Link>
Translation by @SteVie OliVie & @Luci_F 
Subtitle by SteVie OliVie 
+
[TRANS] 2021.09.17 Sina Music Interview

Q&A Summary:
Kim Jaejoong has appeared on a Korean Music Variety Show after 12 years. He recently released "On the Road" OST and accepted an online interview with Sina Music.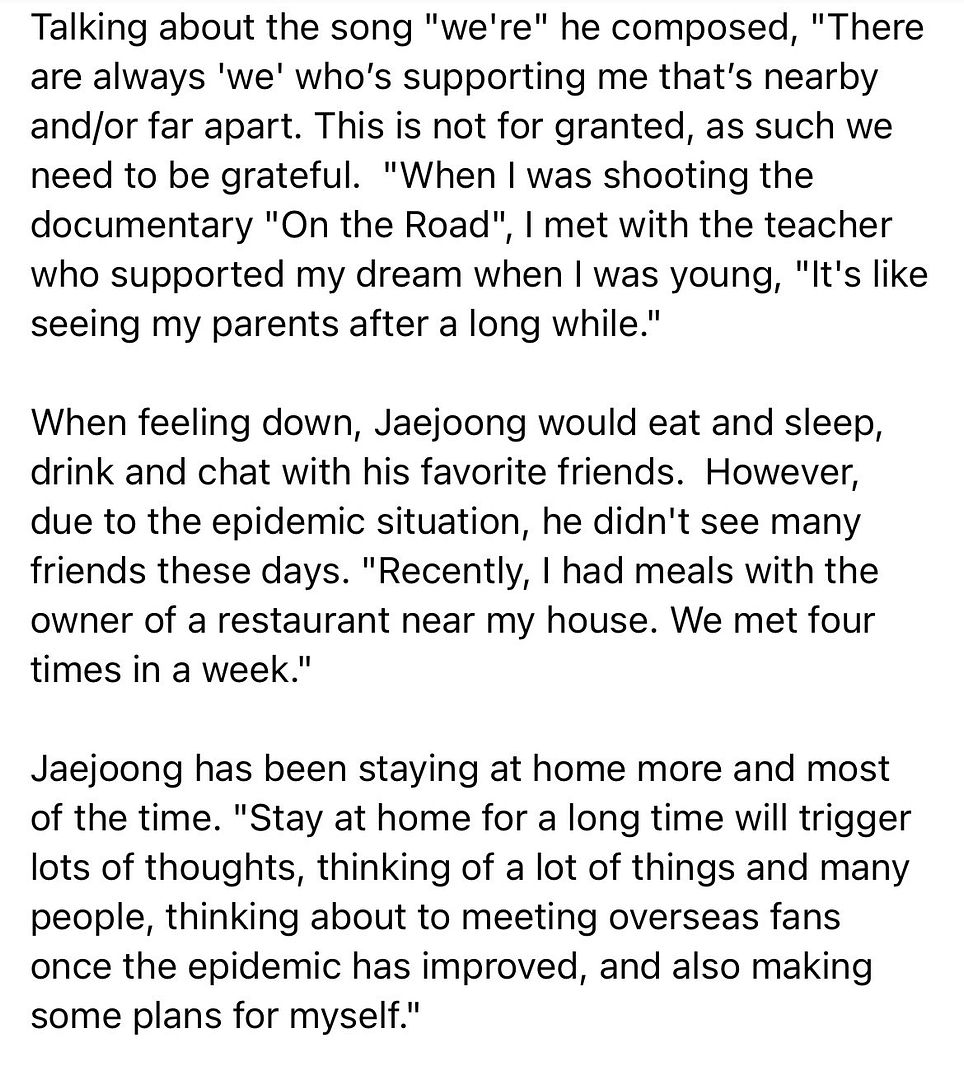 Last Q: What do you want to say to Chinese fans in the end?
Jae: "Hello everyone, this is Kim Jaejoong. I keep saying that wanna meet with you, but time is not always allowed. I hope the epidemic will improve soon so I can meet with you asap…."
Jae: "No matter in what way hope to see you and have happy times together.
I hope that before getting older I can meet everyone asap. We won't be young forever so I hope to meet you soon.
Please wait for a while longer.
Tks for supporting me from afar.
Thanks so much."
Translation Credit: Jae Fans Corporations via @LoveJaeMore0126
Shared by: Mia of JYJ3